Comfortable Dress Shoes for Women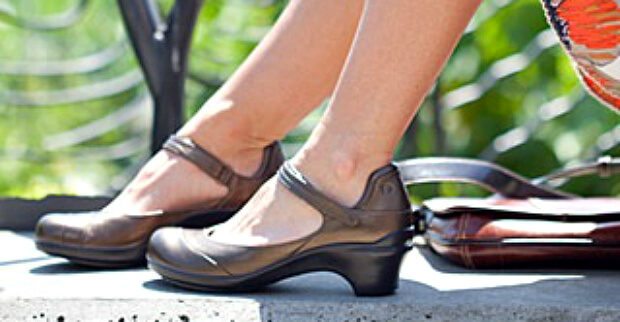 Published on July 17th, 2010 | by Kirsten Borrink
21
Comfortable Shoes for Narrow Heels, Wider Forefoot
Sue wrote to me last week requesting assistance in finding a non-frumpy shoe that would fit her medium-wide forefoot and narrow heels. Surgery to correct a bunion and hammertoes has left her right fore and mid-foot "thicker" or wider, yet she still has narrow heels. Yes, this is a comfortable shoe conundrum for the Barking Dog. I'm going to make a few brand recommendations based on personal experience and internet research, but I'm calling on all you with "combination feet" to pipe in with your shoe suggestions in a comment below.
1. Aravon by New Balance: These dress-casual shoes have all the comfort technologies you'd expect from New Balance, and they even come in widths. I own the Aravon Mia (similar to the Aravon Maya pictured below) and find the toe box to be very accommodating of bunions and hammertoes. And those with narrow heels will be happy – the heel stays put as it runs narrower than the forefoot. Available at Zappos with free shipping and returns.
2. Beautifeel: This lesser known dress comfort brand hails from Israel and gets high marks from the Barking Dog for supreme comfort and style yet a slightly lower mark for affordability. Although customer reviews are scant on the internet, the ones I did locate mentioned Beautifeel's wider toebox and narrow heels. I can attest to this as I owned a pair ten years ago when my rheumatoid arthritis started to take off big time in my feet causing bunions, painful hammertoes and metatarsalgia. As a middle school teacher, I needed one dressy pair of comfortable shoes for open house and conferences. Beautifeel fit the bill with their super soft leathers, comfortable lasts, flexible outsoles and well-positioned manageable heels. Available at Amazon. 
3. Cobb Hill: Owned by New Balance, Cobb Hill shoes feature multiple widths, roomier toe boxes and narrower heels. 
4. Naot: This brand from Israel is quickly gaining fans in the US as women discover how truly wonderful these supportive, comfortable shoes can be. Ten years ago Naot looked like Birkenstock, but not so anymore. Their styles are innovative, young and unique. Check out the Sea, Coast and the Arataki (pictured below) for a shoe featuring a wider toebox and narrow heels.
5. Munro: Made here in the good ol' USA, Hot Springs to be exact. Munro makes quality "good fit" footwear in extended sizes and widths. They use a combination last when building the shoe (meaning the heel is narrower than the toe by two widths). We love the fashionable ghillie laces of the Munro Jillie, pictured below.
 Other brand to consider: Softspots, Bella-Vita, Ecco, Arcopedico and Ryka.
This isn't the first time we've recommended or reviewed shoes with narrow heels (or for overall narrow feet.)  Check out the archive of all our narrow heel posts here.