Shoes for Problem Feet
Published on May 17th, 2012 | by Kirsten Borrink
2
Alegria Kaitlyn Shoe Review: Colorful, Versatile, Comfortable!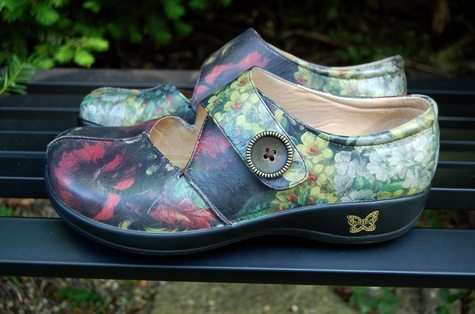 The Kaitlyn Professional courtesy of Alegria Shoes
I'm a week late appreciating all the nurses out there, but thank you! I see many specialist MDs, but


it's the compassionate and competent RNs that make my visits tolerable, even pleasant. Your hard, exacting work is noticed.
And teachers, keep on teaching. Your week of honor may be over, but as a former middle school teacher, I understand how much those chicken-scratch thank-you notes and hand-made gifts make your day, week and even year. You've done good well.
Perhaps it's time to treat your hard-working feet to a new pair of comfortable shoes. The Alegria Kaitlyn is for all professionals who spend a good part of the day on their feet. With a non-slip outsole and stain-resistant leather upper, the Kaitlyn is specifically suited for nurses, teachers, chefs, hair stylists–anyone that works in a sometimes messy (or slippery) environment.
I've been wearing my Kaitlyns around town for a week. Here's my take on this new style by Alegria.
If you know Alegria shoes, you understand they're in the same family of clunky-cute footwear as Dansko, Sanita and some Naot. The Kaitlyn features a new sole that's more contoured, less of a platform look.
The velcro stays put better than the Paloma mary jane. The unique cut of the vamp and instep bring the two sides of the shoe closer together, so there's less of a gap to close,–if this makes sense. The velcro surface area is more than you'd find on the Paloma too.
The leather covered latex/memory foam/cork footbed provides moderate arch support and is removable to accommodate an orthotic.
The toe box is wide, but doesn't seem as high as the Paloma. I do have hammertoes and find they feel a bit cramped, but I think the leather will soften up with wear.
Runs true to size. I usually wear a euro 40 for my size 9.5-10 feet and the Kaitlyn size 40 fits well. I have a medium width foot
Although the Kaitlyn features a rocker sole, it's different than the Paloma and other Alegria styles. It doesn't seem to propel my foot forward as well?
I love the floral upper–it looks hand-painted. I look forward to wearing them in the fall with tights! The Kaitlyn also comes in solid white, solid black and white with floral print.
Update: since publication, the Alegria Kaitlyn has been discontinued, but find the full line of Alegria shoes (including ones with floral patterns and styling similar to the Alegria Kaitlyn) at:
Zappos: free shipping both ways, and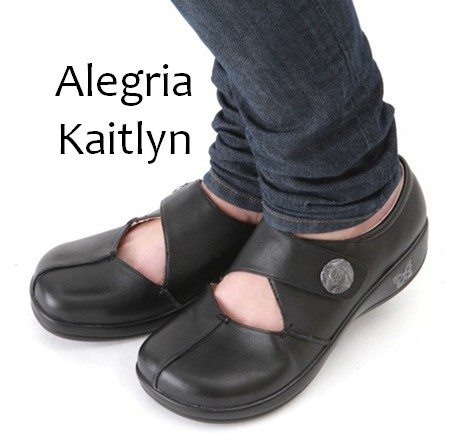 SaveSave
SaveSave
SaveSave