Beth's Posts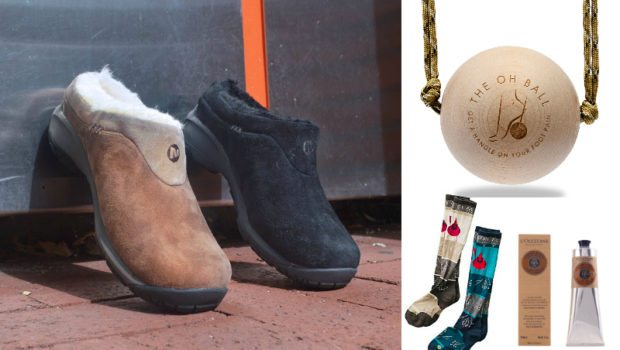 Barking Dog Holiday Gift Guide – Give Happy, Healthy Feet!
Rings for fingers, scarves for necks, hats for heads: all wonderful gifts for the holidays, but what about the lowly feet? Do you know a pair of feet that could use some pampering this time of year?  (Or maybe your own feet could use some wintertime TLC!) Check out our gift guide of the best foot-friendly holiday items.  There's surely something here for everyone on your list – who doesn't love having feet that feel good?
1. Yoga Toes Gems – Whoever said "Diamonds are a girl's best friend" never had sore feet!  These Gems will become the real best friends of anyone with tired, achy feet – including those who suffer from hammertoes, bunions and a host of other issues. Yoga Toes Gems, made of a BPS-free, medical grade gel, fit between the toes, gently spreading them to stretch and revive feet.   We at Barking Dog Shoes use these ourselves for bunion and plantar fasciitis relief, and heartily agree with the hundreds of online reviewers that rave about amazing results.  (Yoga Toes Gems also get bonus points for being great pedicure toe spacers!)
2. The Oh Ball – Is plantar fasciitis pain or discomfort from heel spurs causing a loved one to feel more bah humbug than holly jolly?  He or she will glow with appreciation when you give The Oh Ball, considered to be the single most effective device for relieving arch and heel pain.  The solid maple ball is just the right size and hardness for ultimate relief, and the rope handles provide pinpoint control over the location of treatment (and keep the ball from rolling out from under you!) One more thing to love – The Oh Ball is 100% American made, right down to the packaging.
3. Yaktrax – The Barking Dog knows from experience that Yaktrax winter traction devices can be life-changing.  Lightweight and easy to use, Yaktrax slip onto shoes or boots to provide stability when walking on snow and ice.  Exercising, commuting, or even walking down the driveway to fetch mail are safer and more enjoyable when you don't have to worry about falling.  When you aren't afraid you'll slip, you spend more time outdoors in winter.  Spending time outdoors helps you stay in shape and keeps Seasonal Affective Disorder at bay.  When you're fit and feeling good, you're happier.  When you're happy, you enjoy life, are more productive, and have better relationships.  See what we mean?  Life-changing!
If you're concerned about elderly parents falling due to icy pavement en route to the mailbox and the Yaktrax would be too cumbersome for arthritic hands, consider Icebug boots. This pair features a front zipper entry and 16 carbide tips to grip the ice.
4. SmartWool Socks – It's easy to see why socks from SmartWool have become winter standbys.  What's not to love about high quality socks in a washable, itch-free wool blend that have warmth without bulk, come in a wide variety of styles and thicknesses, and are available in fun patterns like these (featuring designs from iconic American artist Charley Harper)?  Everyone will love them!  If the folks on your gift list have more conservative taste, don't worry – more basic colors and patterns are also available.
5. TOMS Slippers – Like the idea of a gift that also gives?  You may be familiar with TOMS Shoes and the company's One For One giving policy (for every product purchased, TOMS helps a person in need). What makes it extra great is that these TOMS slippers are getting lots of five-star online reviews for quality and comfort.  Talk about a win-win – you can't go wrong with this gift!
6.Gehwol Foot Treatment Kit– Give it as a wrapped-up present under the tree or disperse the contents among the stockings! Gehwol is a Germany company that specializes in therapeutic spa products using natural ingredients like avocado oil, aloe vera, lanolin. Products are scented with essential oils of pine, lavender, rosemary and more. Nordstrom is offering Gehwol's Soft Feet Treatment Kit at a discount through the holidays. In it you'll find a full size foot cream and salve for cracked heels, a foot file, plus samples of their foot lotion and hand cream.
7. L'Occitane Shea Butter Foot Cream – There are lots of basic drugstore foot creams that do the trick.  But it's the holidays – don't your loved ones deserve a little luxury?  The beautiful packaging, thick, creamy texture and fabulous fragrance of L'Occitane Foot Cream are heaven for the senses.  Decadence aside, this product is a workhorse, making even the driest, roughest feel silky smooth.
8. Merrell Encore Ice Slide – Is it a slipper? Is it a shoe? No matter, it's the answer to cold feet that crave support. The Merrell Encore Ice is the perfect dog-walking shoe in the wintertime. Leave it by the door, slip it on quickly (there's no time for laces and zippers when pooch has to go) and head out on a walk. The Encore Ice features a shearling fleece footbed,  wide toe box, molded nylon shank for support and stability, and a rubber sole for good traction. Wear the hard-to-find size 10.5? Good news. The Merrell Encore Ice didn't skip over you on the way to size 11!