Comfortable Boots for women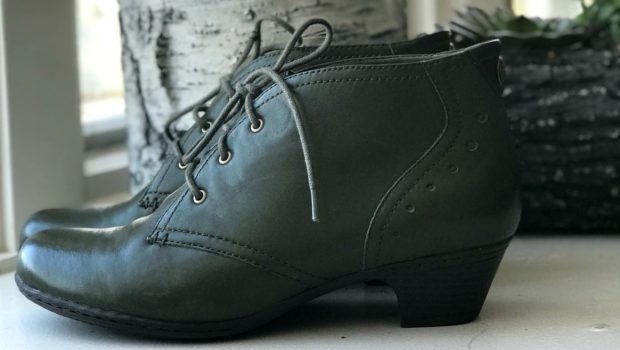 Published on December 28th, 2017 | by Kirsten Borrink
4
5 Reasons We Love the Rockport Cobb Hill Aria Bootie
This review of the Rockport Cobb Hill Aira is sponsored by Rockport.com. The opinions are completely our own based on experience.
We've come to trust the Rockport Cobb Hill brand for their commitment to comfort without sacrificing style. They continue to bring back popular styles season after season instead of discontinuing them (so frustrating) and the Aria bootie is a perfect example. Debuting in 2014, the Aria quickly gained loyal fans and we can understand why: low heel, comfort footbed, good looks and a great fit.
It's back this season in gorgeous hues of evergreen, oxford blue, and merlot (along with basic black and other neutrals). Kirsten had the opportunity to try out the Rockport Cobb Hill Aria bootie in evergreen leather. Even though her RA is flaring in her feet, the Aria still provides comfort for dress casual events and outings. Here are 5 reasons why she loves wearing the Rockport Cobb Hill Aria:
The fit: Snug without feeling cramped. I have a few forefoot hot spots (bunion, hammertoe and metatarsalgia) so was understandably concerned about a too-tight toe box. Thankfully, the leather is soft and forgiving. With a thin sock or tights, my forefoot issues are fine. I also like the good fit at the heel–no slippage. If you have a wide forefoot or pronounced bunions (or prefer thick socks), I recommend ordering the wide width.
The footbed: Extra cushioning in all the right places–forefoot, heel and arch. A stability shank in the midsole provides extra support. You may be able to insert an orthotic once you remove the footbed (it's glued down, but can be taken out).
The 1.5 " heel: Just enough lift to keep your pants from dusting the ground, but low enough to walk confidently. When my RA is flaring, anything higher than 2″ puts too much pressure on my forefoot, causing pain, so the sturdy, low heel on the Aria bootie is much appreciated. It's also made of thermoplastic rubber, so it's lightweight yet durable and shock-absorbing.
The lining: This may seem like a negligible feature, but it's worth mentioning since it adds to the overall comfort of the boot. A soft, breathable fabric lines the Rockport Cobb Hill Aria from heel to toe creating a cozy yet breathable environment for the feet.
The details: Some reviewers call it a "granny boot;" I prefer "boot with a vintage vibe." The decorative antique buttons, perforated dots and eyelet lacing add to the charm of this comfortable bootie. I like to wear the Aria with tights and a skirt, rolled-up boyfriend chinos and jeans.
Do you own the Rockport Cobb Hill Aria? Leave a comment and let us know what you think of this style!
You can find the Aria in whole and half sizes 5-10, 11; medium and wide widths for $109-140 at Rockport.com, $97-135 at Zappos, $91-140 Amazon.
Still looking for the perfect ankle boot? See our review of the Rockport Cobb Hill Nadine bootie and the adorable combat-inspired Bethany boot.