Shoes for Plantar Fasciitis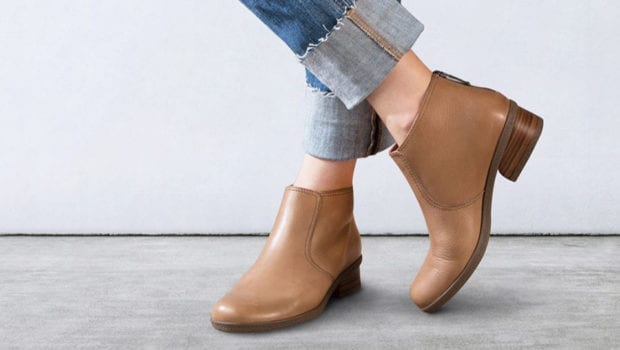 Published on December 1st, 2020 | by Kirsten Borrink
5
5 Snazzy Shoes and Boots for Plantar Fasciitis: 2020 Update
Problem feet will steal your joy if you let them. They have no concern for your agenda and act up like toddlers in a grocery store leaving you frustrated and in need of rest. Plantar fasciitis tops our list of annoying, painful foot problems and our job is to help you find functional, stylish (or at least semi-stylish) footwear that won't leave you wincing and hobbling to the finish line of your long day. After an exhaustive search for the best shoes for plantar fasciitis, we've culled our favorites for work, play and dress.
It's basic, it's black (or navy, or brown) but the Romika Cassie 24 has what It takes to keep the PF in check: a bit of a heel so foot isn't flat against floor, moderate arch support and a cushioned insole (which is removable to accommodate an orthotic). You'll get a good fit at the instep thanks to the stretch goring. A satisfied Zappos customer says this about her Romikas:
I was beginning to have trouble with plantar fasciitis and needed some shoes with more arch support, a little more heel height and a soft heel, these have all three. They are terrific and my foot is feeling much better.
Find the Romika Cassie 24 in euro sizes 36-42 (5-11), medium width for $134.95 from Zappos, and Amazon,
We love Zappos customer Katie's review of the stylish (and waterproof) Dansko Becki ankle boot:
These are awesome. I've been wearing them for a few days and my ever-pained feet are quite happy. I have high arches, plantar fasciitis, a sesamoid injury, and a bad back…needless to say, finding a good shoe that doesn't look geriatric is challenging. They look more feminine in person than I thought they would, which matches my style. They definitely have less support in the ball of the foot than the traditional clogs since they're not platformed, but I roll my ankle a lot when I wear the clogs, so it's a compromise. It's a perfect width for my wide feet, but I have too much room in the toe, which socks partially mitigate. If you don't have wide feet, you might want to go down a size (I wear a 39 typically and it's a little loose). But if you have foot issues and you're looking for something that can pass as stylish, I highly recommend them.
The Dansko Becki features a waterproof leather upper, removable cushioned insole, moderate arch support and 1.25″ stacked heel with rubber sole. Find the Becki in euro sizes 36-42 (5-12) for $179.95 from Zappos, Dansko.com, and The Walking Company.
Consider the Skyler line of wedge boots and booties by Ecco if you suffer from plantar fasciitis. These versatile boots offer a low 1.75″ wedge heel and removable insole with arch support and a foot-friendly shape (roomy toe box but slim heel).
A Zappos customer had this to say about her new Ecco Skylers:
Most comfortable boots! They felt great from the minute I put them on and the arch support is good. I have plantar fasciitis and can walk and stand for hours in these with no problem.
Find the Ecco Skyler line of boots in euro sizes 35-42 (5-11) for $139-145 from Zappos, Ecco, and Amazon,
Have you tried L'Amour des Pieds footwear yet? They do a fabulous job of making shoes and boots that maintain a level of style on par with non-comfort footwear, yet with built in arch support and dense cushioning. Many of the styles feature a thick outsole that aids in cushioning the heel (and keeps toes from flexing too much during the stride–a benefit if you have hallux rigidus). Pictured here is the Xanthus slip-on–available in sizes 5.5-11 for $199-205 from Zappos and Amazon. See the complete L'Amour des Pieds collection available from Zappos, Nordstrom and Amazon.
Do you have super slim (AAA) or triple wide feet (EEE)? Then SAS has a boot for you! The Jade is available in extended sizes 5-12 (with a 10.5 and 11.5 half-size), and SIX widths. Not only will you get a good fit, the Jade features a removable footbed, rounded toe, and shock-absorbing outsole. Here's what one relieved customer had to say about the Jade:
I have severe plantar fasciitis in one foot and now have to wear orthotics in all of my shoes. These boots are a life saver. The orthotics fit perfectly once I removed the removable insoles. The wide width and rounded toe box fit my foot beautifully. 
Find the SAS Jade for $198.95 from Zappos.
Honorable Mention: Birkenstock Boston Soft Footbed (an extra layer of cushioning feels great on aching heels), Hoka One One Hupana slip-on (a sporty option for walking or going to the gym), Finn Comfort footwear (top of the line comfort brand hand-crafted in Germany), Ecco Soft 7 sneaker (casual, stylish, supportive), Oofos OMG shoe (a bit ugly, but super-cushioned and supportive).
See our whole category dedicated to shoes for plantar fasciitis.