Hallux Rigidus Shoes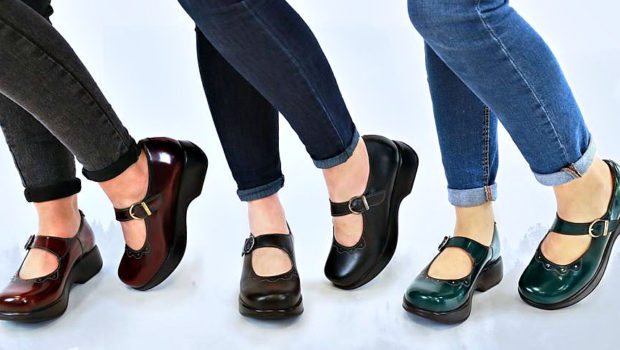 6 Sensational Shoes for Hallux Rigidus [Plus 6 Bonus Picks]
Rigid big toe. That's what hallux rigidus means. My sincerest condolences if you've been diagnosed with this arthritic condition–I know too well the pain and discomfort it can cause. Take a minute to read through our comprehensive article on both hallux limitus and rigidus to understand the condition better. Chances are your doctor prescribed a thick, rigid-sole shoe for good reason–it will help protect the big toe joint from over-flexing during the stride causing further erosion and pain. While this type of shoe can bring relief, the news can be discouraging when you have a closet full of dainty flats and elegant heels. But do not despair, the Barking Dog dug up six finds for your perusal (plus a few bonus picks at the end).
With spring around the corner, I wanted to include this pop-of-sunshine slide by Dansko. Maci's leather-wrapped 2.5″ block heel with 1″ platform is as on-trend as it is foot-friendly. A contoured footbed provides good arch support while a memory-foam footbed cushions from heel to toe. I like the thick wood-grain outsole with a slight rocker effect to protect the painful big toe. Find the Dansko Maci from the Madeira collection in euro sizes 36-42 for $139.95 at Dansko.com, Zappos, Nordstrom, and The Walking Company.
Just what the foot doctor ordered, the Dromedaris Selma features a roomy toe box–and that's just the beginning of comfort features that will ease hallux limitus discomfort. A thick, shock-absorbing polyurethane rocker outsole takes the pressure off the forefoot through the stride (protecting the big toe from bending), while a multiple-density footbed offers firm support at the arch, softer cushioning at the heel and ball-of-foot. Do you require custom orthotics? Good news, the footbed is removable and should accommodate an orthotic. If a mary jane isn't your style, Dromedaris makes an oxford, slip-on and sandal–all with the same outsole! Find the Dromedaris Selma in euro sizes 36-42 for $170 at Shoes.com, and $160 at Dromedaris.us.
If you read through any online discussion about favorite footwear for hallux rigidus, Fitflop sandals come up almost every time. The reason? Fitflop's thick sole that doesn't bend much at the forefoot combined with superb cushioning and a wide fit at the toe. The D'Orsay loafer is a work-appropriate style with Fitflop's trademarked Supercomff footbed with two levels of targeted cushioning (softer at forefoot, firmer at heel) and a anatomical arch for all-day support. Find the Fitflop D'orsay loafer in sizes 5-11 for $129.95 from Zappos, Amazon, and Fitflop.com.
How lucky can your feet get? If you live in Birkenstocks, but would like a change, consider the Taos Luckie. The contoured cork footbed plus thick rubber outsole make them a good choice for hallux limitus or rigidus. Plus, you get the added benefit of two adjustable straps for a customized fit, deep heel cup and metatarsal support. Find the Taos Luckie in euro sizes 36-42 for $145 from Taosfootwear.com, The Walking Company, Amazon and Nordstrom.
Just because you have hallux limitus doesn't mean you're restricted to ugly shoes. Look at the new sporty-chic Earth Hibiscus criss-cross sandal! Earth footbeds provide heavenly cushion with moderate arch support. The Earth Hibiscus is available in sizes 5-12 for $110 from EarthBrands.com, Zappos, and Nordstrom.
I learned of the Nike Zoom Fly from the Hallux Rigidus Support Group Facebook page. This shoe generated a lot of buzz for its full-length carbon-infused nylon plate in the midsole. As the Nike site states, this plate "feels like it propels you forward with every step." If you want to get back to running or need a fitness shoe with less bend at the forefoot, check out the Nike Zoom Fly. Available in whole and half sizes 5-12 for $150 from Nike.com and Footlocker.com.
Honorable mention: Dansko Winona (available in sizes up to euro 43), Clarks Arla Primrose sandal (wide widths up to size 12), Dansko Pro XP 2.0 (a cushioned, lightweight version of the Dansko Professional), Hoka Bondi 5 running shoe (super-thick cushioned sole), Ugg Angie platform sandal (size 12 available) and L'Amour Des Pieds footwear (many have platform soles, all have wonderfully supportive and cushioned insoles).
Do you have hallux rigidus? Which shoes have helped you get through your day pain free? Leave a comment and let us know. Also, take a look at our "shoes for hallux rigidus" category for more comfortable options.