Orthotic-Friendly Shoes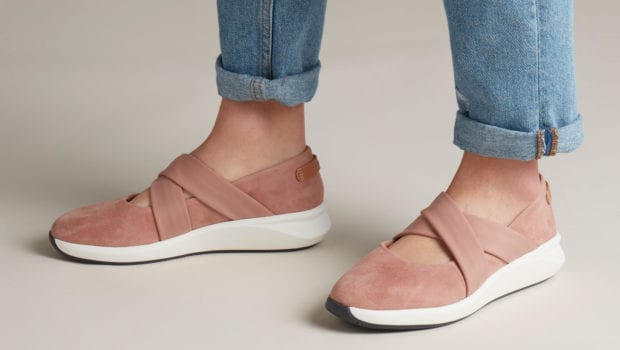 Published on July 30th, 2019 | by Kirsten Borrink
1
8 Orthotic Friendly Shoes in a Variety of Styles and Sizes
It's time for another round-up of orthotic-friendly shoes! This is a tricky category since not all shoes with removable footbeds work with custom orthotics. But we've done the legwork so you don't have to. Pouring over customer reviews is our superpower. Each of the following shoes comes recommended by customers who need to wear orthotics for a variety of foot issues whether plantar faciitis, pronation problems, neuroma and more. We hope you find one that works for you. Our suggestion is to order up a half or whole size so you have room to fit your orthotic (and take advantage of those retailers that offer free returns).
Mary jane straps provide a secure fit when adding an orthotic. A Zappos customer says this about her new Clarks orthotic-friendly shoes:
I searched everywhere for a comfortable shoe I could wear with black pants. It needs to accommodate my orthotics. I have a narrow heel, high arch and need a roomy toe box due to a Morton's neuroma. I also have plantar fasciitis. Without an orthotic, I wear a size 8 1/2 medium. I needed a 9 wide to fit my orthotic. This shoe works for me. It seems to have a reasonable amount of cushioning in the heel and ball of the foot.
We like the slim profile of the Clarks Sillian Bella and the fact that it comes extended sizes and multiple widths. Find it for around $50-70 at Zappos, ClarksUsa.com, and Amazon,
Another winner from Clarks! The Un Rio Cross strays from the typical mary jane strap in exchange for wide cross straps. We love the look. The toe box is roomy without appearing clownish. Mardi approves of these orthotic-friendly shoes:
I love these shoes! I have the grey and the pink. I wear carbon plates and thick orthotics in my shoes. My orthotics only fit in my New Balance Sneakers. They fit in these shoes. I'm thrilled! 
Find the Clarks Un Rio Cross in sizes 5-12, medium and wide widths for $80-13o from Zappos and Nordstrom. The new Clarks Un Rio Strap is a variation on a theme and we quite like it!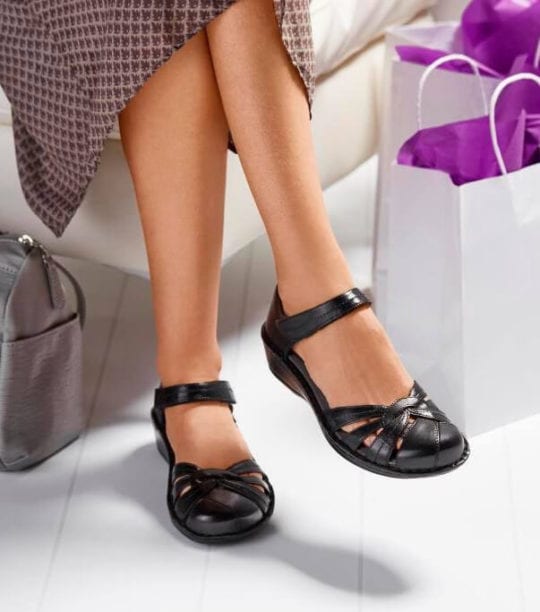 Aravon ClarissaThe Aravon Clarissa is a slightly dressier option with fisherman styling–the breathability of a sandal but with toe coverage. The thick cork footbed is removable allowing for an orthotic. Find the Aravon Clarissa in sizes 5-12, four widths for $50-139 from Zappos, Amazon, Rockport.com, and Google Express. Shoes.com even carries a size 13!
When you think of orthotic-friendly shoes, Aerosoles typically isn't a go-to brand. However, we noticed this comment by a Zappos customer and thought you might be interested in how the Over Drive loafer worked for her:
I went through 10 pairs of loafers trying to find a pair that worked with my orthotic. These don't have insoles meant to be removed, I did it anyway. I tested them out first, putting in my orthotic on top of the insole and was joyous to find that these were wide enough for my orthotic across the arch/midfoot. So I carefully removed the insoles and found the footbed perfect- flat and flexible/solid- for my orthotic. I am so happy to find something that looks nice and works with my orthotic. I am a true 8 wide and these work for me.
Find the Aerosoles Over Drive in a variety of colors, sizes 5-12, medium and wide widths for $49.99-89.99 from Zappos, Aerosoles.com, and Amazon.
The Naturalizer Morrison seems to be a style that's sticking around, which is great news since it gets high marks for comfort and fit…even from orthotic wearers:
I just received these and out of the box very comfortable. Of particular importance to me was if they would accommodate orthotics, the innersole easily slipped out and the orthotic slipped right in. Heel cup is deep enough to accommodate the orthotic. Also the heel fits narrow enough without slipping. Zappos customer.
The Naturalizer Morrison is available in sizes 4-12, four widths for $50-88 from Zappos, Naturalizer.com, Nordstrom.
Do you wear orthotics and need a 4E width? Consider the Propet Travelfit Hi. The soft knit uppers won't irritate bunions or hammertoes, the sole is non-slip, and the shoe is plenty roomy to accommodate an orthotic. Another happy Zappos customer reports back:
I always prefer to wear shoes for a bit before writing a review as I think that is more useful, so two months in… here's the report. I've purchased Propet before and one of the reasons is that I can remove their insoles and add my own orthotics. I liked the look of these – kind of a hi-top but not exactly a sneaker.
Find the Propet Travelfit Hi in sizes 6-12, five widths for $69.95 from Zappos, DSW, and Amazon.
We've long loved the euro-funk style of the Wolky Jewel–and it continues to be a favorite sandal among orthotic users. The insole is removable and the thick outsole and multiple adjustable straps provide stability. Zappos customer Megan loves her Wolkys:
Because I'm having to find a shoe that allows my injured foot to heal, I must be very picky. I have to have a shoe that has a rigid sole, is narrow, and can accommodate my custom orthotics. The Jewel does all of that. The rigid, thick sole gives me the stability I need. The Wolky medium width is more narrow than mediums from other brands and works for my AA feet. The best thing about the Jewel is that both my orthotics AND my toes can fit into it at the same time, helped by the adjustable straps all over the sandal. I was astonished when I tested the Jewels and my injured foot didn't object to them. I've gone through 6 different pairs of shoes in my search for the right shoe for my demanding foot and was quite surprised that a sandal was a keeper.
The Wolky Jewel is available in euro sizes 36-44 (4.5-13) for $179 from Zappos, Nordstrom, and Amazon.
For dressier occasions, the SAS Isabel has you covered. Just under two inches, the Isabel features a removable footbed, room for toes and a mary jane strap for a secure fit.
Very dressy pump. If you are an orthotic wearer, this is the perfect shoe for you. The strap secures the shoe so that it doesn't slip up and down from the orthotics. The lower heel is very comfortable. Ideal for dresses and pants.
Find the SAS Isabel in sizes 4-12, five widths for $152.95 from Zappos.
For more orthotic-friendly shoe recommendations, see our category dedicated to the topic.