Comfortable Dress Shoes for Women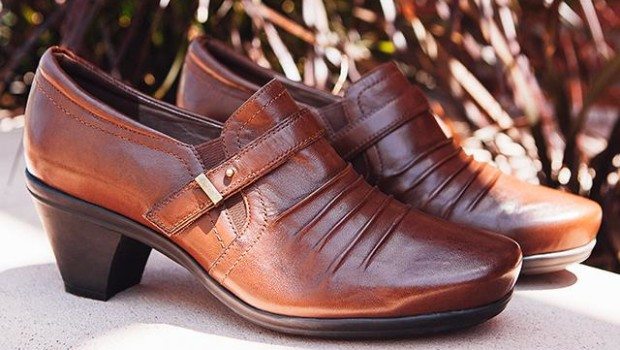 Published on November 13th, 2013 | by Kirsten Borrink
16
Amazing Abeo Shoes From $59 at The Walking Co.
Perhaps you've heard of Abeo shoes by The Walking Company? First known for their supportive walking shoes and sandals, Abeo now crosses over into the dress and dress casual shoe world.  Each pair features a built-in orthotic footbed in two choices of support. The neutral footbed provides enhanced arch support designed to match most foot types while the metatarsal pad footbed provides extra ball-of-foot support in order to relieve forefoot pain. Three of the most popular styles include:
1. Abeo Nadine:: It's hard to find a work-appropriate shoe with a 1 1/2″ heel–not too flat, not too high. Available in black, taupe and red in sizes 6-11 from The Walking Company, free shipping/free returns to store.
2. Abeo Tatum: A ballet flat with a built-in orthotic! Numerous 5 star reviews from customers with plantar fasciiitis, Morton's neuroma, high arches and narrow heels. Available in five colors for $59.25 at The Walking Company. See more Abeo ballet flats! 
3. Abeo Rachel: A classy slip-on pump with a 2.5″ heel. Great reviews for all-day support. Available in black and brown. $159.95 at The Walking Company.
The next shoe doesn't fall into the dress shoe category, but while we're on the topic of Abeo footwear, it's a style you should know about.
Abeo Shoes – the R.O.C.S. Aubrey
I just received a pair of Abeo shoes from The Walking Company to review and I want to share with you my findings.
The curved outsole of the Abeo R.O.C.S. (Rocker Outsole Comfort System) took some getting used to. Standing still, my heels would rock backward which felt strange. But as soon as I started to walk, the rocker motion took over and I felt more stable. The footbed is nicely cushioned and arch support excellent. The toe box, while not as wide as my Asics, is roomy enough to accommodate my moderate bunions.
The best benefit of this rocker sole walking shoe is its ability to offload pressure on the forefoot. For those with arthritic toes or Morton's neuroma, the Abeo R.O.C.S Aubrey could bring relief.
One small detail I really like about this shoe is its laces! They are thick and stretchy, and long enough to double tie.
Many online reviewers give the Abeo Aubrey high marks for alleviating forefoot pain, back pain and heel pain. See for yourself! The Abeo R.O.C.S Aubrey is available in four colors for $139.95 at The Walking Company.
Are there any Abeo shoes that we haven't reviewed that you would recommend? Let us know in the comments below.