Comfortable Heels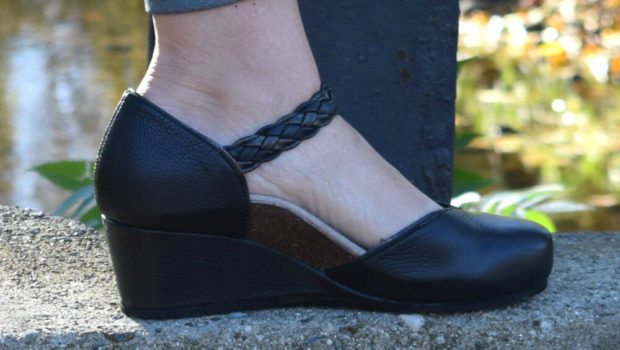 Aetrex Shoes "Mia" from Lucky Feet Shoes [Review and Discount Code]
If you're from Southern California and you have bad feet, pay a visit to one of seven Lucky Feet Shoes stores. They'll set you up with a free foot analysis to determine your foot type and the nature of your gait so you can find the best comfort, walking or running shoe for your feet. But if your feet aren't lucky enough to live in SoCal, you can browse their online selection of the best comfort brands like Aetrex shoes, Vionic, Ziera, Finn Comfort, Fidelio and more. As an added bonus for shopping online, Barking Dog readers will receive $10 off an order of $100 with promo code 10off100+ (plus free shipping and returns).
The kind folks at Lucky Feet Shoes sent me the Aetrex Mia wedge to review and well, look at how the arch and footbed cradle my foot (top photo). For a heel, that's pretty spectacular.
I love so many features my new Aetrex shoes: the wide toe box, memory foam cushioned footbed, orthotic-like arch support and the shock absorbing cork midsole. But what makes this wedge heel walkable is the heel cup area. Its deep indentation holds the heel steady keeping the foot from sliding forward. This tends to be an issue with heels in general, causing the toes to become crammed in the toe box, not so much in the Aetrex Mia. Due to this feature, I don't feel like I'm wearing a 2 1/2″ heel!
The toe box is definitely generous and will accommodate bunions. I appreciate the v-cut vamp as it looks feminine, but serves a purpose of enclosing bunions without irritating them.
The generous layer of quick recovery memory foam feels great on the ball-of-foot area, but I wish it were a darker color because it shows as a light gray along the side of the shoe. This is a bit distracting as is the the thick cork midsole–perhaps it would look more polished if leather-wrapped?
The Aetrex Mia would make a great closed-toe option for Southern gals who have no use for full-coverage footwear in the winter. Or show off cute socks or tights and wear it year round! It's versatile and goes with dressier outfits, but I prefer to wear with slim-leg jeans or pants to show off the braided ankle strap, which happens to be two different colors of leather: black and a shimmery bronze.
I ordered a size 41 for my size 10 medium (sometimes 9.5) feet. I think the Aetrex Mia would best fit a medium to slightly wide foot best. $139.95 at LuckyFeetShoes.com, free shipping and free returns. Use code 10off100+ to save $10 off your order.
If you're looking for different colors (the Mia also comes in burgundy, pacific blue and stone leather) try Zappos, Nordstrom, and Shoebuy.
The rest of my outfit includes:
Plaid shirt from Gap. This is last year's style but you can find a similar shirt at Gap.com . I love the fit, not too tight and a bit longer in the back.
Jeans: Mossimo High Rise Skinny Jeans from Target. For $29.99 you can't beat the fit. They come up high enough so you're not yanking them up all day.
Scarf: J. Crew cotton striped scarf. Find a similar scarf on eBay.