Athletic Shoes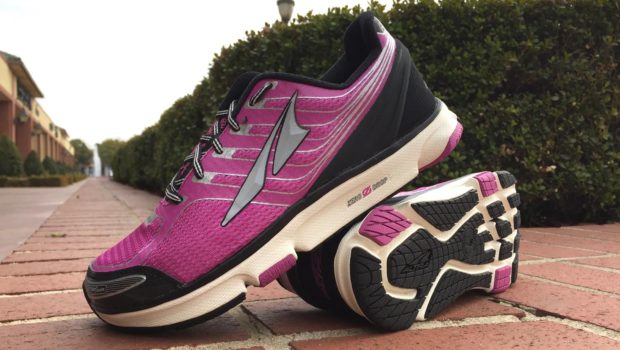 Awesome Altra Shoes : Womens Provision 2.5 Review
I suspected that I'd love Altra shoes and I was right. I first wrote about them in July, introducing them to readers who need extra cushioning for bad feet, knees or back. As I researched the brand, the phrase FootShape™ toe box caught my attention. Sounds lovely, doesn't it? Who wouldn't want a shoe is shaped like an actual foot? Granted, our feet differ one from another like snowflakes, but most are wider at the forefoot and narrower at the heel. Mine sure are with bunions at the front and plantar fasciitis at the back. Good times.
Once I laced up my new Altra shoes (the Provision 2.5 model), the FootShape™ toe box introduced itself immediately to my toes by promising, "I'll protect you but I won't be clingy. I'll hover around you, but you won't really know I'm there." Just what my arthritis-compromised toes needed to hear. Previous fitness shoes had started to get too friendly causing discomfort in exercise-induced situations. The toes felt cramped and suffocated. Not so in their new Altra Provision 2.5 shoes as they spread out and relax during long walks (that's right, I wear these as walking shoes because running is a no-no for my RA knees).
Do they look like clown shoes? I was totally expecting to look like Bozo, but find they're not as wide and clunky looking as I thought they'd be. Read more about Altra's FootShape™ toe box here. For those of you with Morton's Neuroma, you need to look into this brand!
What about my arches? I was worried that the Altra Provision 2.5 couldn't possibly match my Asics in the arch support department. But this particular style is billed as a stability shoe.  The Provision 2.5 is made to support fallen arches and prevent over-pronation. The technical feature that promotes this stability is called Stabilipod Stability System™ which is best described as enhanced pillars on the midsole and outsole that create a tripod of stability at the metatarsal joints and heel to prevent excessive pronation. So far, so good. Even on my long walks, my feet feel aligned and arches supported.
Altra shoes feature a fully cushioned Zero Drop™ platform which means my heel and forefoot are on the same level–no one gets elevated to a superior position, everyone is the same distance from the ground. As I've mentioned, I'm not a runner, but Altra believes that "this natural balance aligns the feet, back and body posture for less impact. It also strengthens the Achilles and lower calf muscles that have been weakened over a lifetime of running on elevated heels." It didn't take long for my feet to get used to the zero drop platform. In fact, I hardly noticed the difference until I but my Asics on this morning and felt like I was walking in wedges! I guess my feet had already adjusted to their new level walking experience.
Yes, Altra specializes in running shoes, but if you're a walker like me due to bad knees, ankles or feet, this shoe might be just what you need. The cushioning in the ball-of-foot area and heel help alleviate the pain of metatarsalgia, plantar fasciitis, Morton's neuroma.
A few more features I've noticed when wearing my Provisions: they're incredibly lightweight for a stability shoe, they breathe well, there aren't any annoying seams to irritate bunions, AND the laces are awesome–I don't even have to double-tie them to get them to stay put.
A word on sizing: I'm usually a 10 medium, but sometimes take a 9.5. I requested the Altra Provision 2.5 in a 10 and it fits well. If you're a half size, you may want to order up to the next whole size. While it's wide in the toe box, it narrows at the midfoot and heel which for me works perfectly. I don't experience any heel slippage.
The Altra Provision 2.5 is available in whole and half sizes 5.5-11, 12 for $120 at AltraRunning.com with free shipping and a 30 day guarantee (read more here for specifics). Prefer to try a pair on before buying? See Altra's store locator to find a retailer near you. Even if you don't need stability shoes, Altra offers neutral, trail and everyday footwear too–see them all! The Provision 2.5 and other Altra models are also available at Zappos, Amazon and OnlineShoes.com.
Do you have a pair of Altra shoes? Do you wear them for running or walking? Which style do you have? Leave us a comment and provide feedback; it's greatly appreciated by the Barking Dog community.
Featured Image photo credit goes to Sole2SoulSports.com.