Special Features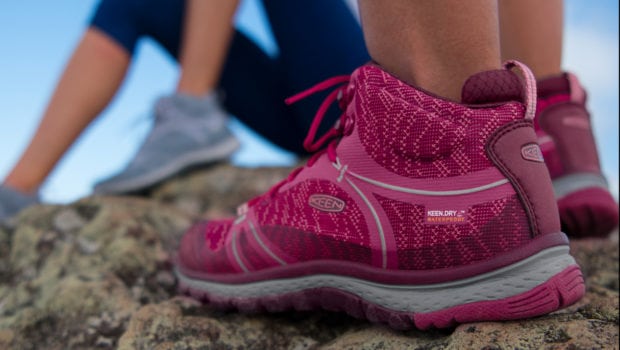 Published on May 27th, 2018 | by Beth Bengtson
5
Camp Shoes for All Your Awesome Outdoor Adventures
If you'd rather to sleep under a million real stars than in a 5-star resort, a camping trip might be part of your summer plans.  Good camp shoes should definitely be on your packing list, since appropriate footwear (or lack thereof) can make or break any outdoor adventure.  Here's our roundup of top picks in comfortable camping shoes just right for the trail, in a canoe, or around the campground.
When it comes to hiking footwear, Oboz shoes and boots consistently receive 5-star reviews for quality, comfort and functionality.  In addition to making terrific shoes, Oboz is a great company!  They plant a tree for every purchase made, and Oboz headquarters is 100% powered by clean wind energy. And this is just the start – learn more at obozfootwear.com
Oboz shoes and boots are handcrafted and have a proprietary "O Fit" insole, which is anatomically-designed to maximize stability and support with a supportive arch and a deep cushioning heel cup.    We love the Oboz Sawtooth, a versatile hiker with great cushioning and traction.  Wearers with knee problems, plantar fasciitis, and those who have a wider forefoot/narrower heel love them.  The insole is removable if you wear a custom orthotic, and a waterproof version is also available.  Find them at Zappos and Amazon.
For lounging around the campsite, short walks to the camp store, or showering in – ahem – "less than glamorous" campground facilities, try the iconic Keen Bali.  They're durable, quick-drying, easy to slip on and off, and have great cushioning and support.  Your feet, knees and legs will thank you for ditching the flimsy flip-flops!   Find them in bright, summery colors as well as cool neutrals at Zappos and Keenfootwear.com.
If you'll be kayaking, rafting, or doing anything else that may have you around water, consider a water shoe like the Merrell Tetrex for stability and support both in and out of water. The breathable mesh lining, exclusive Hydramorph technology to channel water away from the foot and out of the shoe, and durable outsole with Wet Grip lugs all make this a perfect shoe for wet adventures, but they also function beautifully on land. A cushioned EVA midsole provides support and shock absorption. Available from Zappos and Amazon.
A great light hiker with ankle support, the Keen Terradora Mid boot gets great reviews.  This boot is lightweight and flexible, but also supportive and waterproof – almost like a cross between a sneaker and a hiking boot.  If you use custom orthotics, the insole is removable.  And, as far as hiking shoes go, they rank high on the cuteness scale. Keen seems to have realized that just because someone is outdoorsy doesn't necessarily mean they always want to wear brown!  Find the Keen Terradora in an array of colors at Keenfootwear.com,  Zappos and Amazon.
There's a good reason why Chaco has become THE name in sport sandals for many wearers.  The new Chaco Z/Cloud X2 has the same amazing support and fit-to-any-foot adjustable straps that made Chaco famous, but it also features a cushioned "cloud" layer on the footbed for extra softness underfoot.
Here's what our friend Heather has to say about her Chaco sandals:
"Chaco's are my go-to from the moment it's even remotely reasonable to show my toes. They're sturdy, comfy, durable and super versatile– I can get them wet or muddy while schlepping my kids and dog around; then I can hose them off and throw on a skirt or jeans with them, too. They're my number one summer staple."  The picture above is of Heather rocking her Chacos on the trail in Estes Park, Colorado.
Check out the Chaco Z/Cloud X2 for yourself at Zappos and Chacos.com (where you can customize your sandals).
Do you have any favorite hikers, sport sandals or camp shoes?   Please leave a comment – we love to hear from readers! If nothing floats your boat here, check out our review of two more outdoorsy sandals: the Keen Rose and the Ecco Yucatan.
SaveSave
SaveSave
SaveSave
SaveSave
SaveSave
SaveSave
SaveSave
SaveSave
SaveSave
SaveSave
SaveSave
SaveSave
SaveSave
SaveSave
SaveSave
SaveSave
SaveSave
SaveSave
SaveSave
SaveSave
SaveSave
SaveSave
SaveSave