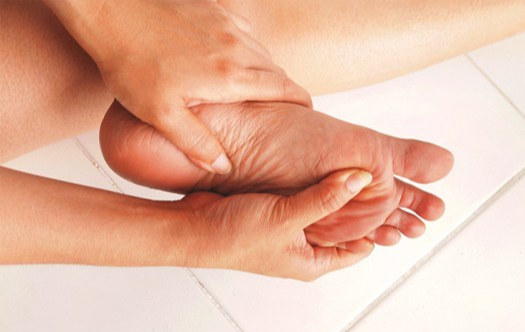 Ball of Foot Pain
Ninety percent of women in the U.S. have at least one pair of shoes that are pure agony to wear. According to the 2016 survey by a British shoe manufacturer, 30% of women are still unable to walk two days later after a night out in poor fitting shoes. The survey highlights what ladies with problem feet already know, wearing shoes that restrict the natural shape of your foot or are too tight can lead to painful feet later on. But some of us also have foot conditions or activities in our daily lives that lead to sore feet. Sometimes this ball of foot pain centers in the widest part of your foot, the forward section located between your toes and your arches.
Causes of ball of foot pain
When this happens the ball of your foot is painful and it may be inflamed or bruised. Often you'll feel pain at the back of your second, third or fourth toe, or the ouch can be occurring just behind the big toe. So what's going on? Our feet are a like tiny complicated machines with 26 bones and 33 joints in our foot and ankle. The bones located right behind your toe bones, found in the ball of your feet area, are called your metatarsals. These metatarsal bones help support you. In addition the entire ball of foot area absorbs the weight of each step. As you step, the impact naturally shifts from your heel to the ball of your foot. According to the American College of Foot & Ankle Orthopedics and Medicine (https://www.acpmed.org/) pain in the ball foot area is not usually an injury, but it is a symptom of a problem with how your foot is operating. Something is altering the way your foot carries weight, leading to irritation and inflammation. The most common cause of ball of foot pain may surprise you. Experts say ball of foot pain is most often caused by improperly fitting footwear, such as wearing shoes with tight narrow toe boxes that force the ball of your foot to squish into a smaller area. (Need some advice for better shoes? We can help find comfortable shoes including heels, sandals and walking shoes that may help.)
Other causes of ball of foot pain may include:
Exercise: You can develop forefoot pain when you start a new exercise routine or participate in sports that require you to pound your feet such as running. Experts say this especially true if you wear shoes which are worn out or not designed for that type of sports activity.
Arthritis
Diabetes
Callouses
Excessive pronation. When you naturally turn your feet inward when you walk (your doctor may suggest orthotics)
Toe muscles which are too tight or too weak
High heels. Wearing high heels puts more of your weight on the ball of your foot. These shoes often shift your weight forward and change the way you walk.
High arches. Ladies with high arches naturally put more pressure on the ball of their foot when they move.
Second toe longer. Having a second toe longer than your first toe puts more weight on that spot
Hammertoe. This condition may cause the toes to press to the ground leading to your body putting more weight on the ball of your foot.
Bunions
Obesity.  Most of your weight goes on your forefoot when you move. Having extra pounds could contribute to ball of foot pain over time.
Age: As we age the natural fat pads under our feet tend to thin out. This leaves less cushioning to absorb the impact of our steps. Your body's natural way of putting space between your feet and the street starts to go away as you age.
Wearing flip flops more than occasionally. Many popular styles of flip flops and even some sandals lack support. These shoes can require your toes to work differently to keep your feet in the shoes, and that can lead to ball of foot pain.
Medical foot conditions: Experts say a variety of medical conditions with bigger sounding names may be causing ball of foot pain such as metatarsalgia (Mayo Clinic has a helpful page on this), early stage metatarsophalangeal (mtp) synovitis (aka capuslitis) of the second toe, sesamoiditis (tendonitis around two tiny bones near your big toe) or rarely, the pebble-in-your-sock feeling of a Morton's Neuroma.
Symptoms of ball of foot pain
Here are some of the symptoms which may indicate you have ball of foot pain:
The ball of the foot is painful and inflamed
Sharp burning, aching pain just behind the toes that worse when walking, running on hard surface
Gets better when you rest
Pain or tingling in your toes
Pain gets worse when toes are flexed
Sensation of walking over pebbles
Worse when walking barefoot on a hard surface, feels better in shoes
Treatment of ball of foot pain
Trying to avoid putting pressure on the painful balls of your feet will change the way you walk. Untreated ball of foot pain can eventually give you pains elsewhere in areas like your hips, knees or lower back. The good news about treatment options is that ball of foot pain usually responds to home remedies such as avoiding walking barefoot on hard surfaces. (Before you think you're stuck in rocker soles at home, I've reviewed some great supportive slipper ideas that can help you still be comfy at home.)
Switch your shoes: Another 'home' treatment for ball of foot pain is to change your shoes. I remember a few years ago when I could barely walk a quarter mile without wincing in pain and eventually I gave up. My doctor diagnosed me with metatarsalgia (ball of foot pain associated with my RA) and Morton's Neuroma. In my case my forefoot issues mostly cleared up when I switched to foot-friendly comfortable shoes. For a quick read on why non-surgical approaches such as changing shoes can help your feet feel better, read our guest podiatrist post by foot expert Dr. Cathleen McCarthy.
You see, our shoes have multiple jobs. "They protect our feet. They cushion our body weight. They allow us to play sports. They can make our feet feel comfortable or fashionable – hopefully both," say the experts at the website footcaremd.com, the consumer site of the American Orthopedic Foot and Ankle Society. "Finding the proper shoes and making sure they fit is one of the most important things you can do to keep your feet and your body happy."
Other treatments for ball of foot pain may include:
Ice and rest
Elevate your foot
Over the counter pain medication
Wearing metatarsal pads. (Check out my reviews of Aetrex Corinne, shoes that come with metatarsal pads included
Wearing a toe bar (metatarsal bar)
Other products often recommended include gel metatarsal cushions and metatarsal bandages
Shock absorbing insoles or orthotics. I'm a fan of Spenco insoles. They're fantastic at relieving foot pain due to over-pronation, plantar fasciitis and metatarsal pain. You may also like Superfeet insoles: berry for medium arch support and green for high arch support.
See your doctor: If the ball of foot pain lasts more than a few days, see a doctor (sometimes your feet just ache). He or she can rule out other things. Your doctor may do an x-ray to rule out a stress fracture in your toe area.
Physical therapy: Your doctor may prescribe physical therapy.
Steroid injections: Occasionally your doctor may prescribe steroid injections
Surgery: In rare, rare cases – with other complications like hammertoe, experts say you may need surgery to realign the foot bones.
If the cause is metatarsophalangeal Synovitis (capsulitis) – pain in ball of foot just beneath the second toe, where your toe bone is actually starting to separate from your foot bones (ouch!) – your doctor may suggest taping, icing, splinting, or even prescribe you a walking boot and crutches. (For a helpful info about this condition check out the capsulitis page on foothealthfacts.org, the consumer site of the American College of Foot and Ankle Surgeons. And don't miss my review of winter boots for MTP Synovitis if you're looking for footwear.
Comfortable shoes for women with ball of foot pain
So how you do you find comfortable shoes to help with or avoid pain in your forefoot area? Experts say to look for proper fitting comfortable shoes with wide toe boxes. "The ball of your foot (the widest part just before your toes begin) should fit comfortably in the widest part of the shoe," according to Footcaremd.com. You may also need shoes that come with orthotics, or shoes which allow you to add shock absorbing insoles or arch supports, depending on your individual feet.
I've reviewed hundreds of pairs of shoes on barkingdogshoes.com and can provide comfortable stylish options to put a cushiony barrier between the balls of your feet and the hard ground. You'll want to read Best Shoes for Ball of Foot Pain where you'll find shoe reviews which include air bubble cushioned shoes; cute comfortable summer sandals and slip ons that may help relieve ball of foot pain.
If boots are on your shoe shopping list, I've found boots that may help with ball of foot pain such as the Spring Step Groove, an ankle boot that comes with cushioning and room for your toes. You may also like the Alegria Caiti with its roomy toe box, and a contoured footbed that comes in many colors. You'll find it in my review of ankle boots for hallux rigidus and hallux limitus. And I personally loved the studded criss-cross straps on the Nancy Bootie with a built-in orthotic. This rockin style is available in a specific metatarsal footbed style.
The Nancy is part of the Abeo line of shoes. As you'll read in my review, each style comes with the option to choose the metatarsal footbed style. From work appropriate Nadine with a slight heel to cute flats, your painful forefeet may feet better in the Abeo options.
Speaking of flats, experts say you should avoid wearing pancake-flat and non-supportive ballet flat styles even though they are inexpensive and popular. Here's some good news if you are a fan of them. At barkingdogshoes.com we've found a few ballet flats with built in orthotics and other support, that might work with your ball of foot pain. Check out the Vionic Spark Minna and the Vionic Spark Willow in my review of the best shoes for plantar fasciitis.
If you're looking for a more sporty flat to keep up with your kids or dogs, the Ahnu Crissy may keep your ball of foot pain from slowing you down.
Slip ons
When temperatures cool or if you work in cooler indoor environments year round, casual comfortable stylish slip ons can help provide the support you need to relieve or prevent ball of foot pain while keeping your feet warmer. Check out my reviews of Merrells and styles like the Keen Kaci leather slip on. The style includes a one-inch rubber outsole and a footbed with PU foam cushioning.
You'll also my reviews of the newer soft cushy Clark's shoe line, called the Daelyn collection which features special footbeds and shock absorbing soles. Although not a slip on, consider the Alegra Paloma. These cute mary janes are designed to reduce pressure on the ball of your foot.
Sandals and flip flops
Wearing non-supportive sandals and flip flops can be a contributor to pain in your forefeet. Barkingdogshoes.com has several styles that are supportive and nice looking. The stylish Mephisto Helen is my go-to answer for the best sandal to help aching feet. Check out the on-trend new silver style.
The lovely Cloud footwear which comes out of Portgual offers peep toe flats and leather sandals that can help ball of foot pain. We've even found sandals with rocker soles if that works best for your feet. The Alegra Karmen is a cute slip on sandal with plenty of cushion in a cork, latex and memory foam footbed.
I recently picked up a pair of Surfa Fitflop sandals and love the cushioned feel of the triple-density EVA footbed on the ball-of-foot area. Another option that I learned about from my readers is Oofos flip-flops. A horrible name, but a wonderful shoe for the barking dogs. The patented OOfoam absorbs 37% more shock than other foams used in actual running shoes while the footbed cradles the arches.
Walking shoes Barkingdog.com readers helped chose our Best Shoes for Walking in 2016. Several of these rocker sole and supportive styles may bring relief for the balls of your feet! Check out the Abeo Rocs in a rocker sole, tennis shoe style. In the full list on my review you'll also find the Rykä Devotion, named best fitness walking shoe because according to a customer "it cushions the ball of my foot, which relieves pressure on nerves in my foot."
Comfortable Slippers  If you're like me you love the idea of going barefoot around the house all year round. But experts say going barefoot, especially on hard surfaces like hardwood floors, can contribute to ball of foot pain.To avoid the ouch but still be comfortable when you're hanging at home, we've pulled together a review of the most comfortable supportive slippers for forefoot pain – some even feature removable orthotics. You may like the affordable Daniel Green Melly, or the Spenco Supreme Slide.
We want to hear from you
We hope that you've learned more about the causes, symptoms, and possible treatments for ball of foot pain. We hope one of the many comfortable, supportive shoes in our reviews can help your feet feel better and prevent your forefeet from getting sore in the first place.
We'd love to hear from you. Have you found a pair that helped your ball of foot pain? Please contact us or join our active Facebook community to share your ideas. We also love getting comments on our reviews about what's worked for our readers…real women with problem feet who still want to find good looking shoes!
Related links
Long Tall Sally If the Shoe Fits survey March 2016
American Podiatric Medical Association
FootCareMd.com consumer website of the American Orthopedic Foot and Ankle Society
American College of Foot & Ankle Orthopedics and Medicine patient information on metatarsalgia
Foothealthfacts.org consumer website of the American College of Foot and Ankle Surgeons
Mayo Clinic – metatarsalgia information page
Note: the above content is not intended to be medical advice or substitute for seeking the advice of a qualified medical professional. We're talking shoes here.