Comfortable Boots for women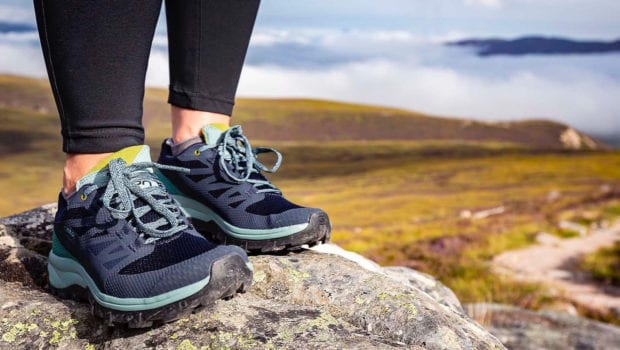 Best Hiking Boots and Shoes for Women | A Reader's Request
Hello Kirsten,
Is there any chance you might review the best hiking boots for women at some point in the near future?  I am going on a 3-day walk and need new boots to get me through it.  I have fibromas, hallux limitus, and plantar fasciitis, with a wide front and narrow back of my feet!!  It's not easy to get something comfy.
Dear reader,
As you know, nothing can ruin a long hike more than blisters, aggravated foot conditions, pinched toes and aching heels! I'm not a serious hiker, but I love a long walk off the beaten path. I understand that regular fitness shoes just don't cut it when you need better ankle support and traction. Let me see if I can point you in the right direction down the trail to finding the best hiking boots or shoes for you.
We have a feeling these will fly off the shelves quickly as they're an exclusive style by Merrell. The popular Zion Mid hiking boot was re-imagined by Merrell and Unlikely Hikers, an inclusive Instagram community of outdoors enthusiasts. Available in medium and wide widths, this cute hiker features a removable insole with arch support, a full-length lightweight stability plate, excellent traction and waterproof membrane. A happy Zappos customer says this about her new Merrell hiking boots:
"These are the most comfortable boots I have ever owned. I need a wide fit because of bunions and also needed the removable insole because I wear orthotics. The uppers are supportive and have the flexibility of an athletic shoe — a great combination. I've worn these several times on snowy paths and they really are waterproof."
Find the Merrell Zion WP X Unlikely Hikers collab boot in sizes 5-13, medium and wide widths for $160 from Merrell.com, Zappos, Amazon and Shoemall. Do you need a little more room due to wide foot? Try the men's version at Merrell or Zappos.
Have you heard of Oboz? If you've tried Keen and Merrell but just can't get a good fit or need more arch support, give these hikers a whirl. The Sawtooth Low BDry features unbeatable traction, arch support and a deep heel cup to stabilize the foot. Customers comment that the fit is good–roomy across the forefoot, narrower at the heel for a snug fit. The Sawtooth II Low BDry gets high marks for waterproof protection. Available in sizes 6-11, medium and wide widths for $139.95 from Zappos, ObozFootwear.com, and Amazon. Also available in ankle height boot.
If you're a fan of the sturdy Keen Targhee hiking boot but crave a bit more flexibility, consider the Keen Ridge Flex. The KEEN.BELLOWS FLEX technology requires 60% less energy to bend, making each step feel easier. Keen customer Lindsey says this about her new Ridge Flex boots:
I have been wearing this boot through snow, slush and mud and they have kept my feet warm and dry! They are incredibly comfortable for long walks/hikes, the wide toe box and fitted heel keeps my foot in place without being constricting.
Find the Keen Ridge Flex Waterproof hiking boot in sizes 5-12 for $170 from KeenFootwear.com, Zappos and Amazon.
Best hiking shoes for women with narrow feet: Salomon Outline GTX. If you have narrow feet, no doubt you're frustrated in your search for a good-fitting hiking shoe or boot since most brands don't make a narrow width. After reading reviews of the Salomon Outline GTX, I feel comfortable recommending them for narrow feet. The profile is slim, the heel fits snugly and the toe box isn't overly roomy. Zappos customer Amy says, "I have very narrow feet and no one makes narrow GORE-TEX®  shoes but Solomon's have a narrow last." Another reviewer states, "They fit slim and comfortable for my narrow foot. Yay!"
If you love the look of the Salomon Outline GTX but have a slightly wide to wide foot, consider the wide width option or the same shoe in the men's version. Available in sizes 5.5-12, medium and wide widths for $129.95 from Salomon.com and Zappos, Also available in an ankle-height boot.
I've owned two pair of Merrell trail/hiking boots over the years and they're my personal favorite when it comes to fit and support. A wide and high toe box accommodates bunions, the removable insole offers excellent arch support, the Vibram sole grips well over rocky or wet terrain. The Merrell Moab 2 Waterproof hiking boot is a crowd favorite for those very reasons. Two Zappos customers attest:
Oh Merrell, these hikers feel as though I've slid into my favorite slippers. Bunion – no problem, plenty of room in the toe box in my normal size but in wide. High arch? The cushiony insides of these boots perfectly wrap & support the shape of my foot.
After an exhaustive search in which I ordered and returned three other pairs, I finally went back to the Merrell brand boots. For my foot, especially my inconvenient bunions, this is the only brand I can comfortably wear right out of the box, no "break in". I did buy these 1/2 size larger to accommodate thick socks.
Find the Merrell Moab 2 Mid Waterproof in sizes 5-12, medium and wide widths for $135 from Merrell.com, Zappos and Amazon. Also available in a hiking shoe version.
If you've fallen head over heels in love with your Hoka running/walking shoes for their plush cushioning and thick shock-absorbing outsole, you'll love the Kaha GTX hiking boot. Hallux rigidus sufferers, heed my advice and give these a try–your big toes will stay protected from over-flexing. Surprisingly lightweight, the Hoka Kaha GTX will keep your feet warm and dry while providing superior traction on icy, wet and rocky trails. Find the Kaha GTX in sizes 5-11 for $220 from HokaOneOne.com, and Zappos. Also available in a shoe version.
Still unsure on which hiking boot or shoe will work best for your feet? Pop on over to our Facebook discussion about best hiking boots for women.
Don't discount Skechers, especially if you're in the market for an affordable, sturdy, waterproof boot. While it's not made for technical hiking, the Skechers Trego line gets excellent reviews for cushioning, good fit and moderate arch support. Available in sizes 5-11 for $79.99 from Zappos.