Shoes for Problem Feet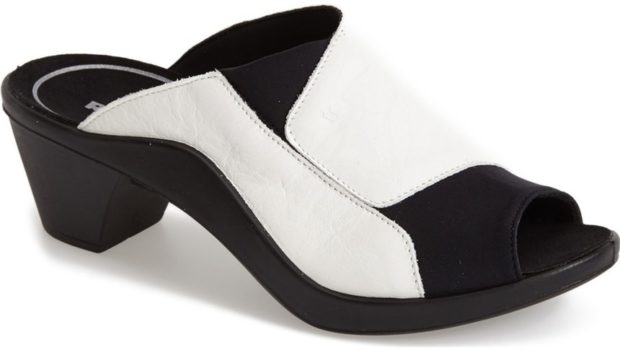 The Best Shoe Styles from 5 Comfort Brands
Do you remember when your feet first started to hurt? I sure do, but then again, my RA hit like a freight train–one day, no pain; the next day, from head-to-toe pain.  Maybe your foot discomfort came on slowly but surely until you realized it was here to stay and you'd better find new shoes. So you asked trusted friends or even your doctor for suggestions on comfort brands. You posed a question online on a message board, "What shoes should I wear for this or that foot problem? Sure enough, good samaritans rushed to your aid with suggestions, "Dansko!" "Clarks work for me." "Only Keens for my problem feet." And so it goes…
When you go into a shoe store or worse yet, look online for comfort brands, the options are endless. Search on Dansko and you'll get hundreds of styles from heels to wedges to strappy sandals and boots. Which do you try? Which one is the style your doctor means when she says, "Dansko?" The same goes for all the comfort brands. Nowadays, more and more brands are expanding their collections to carry more stylish options featuring higher heels and narrower toe boxes. But in the process, the overall comfort and support of the original "flagship" style changes.
Take, for example, Dansko. When I was first diagnosed with rheumatoid arthritis, I went to a comfort shoe store desperately seeking relief for arthritic toes. The salesperson brought me three shoes to try: a Romika slide and two Dansko clogs–the Professional and the Kirsten (no longer available, but similar to the current Dansko Sam). The rocker sole miraculously allowed me to walk naturally again without limping. My choices were few, but the decision was easy–I went with the Kirsten (my namesake clog). If you check out Dansko's current collection for spring, you'll shoes that don't even remotely resemble the original clog–3 1/2″ block heels, sneakers, wedges with cut-outs and ankle straps! Variety is the spice of life, but sticking to the basics when it comes healing foot pain is essential. Let's take a look at the "flagship" styles from five top comfort brands. Each style has been around for years and doesn't show any sign of being discontinued.
Clark's Unloop loafer: The Unloop made its debut in 2011 as part of Clark's Unstructured line. Customers love the Unloop for its wide toe box, good fit, removable footbed for orthotics, air circulation features, good arch support and more. Available in whole and half sizes 5-10, 11, 12 in three widths for $130 at ClarksUsa.com, Zappos, Shoemall (carries Bronze color) and Nordstrom.
Romika Mokassetta: For years, the Mokassetta collection has set the standard in a comfortable dress-casual heel. Within the collection, you'll find open and closed-toe slides, sandals with a heel-strap, even pumps. Featured above is the Mokassetta 244 mule, a long-time Romika favorite. The combination of leather and stretch-fabric upper allow the shoe to hug the foot while walking preventing that annoying heel-slap sound! What about comfort and support? See what a happy Zappos customer has to say,
"I have many issues with my feet: a repaired anterior tibialis tendon that will not allow me to flex my left foot. (I need 1 1/2 inch heels to elevate my heel so that I don't stumble.) I also have a hammer toe, high arches, and bunions. These are the most comfortable shoes I have ever worn. After buying my first pair and wearing them for a while to see how they worked, I ordered two more pairs. They also look "smart" and not orthopedic! I have told my friends who have "feet issues" about them and highly recommend them."
The Romika Mokassetta collection features a 2 1/4″ heel with a 1/2″ platform and is available in European sizes 36-41. Most styles run around $115-120 from Zappos, Amazon (special deals), Nordstrom. Find the red Mokassettas at 6pm.com on sale.
Mephisto Helen sandal–I remember seeing these sandals on another mom at the pool during swimming lessons for our four year-olds. My then four year-old is now 15, so that means the Mephisto Helen is at least 11 years old! Each year, the Helen comes out in an array of new colors and patterns, never compromising the original comfort technologies that makes this sandal one of Mephisto's best-sellers.
If you suffer from plantar fasciitis, I can almost guarantee your heels will find relief in the Helen. The combination of a cork-latex contoured footbed and shock-absorbing rubber outsole is just what those aching heels covet. An adjustable instep strap offers a customized fit. The leather straps are soft and shouldn't irritate between the toes. The Mephisto Helen runs a tad small, you may want to order up a size for best fit. Available in European sizes 35-43 for $149 at Zappos, The Walking Company, Nordstrom and Shoebuy. The Helen Plus is Mephisto's wide width version of this sandal and is available at Shoebuy.
Naot Matai: "I stop strangers in the street to tell them about my Naot shoes," says an online reviewer at The Walking Company about her Naot Matai mary janes. Have you ever loved a shoe so much that you want to tell the world? Perhaps the Naot Matai will be that shoe for you too. Got bunions? You're in luck, because the soft leather uppers will conform to toe bumps of all kinds, the toe box is wide and the vamp crosses over way below the bunions. Need good arch support? No problem. The Matai features a cork and latex footbed with deep heel cup and superior arch support to distribute body weight and avoid joint stress. Require a removable footbed to accommodate an orthotic? The Matai can handle your orthotic like a boss, but you may need to order up a size. Available in European sizes 35-43 for around $180 at Zappos, The Walking Company, and Nordstrom. If $180 makes your heart sink, try a different style from the same Koru collection at a discount at 6pm.com.
Rockport Cobb Hill Paulette: Five years have gone by since Cobb Hill made an appearance on the comfort shoe scene offering fashionable footwear with built-in comfort technologies. While styles have come and gone over the years, the Paulette loafer remains. Sure, we'd all love to wear a sleek and chic ballet flat, or a three-inch pump to the office, but for many of us with on-the-feet jobs, a practical yet good-looking loafer is more appropriate. The Paulette's silhouette is foot-friendly, providing room for toes to spread out, yet narrower at the heel to prevent slippage. The footbed is generously cushioned with moderate arch support. The insole can be removed (it's glued in but can be taken out) if you need to wear orthotics. Available in whole and half sizes 5-10, 11, 12 and three widths for $99.95 at Zappos, Rockport.com, Amazon, and the The Walking Company.
Honorable Mention–The following shoes have also stood the test of time for comfort, durability and support: Wolky Jewel (rocker sole and adjustable straps), Ecco Jab Toggle Sandal (adjustable ghillie laces, comfort footbed with arch support), Alegria Classic (the original Alegria with rocker sole, orthopedic footbed), Dansko Professional and Pro XP (the original Dansko and it's sister clog with a cushioned footbed).
Do you have one of these tried and true shoes? What do you like about them? Any concerns? Leave a comment and share your wisdom with other readers!