Comfortable Women's Flats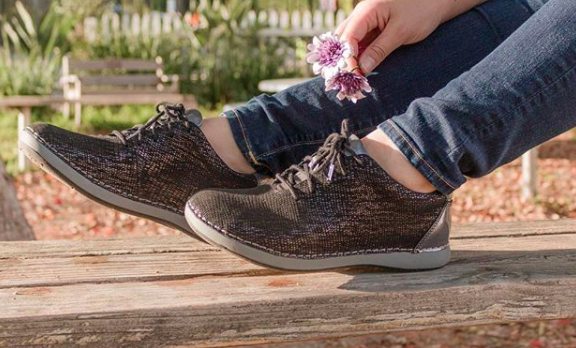 Best Shoes for Back Pain – Our Top Picks & Recommendations
The connection between footwear and back pain can be a chicken-and-egg situation.  Do the shoes you're wearing aggravate an existing back condition?  Or could wearing the wrong shoes be the reason your back hurts in the first place? If you're trying to find the best shoes for back pain, a little homework (and probably a chat with your doctor or chiropractor) is the first step.
Maybe you have an injury, structural abnormality, or other underlying factor that causes pain. Proper diagnosis is the basis of understanding your treatment options, which should definitely include evaluating what kind of shoes you're wearing.  Why?  As a chiropractor once explained to me, "everything's connected."  A stress in or misalignment of one part of your body affects numerous other parts.  And what's supporting it all?  Your feet!   This also explains why improper footwear is often the culprit behind unexplained back pain.  Anything affecting the feet can ultimately affect the back.
Just as back pain can result from a number of different causes, there's no cookie-cutter footwear solution.  You'll need to consider your particular situation and maybe be patient with a little trial-and-error (which thankfully is made easy by many online retailers' free shipping & return policies.)  But here are some general guidelines to follow when seeking out the best shoes for back pain:
Avoid completely flat shoes, and also high heels.  A low heel (1/2″ to 1″) will be most comfortable.  The Merrell Circuit MJ Breeze is one example.  We have personal experience with how well this shoe works for women with back issues.  The Merrell Encore also comes up frequently online as one of the best shoes for back pain.  Want a little more height?  A heel offset by a platform is a great option, like the Klogs Austin.  The heel is 2″, but is offset by a 1″ platform.  These soft but supportive clogs get rave reviews from people with all manner of back, foot, and leg issues.
 Look for shoes that flex with your foot, but also have good arch support, like the Nurse Mates Velocity, which boasts a "firm-but-flexible" footbed among other great comfort features.  If you need a dressier shoe, the Vionic Spark Minna might be a good option (Vionic shoes are known for their extraordinary support in very wearable styles).
Say NO to flimsy flip flops, and YES to soft-but-supportive sandals like the Birkenstock Arizona Soft Footbed.  Traditional Birkenstocks can feel a little hard to those suffering with back pain, but the soft foot bed makes a big difference.  (And guess what?  Birks are actually in style now and come in gorgeous shades of lavender, blush and even metallics! Don't you love it when fashion and comfort come together?)  If Birkenstocks aren't your thing, Fitflop and Hotter footwear are both great choices with wonderfully cushioned, contoured insoles.
Find shoes with plenty of toe room.  Your back stays happier when your toes can grip and flex naturally as you walk!   Keen is a brand known for generous toe boxes & great comfort in general.  We're loving the Keen Terradora hiker, the Keen Elsa sneaker, and the Keen Rose sandal.   We also have to mention the Alegria Essence, a popular, versatile sneaker with lots of toe room that has earned literally thousands of 5-star online reviews for arch support and ability to take an orthotic.
Consider a rocker sole or negative heel technology.   Many people have found back pain relief from a curved or "rocker" sole which helps minimize back pain by reducing pressure on foot joints.  MBT makes a wide range of styles with a rocker sole, including running shoes, dressier shoes, and casuals like the MBT Speed 17 Slip On.    Other back pain sufferers swear by Kalso Earth shoes, which have a patented negative heel technology which positions your toes higher than your heels to help improve posture and reduce joint stress.  This unique design is said to mimic walking barefoot in the sand.  Check out the Kalso Earth Ziggy (lace-up oxford), Kalso Earth Harvest (slip-on loafer) or Kalso Earth Solar (Mary Jane flat).
Is your back pain caused by overpronation (foot collapsing inward, often due to low arches)?  Stability shoes with more aggressive arch support may help, like the Asics Gel Exalt 3 or the Brooks Addiction Walker.
Are you a runner? If your active lifestyle has been hindered by back issues, consider the Hoka One One shoe with an oversized midsole for maximum cushion and unique "bucket seat" foot frame for extra stability. FYI – even non-runners love this shoe for its unique comfort features. Also if you prefer a barefoot or minimalist shoe but crave cushioning for back or knee pain, consider Swiss brand, On. Highly adaptive rubber "cloud" outsole pods provide both vertical and horizontal cushioning for a soft landing relieving shock to back and knees.  We know first-hand how great On shoes are – check out our full review of the On Cloud here.
Try adding quality insoles. Sometimes your favorite shoes can be adapted for superior support and comfort by removing their insoles and replacing them with higher quality insoles like Aetrex Lynco Memory Foam Orthotics or Birkenstock Birko Arch Supports.
Look for footwear with extra cushioning to soften the impact of walking. Shoes like the FitFlop Superskate and the SAS Sunny both have extra cushiony supportiveness and get great reviews from women with back issues.
We've done our best research, but is there anything we've missed?  What are your recommendations for the best shoes for back pain?  Have you tried any on our list?  Readers are often our best source of information – let us know your thoughts! Leave a comment here or over at our Facebook page.
SaveSave