Beth's Posts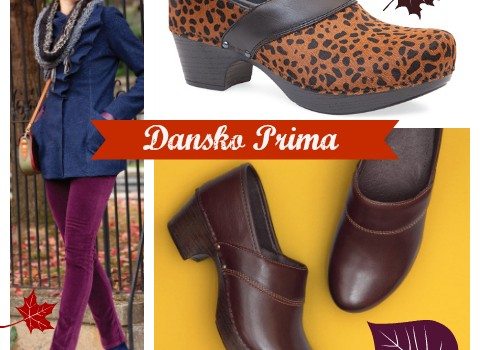 Published on September 12th, 2013 | by Kirsten Borrink
12
Best shoes for back pain: Reader Request
I reached into the mail bag and pulled out this special letter last week. It made me want to place my hand over my heart and stand proud next to this devoted wife, marine husband and four year-old daughter. For all you've sacrificed, I (and I'm sure all the readers here) salute you. I hope one of my suggestions over the next two days helps to bring you relief, and give you some ideas on the best shoes for back pain. 
Thank you firstly for your wonderful site. I have severe lower back pain exacerbated by lifting and caring for my husband who is total care after a severe brain injury (three tour marine in roadside IED). We also have a four year old. I broke two bones in my left foot catching up as his wheelchair flipped backwards and that full weight fell on me. I'm out if my cast though it is still painful. At any rate, I was hoping you could recommend a good shoe brand, styles, etc. that work best to alleviate or at least minimize back pain. I miss my heels and always still want some height. Fashion is still important too as it is a little perk to my days. Any advice would be greatly appreciated! God bless!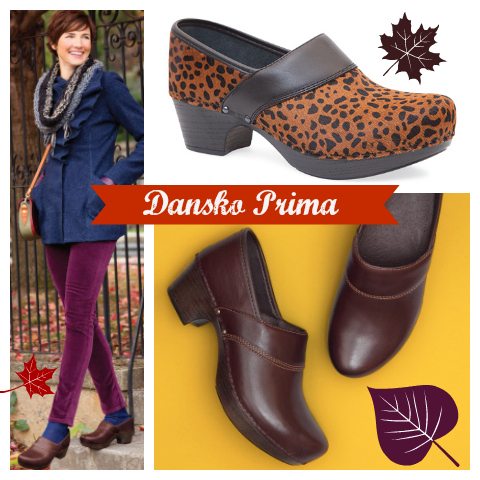 The new Dansko Prima has a more polished silhouette than the Professional, but is constructed the same with an anti-fatigue rocker bottom that propels the foot while walking, protecting feet, legs and back. A fiberglass shank provides midfoot support. The Prima best fits a narrow to medium width foot. Read customer reviews at  Amazon where prices range from $89 – $145.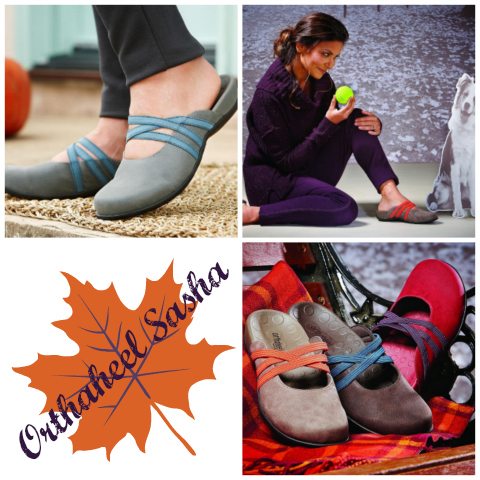 The Orthaheel Sasha II is one of their more visually appealing styles for fall with the contrasting criss-cross straps. Orthaheel footwear properly supports the arches to control pronation which often leads to back pain (read more at the Orthaheel site). The Sasha II and other styles are available for $30 – $80 at Amazon. Unfortunately many of the Orthaheel styles utilize faux leather, which is a bummer for the price. For real leather shoes with Orthaheel orthotic insoles, try the Dr. Weil for Orthaheel line.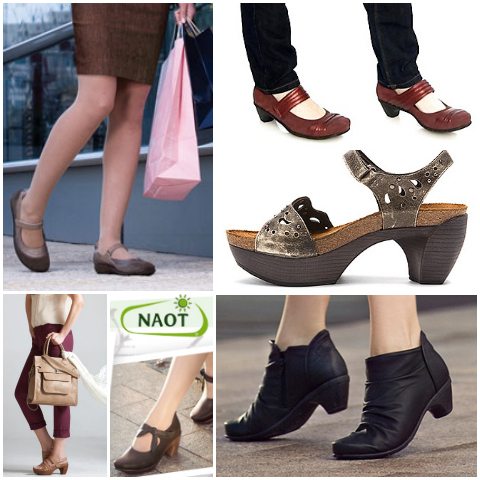 Naot. Like advil for the soles…and lower back. Instead of choosing just one style to showcase, I made a montage of some of my favorites. Warning. Most Naots cost more than $150, but owners will say they wear them day-in, day-out, all year long. Clockwise from top left:
1. Naot Kirei: Features a removable contoured cork and latex footbed that you won't want to remove! See an infographic of the comfort features of the Naot footbed. $185 at Zappos.
2. Naot Attitude pump: A one and a half inch heel with the cork and latex Naot comfort footbed (non-removable). Best fits a narrow to medium width foot. $185 at Zappos, free shipping and returns.
3. Naot United sandal: A chunky, funky platform sandal with a three inch heel and a two inch platform. Cork and latex contoured footbed and a metal shank provide support and stability. $165 at Amazon. 
4. Naot Advance bootie: If you like the "fits-like-a-glove" feeling and have a narrowish foot, the Advance might work for you. Keep in mind the Advance runs a little small. $225 at Zappos.
5. Naot Pleasure: Another supportive heel option by Naot. $173 at Zappos.
I'll be back tomorrow with more comfortable shoe suggestions to help alleviate back pain. In the meantime, do you have a favorite style or brand that works for you? Do share!