Shoes for Plantar Fasciitis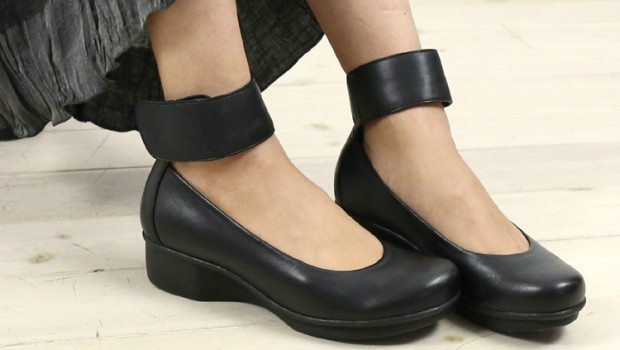 Published on February 23rd, 2016 | by Kirsten Borrink
38
Best Shoes for Plantar Fasciitis
Plantar fasciitis. You won't wonder if you have it, you'll know–especially upon rising in the morning and taking those first steps to the bathroom while your heels shout out, "ouch, ow, ow!!!" The fascia is a thick band of tissue that connects your heel to your toes–like a big, fat rubber band. A normal fascia acts as a shock-absorber, supporting the arch of your foot. It can become inflamed through activities such as long-distance running, or just through having faulty feet (flat feet, very high arch, abnormal gait) and being overweight doesn't help either. Mayo Clinic does a nice job explaining it some more. And we have reviewed over 100 styles of plantar fasciitis shoes over time. The result? Sharp heel pain while walking.
I've developed a nasty case of PF this winter due to walking on our hardwood floors in socks. You would think I'd know better since my RA feet need cushioning, arch support and a shock-absorbing sole, but I hate wearing shoes in the house. I'm not necessarily a neat-freak, but I'm a mom of boys and mud comes with the territory. They know to take their shoes off at the door and I try to do the same. But lately, when I get up from the sofa at night to fetch another bowl of Skinny Pop (it'll only make you skinny if you stick to the portion size, which is impossible), an intense pain in my heels induces hobbling. Thankfully, I remembered by trusty Haflinger slipper-shoes which truly help the heel pain while walking around the house, or on short dog walks.
But what are the best shoes for plantar fasciitis when we leave the house?
Yes, we can add orthotics and supportive insoles to fix-up our current footwear, but which shoes are built to relieve the pain in and of themselves? After scouring customer reviews, I've found these shoes hold promise for those with PF: good arch support, cushioning in the heel area, shock-absorbing outsoles with a bit of a lift at the heel.
Dansko Lois, Lulu and Lynn: Three sweet shoes that we hope stick around and don't get discontinued! I just ordered a pair of Lulus in black leather because I have to see what all the online fuss is about. From what I read, these styles by Dansko are built on the same last with the perfect combination of comfort technologies for plantar fasciitis:

1 1/2″ sculpted rubber wedge sole (shock absorbing and stable while providing just a little lift for the heel so it's not flat against the ground).
Footbed contains extra memory foam cushioning at heel and forefoot.
Contoured footbed is removable to accommodate an orthotic, if needed.
Steel shank provides extra support and stability.

The Lois features an adjustable buckle closure at the ankle adorned with studs and a back zipper entry. $73.30-149.95 at Amazon, $99 at The Walking Company, $74.99-89.99 at 6pm.com.  
The Lulu is a similar version of the Lois minus the studs and back zipper. It features a wide ankle strap that fastens with velcro. $149.95 at Zappos, $80.23-149.99 at Amazon, $149.95 at Nordstrom. 
The Lynn is a shootie version of Lulu and Lois with stretchy goring on the sides for easy on and off. $55-169 at Amazon, $59.69 at 6pm.com, $69.97 at The Walking Company.
  Vionic Spark Minna and Spark Willow: I think it's taken Vionic a few seasons to get it right, and they've finally succeeded with the Spark Minna and Spark Willow–two ballet-style flats with built-in orthotic support. The reviews are mostly positive for arch support and plantar fasciitis relief with the major complaint being the back of the heel comes up too high and can cause a blister (remedied with Heavenly Heelz back of heel cushions). The Vionic Spark Minna is available in medium and wide widths for $119.95 at Zappos, $50-120 at Amazon, $84.99 at 6pm.com. The glitzy Spark Willow is available for $119.95 at Zappos, $57.53-120 at Amazon, $84.99 at 6pm.com. 
The Kirei is a longstanding Naot favorite and comes back each season in new colors and textures. I have a pair of Kirei's sister shoe, the Naot Matai and I can see why they keep these two styles around. The reason I'm featuring the Kirei is that it's one of a few Naot styles that comes in a medium and wide width. The suede-covered anatomical, shock-absorbing cork and latex cushioned footbed promotes correct posture and distributes weight evenly to release pressure on the spinal column and joints. The contours and arches of the footbed prevent slippage, help maintain balance, and protect the heel bone. This footbed is removable should you need to use a custom orthotic (but I think you'll find the Naot footbed is all you need to protect your heels, arches and forefoot). The uppers are made of quality soft leathers and accommodate hammertoes and bunions well. $185 at Zappos, $99-185 at Amazon, $92.99 at 6pm.com, $184.95 at The Walking Company.
Honorable Mention: Romika Citylight 44 (casual dress), Cobb Hill RevChi (ballet flat), Aetrex Essence Julie (mary jane), Ahnu Chrissy II (cute, sporty flat), Saucony Ride 8 (walking/running/fitness shoe).
Do you have a favorite shoe that relieves the pain of PF? Please leave a comment and let us know!