Comfortable Sandals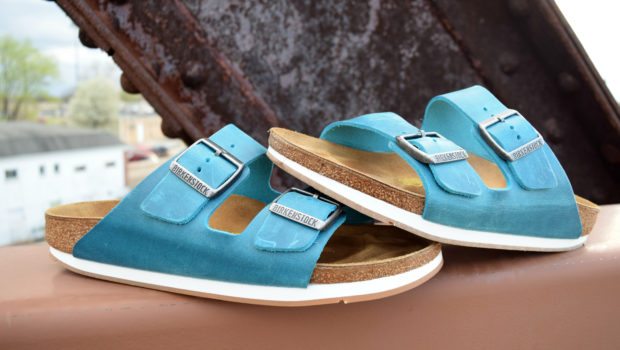 Published on April 29th, 2016 | by Kirsten Borrink
22
Birkenstock Arizona Sport Review – A Colorful Classic!
For a comfort shoe blogger, you'd assume my closet would be full of Birkenstocks: single strap, double strap, ankle strap, day-glo colors and neutrals. Not so. My one trusty pair of Birkenstock Granadas bit it last summer. After five years of almost constant summertime wear, the rubber outsoles were worn down and the cork-latex footbed has clearly seen better days. I could get them resoled, but then I saw these color-of-the-sea beauties. Can a Birkenstock be beautiful?
I placed an order for the new Birkenstock Arizona Sport sandal in Biscay Blue oiled leather. This is my first pair of Arizonas ever and so far, they fit as well as my Granadas and provide the same level of arch support. The adjustable buckles allow for a customized fit for my wider forefoot and narrower midfoot. The thick white EVA foam midsole is an unexpected and fun detail, and while it looks more cushiony than the typical black EVA outsole, I can't say it provides a higher level of shock-absorption.
Per usual with Birkenstock, I ordered the 40 "narrow" width and it fits like a dream. From my experience, Birkenstock sizing is very consistent. The "narrow" width is more of a medium and the "regular" suits a wider foot (you can tell the difference by the foot outline on the footbed: if it's solid, you have a narrow; if it's an outlined foot, that's a regular). The size 40 might be a tad bit small if you're a true 10. I vary from 9.5-10 from brand to brand, so find that the 40 fits best. It took about a week to break the footbed and straps in.
The one feature of my Birkenstock Granadas that I took for granted is the soft footbed (a foam layer inserted between the cork layer and suede liner of the cork-latex footbed. This particular Arizona style does not have the soft footbed and I miss it. If you like the extra layer of cushioning, try the Arizona, or Granada soft footbed sandals. The Birkenstock Arizona Sport sandal in biscay blue (and three more colors) is available at Amazon and 6pm.com. Need to try a pair on? Check out the BirkenstockUSA.com store locater to find a retailer near you.
Do you like Birkenstocks? How do they help your feet? Do you have a favorite style?