Comfortable Sandals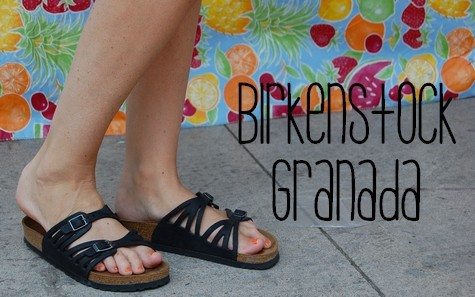 Published on June 11th, 2012 | by Kirsten Borrink
11
Birkenstock Granada Soft Footbed: Unsurpassed Comfort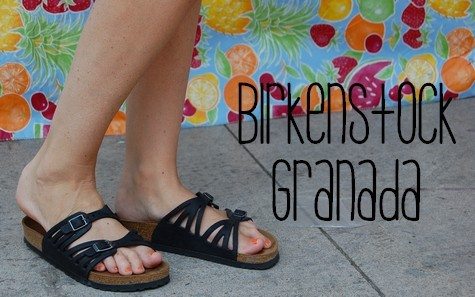 Birkenstock Granada Soft Footbed in black oiled leather courtesy of Birkenstock USA

My feet crave Birkenstock comfort like my taste buds crave an Arkansas tomato in summer. As we visited friends in Little Rock this weekend, there was little question as to which shoe I'd wear to the river market. These Birkenstock Granada Soft Footbed sandals kept me browsing in comfort from heirloom tomato stand to Native American flute booth to customized toe ring kiosk (no way, no how).
For the past three months, I've experienced increasing bunion-area and big-toe joint pain. My RA is on the move again, just in time for summer! Blasted auto-immune diseases. The Birkenstock Granada Soft Footbed is edging out my Alegrias for top spot among my comfort sandals. The soft oiled leather straps across toe and instep allow me to customize the fit for each foot–one with a more pronounced bunion than the other. Birkenstock's Soft Footbed footwear feels custom-made to my problem feet delivering much needed support and room for toes. Read more about the health benefits of Birkenstock footwear.
Five features of Birkenstock's Soft Footbed:
An extra layer of foam between suede liner and the cork and jute footbed. Provides an overall softer feel than the regular Birkenstock footbed.
Raised toe bar encourages natural gripping motion of feet while exercising legs and improving circulation.
Contoured cork footbed supports arch and adapts to feet, creating a custom fit.
Deep heel cup for proper alignment.
Shock-absorbing sole: Flexible, durable, lightweight, shock absorbent and replaceable.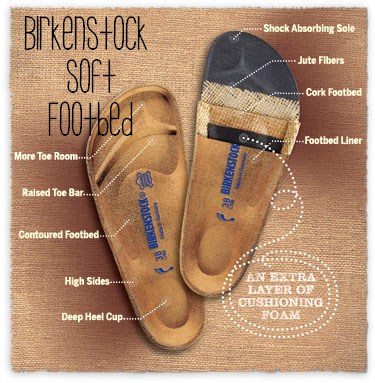 A word on sizing: When ordering, keep in mind that a Birkenstock regular width fits a wide foot best and a Birkenstock narrow width fits a narrow to medium width foot best. For example, I wear a 40 narrow for my size 9.5-10 medium width foot. If you have a slightly wide foot with bunions, order the regular width.
The Granada Soft Footbed and other Birkenstock styles are available at: