Comfortable Sandals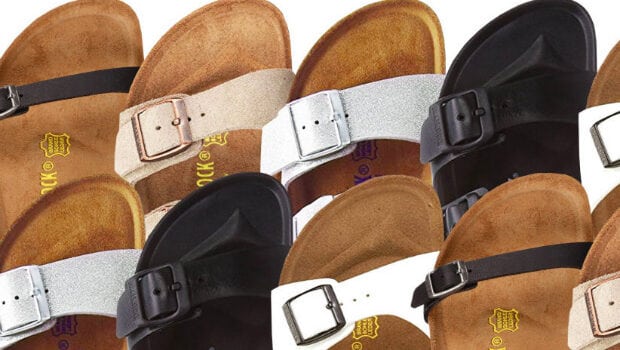 Published on April 20th, 2019 | by Beth Bengtson
10
Birkenstock Sandals: Iconic, Always Comfortable Classics
Birkenstock sandals have been around a long time, but only in recent years have the style gods deemed them fashionable. It's about time! We firmly believe you shouldn't have to sacrifice style for comfort – and there are not many comfort shoes as iconic as Birks. They're go-to sandals for us at the Barking Dog. We sometimes even wear them in winter with socks, on days when our feet are ouchy and other shoes just aren't cutting it.
Birkenstock sandals first arrived in the U.S. in 1966 (timing which may help explain their long association with granola-earthy-hippie types).  But the company's history goes all the way back to 1774 when German shoemaker Johann Birkenstock began making shoes with a strong commitment to craftsmanship. In 1896, Johann's visionary grandson Konrad began making and selling flexible footbed inserts, and in 1902, he developed the first contoured arch support.
This spirit of innovation, in addition to an ongoing commitment to quality and comfort, contributed to the growth in popularity of Birkenstock shoes. Today the brand continues to develop sandals and shoes that promote health and well-being based on detailed knowledge of human anatomy. This makes sense – when feet are perfectly supported, it positively impacts the entire body including knees, hips, and back.
Every Birkenstock footbed features proper arch support, a deep heel cup, and adequate room in the toe area, all of which help distribute weight evenly over the entire foot.  The Birkenstock concept of comfort is based on firm, orthopedically correct support. While many people (myself included) love the feeling of the traditional firm footbed,  Birkenstock also offers a soft footbed on certain styles. The soft footbed has the same supportive features of the traditional footbed, but has an extra layer of cushioning foam inserted between the suede footbed liner and the layers of cork and jute below. Some wearers enjoy the added softness, and those with plantar fasciitis and metatarsalgia (ball of foot pain) may find it gives extra relief.
The cork/latex blend at the heart of the footbed is resilient and pliable, and reacts to natural body warmth. Therefore, over time, the footbed yields to the characteristics of an individual foot. Many Birkenstock wearers find that the longer you wear them, the more comfortable they become. And they're made to last – unless you unduly abuse them, you can expect to get years of wear from a pair of Birkenstocks.
Birkenstock sandals come in European sizes, and most sellers show the Euro/U.S. size conversion. They typically run true to size.  Width options are Regular and Narrow. Regular Birks generally run on the wide side (people with wide feet often can wear a regular width in Birkenstock).  Depending on the sandal, if you have a medium width foot you may want to order a narrow width – especially in styles that run wide.  Wider-fitting styles include the Arizona, Florida, Milano, and Madrid. Styles such as the Mayari and Gizeh tend to run narrower, so many wearers who require a narrow width in the wider-fitting styles will fit into a regular width in these.  Unsure? Take advantage of many online retailers' generous free shipping and returns policies and try both widths to see which is best for you.  The chart below may also be a helpful reference (and it shows Birkenstock's symbols for regular & narrow widths – regular widths have an outline of a foot printed on the footbed; narrow widths have a filled-in footprint.)
Regular


Designed for medium to wide feet.
(Women's U.S. widths B-C+ and Men's U.S. widths D-EE)

Narrow


Designed for narrow feet.
(Women's U.S. widths AA-B and Men's U.S. widths C-D
In addition to unmatched comfort and quality, Birkenstock stands out from a sustainability standpoint. First off, because of their durability, Birkenstock products are by nature eco-friendly (fewer resources are used when you don't have to replace things as often). In addition, a high proportion of the natural materials used to produce Birkenstock products are from sustainable sources: cork, natural latex, jute, leather, and wool felt. The company is also committed to environmentally friendly operations, and constantly works to improve production processes, products, packaging and logistics to be more environmentally-conscious.
Find Birkenstock sandals at Zappos, Nordstrom, The Walking Company and Birkenstock.com.
We've loved Birkenstock sandals for years and have talked about them numerous times before. Check out our previous reviews here.
What about you? Do you have a Birkenstock story? Or a favorite style? Please leave a comment and tell us about it!
And if Birkenstock sandals are a bit out of your price range, consider a pair of Birkenstock look alikes!
SaveSave
SaveSave
SaveSave
SaveSave
SaveSave
SaveSave
SaveSave
SaveSave
SaveSave
SaveSave
SaveSave
SaveSave
SaveSave
SaveSave
SaveSave
SaveSave
SaveSave
SaveSave
SaveSave
SaveSave
SaveSave
SaveSave
SaveSave
SaveSave
SaveSave
SaveSave
SaveSave
SaveSave
SaveSaveSaveSave
SaveSave
SaveSaveSaveSave
SaveSave
SaveSave
SaveSave
SaveSave
SaveSave
SaveSave
SaveSave
SaveSave
SaveSave
SaveSave
SaveSave
SaveSave
SaveSave
SaveSave
SaveSave