Comfortable Sandals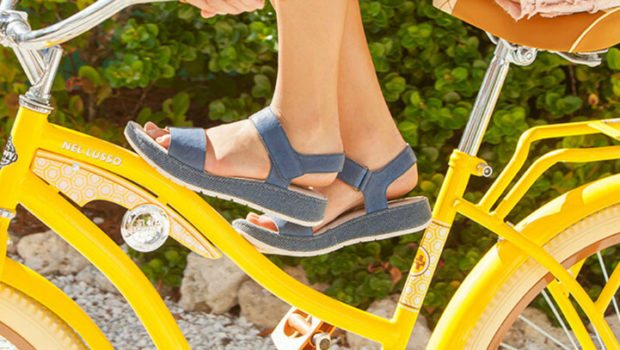 Born Sandals for Hallux Limitus – 3 Charming Styles
Have you been told to wear a thick, rigid-soled shoe by your podiatrist? Do you have hallux limitus or hallux rigidus and need a sturdy shoe that won't over-flex at the forefoot? Perhaps you're down in the dumps because you can only picture fat clogs and tennis shoes and can't stand the thought of giving up cute shoes forever. Now looky here! Born footwear must be reading your mind because their spring line includes a few styles that feature just what you need: thick yet super shock-absorbing soles with a comfort footbed. The thick leather straps are lined with soft microfiber and run wide, so they shouldn't irritate a bone spur. Thankfully, flatforms are pretty trendy right now, so you can have hallux rigidus and look stylish at the same time.
The Born Bastille sandal shown in the top photo features a 1″ platform with a slight rise to a 1.5″ heel. The cushioned insole and
thick EVA outsole provide cushion and shock-absorption while the steel shank offers support to the midfoot. I've read that this sandal runs wide through the forefoot. Zappos customers with varying foot issues from Morton's neuroma to bunions to plantar fasciitis like the feel of the Born Bastille.
Unfortunately, the Bastille is only available in whole sizes but since it runs a tad large and wide, order down if between sizes for the best fit. I do not recommend this sandal for narrow feet. Available for $85 at Zappos (only two colors), $85 at BornShoes.com, $84.95 at Nordstrom (all four colors), $84.95 at Shoebuy.
The Benitez sandal is the slide version of the Bastille–same footbed and thick EVA outsole, but with one thick leather band across the forefoot. Again, this sandal fits a wider foot best and also comes in whole sizes only. $80 at Zappos, $80 at BornShoes.com, $79.95 at Nordstrom.
If you don't care for the white-soled Born Bastille and Benitez, how about the Born Petula with its canvas-wrapped outsole? The Petula's platform isn't as thick as the others, coming in at 3/4″ with a 1 1/4″ heel. The footbed is cushioned and the ankle strap is adjustable. This style runs wide like the others and comes in whole sizes only–probably best to order down if between sizes. The Born Petula is available in five colors for $79.99 at Zappos, $69.99 at OnlineShoes.com, $99.99 at FootSmart.
Another brand to consider if you have hallux limitus is Bionica. Many of their sandal styles feature a thick platform outsole, soft cushioned insoles and decent arch support. They don't run quite as wide as the Born sandals shown here. So far, the ratings are high and customers are happy with this new line.
Do you have a favorite sandal that helps your hallux limitus or hallux rigidus discomfort? Please feel free to leave a comment and help other readers out.