Special Features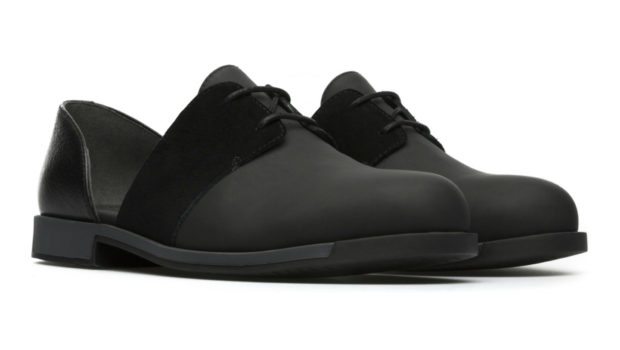 Camper Shoes for Women: Creative Styling, Quality Comfort
We recently heard from a reader who raved about the comfort of Camper shoes for her problem feet.  Here's what she said: "I just bought the Camper Myriam high heel sandal. I teach, and I've had foot surgery due to metatarsal problems, so high heels have been hard to wear for any long periods…But these shoes! They were revolutionary for me…"  The Camper Myriam sandal our reader loves so much is pictured below. (The color combo in the photo is available at Camper.com. The same sandal in solid black or gray is available at Amazon.)
Have you heard of Camper shoes?  They've caught our eye for a long time for their original styling and distinctively European aesthetic (they're designed and manufactured in Mallorca, Spain.)  Hearing from our reader prompted us to take a closer look, and we were happy to find numerous Camper shoes women's styles getting great online reviews for comfort.  We figured it might be time to feature this brand so others know about it as well.
Camper shoes is still run by the family of Lorenzo Fluxa, who founded the company in 1975.  To let you know more about the brand itself, we'll let the company's website do the talking: "From the beginning, the word "casual" has meant something special to us. We create relaxed yet refined styles that exist between the realms of sneakers and dress shoes. Our designers focus on imagining inventive footwear concepts that blur the boundaries between sporty and smart…Every season we strive to reinvent some of our classic concepts while continuing to challenge the status quo with new and original designs. We often find there is a Camper style for every walk of life."
We notice online reviewers with narrower feet, low-volume feet (think flatbread vs. bagel) and those with a narrow heel/wide toe combination especially love Camper shoes.  Here we share some of our favorites to introduce you to the Camper shoes women's line:
Reviews of the Camper Right Nina Ballet Flat get repetitive – in a good way!  They say things like "Amazingly comfortable," "Incredibly comfortable," and "Unbelievably comfortable."  We'll take their word for it. Many reviewers also mention the glove-soft leather and "spongy" or "bouncy" breathable leather insole. "They feel like they just mold to your feet as soon as you put them on."  Everyone from frequent travelers to health care professionals seem to love them.  Bonus: they're available up to size 12!  Find the Camper Right Nina Ballet Flat at Zappos, Nordstrom, and Amazon.
Oxfords and cutouts are two of the hottest trends in footwear right now, and Camper shoes' innovative designers have combined these two styles into the beautiful Camper Bowie.  Since it's part of the brand's latest collection, there aren't many reviews in yet – but we'd be willing to give this shoe a try on style points alone!  Find the Camper Bowie at Camper.com.
The Camper Damas sandal earns five-star reviews for comfort, is available up to size 12, and comes in a number of stylish, versatile colors.  This one's a winner!  The Camper Damas sandal is available at Amazon and Nordstrom.
In 1988, Camper shoes decided to challenge the idea that shoes must be identical.  So began the story of the innovative Camper Twins line, in which the right shoe is different from the left, but as a pair they coordinate beautifully.   We absolutely adore Camper Twins and wish we could include pictures of all of them!  Check out the full line for yourself (and find the Twins by Flat Apartment pictured above), at Camper.com.  You can also search their store locator to see if there's a retail shop near you that carries Camper.
If you're liking what you see and have a man in your life (or prefer wearing more masculine styles yourself), check out the large selection of Camper shoes men's styles.  This includes ever-popular Camper sneakers, and several other shoes that beautifully walk the dressy-casual line.
In addition to high-quality, innovative shoe making, Camper Shoes has high standards of social responsibility regarding its suppliers, materials, and energy use.  Click here to learn more.
It's been awhile, but this isn't the first time we've talked about Camper shoes women's styles.  Read more here.
SaveSave
SaveSave
SaveSaveSaveSave
SaveSave
SaveSave
SaveSaveSaveSave
SaveSave
SaveSave
SaveSave
SaveSave
SaveSave
SaveSave
SaveSave
SaveSave
SaveSave
SaveSave
SaveSave
SaveSave
SaveSave
SaveSave
SaveSave
SaveSave
SaveSave
SaveSave
SaveSave
SaveSaveSaveSave
SaveSave
SaveSave
SaveSave
SaveSave
SaveSave
SaveSave
SaveSave
SaveSave
SaveSave
SaveSave
SaveSave
SaveSave
SaveSave
SaveSave
SaveSave
SaveSave
SaveSave
SaveSave
SaveSave
SaveSave
SaveSave
SaveSave