Comfortable Boots for women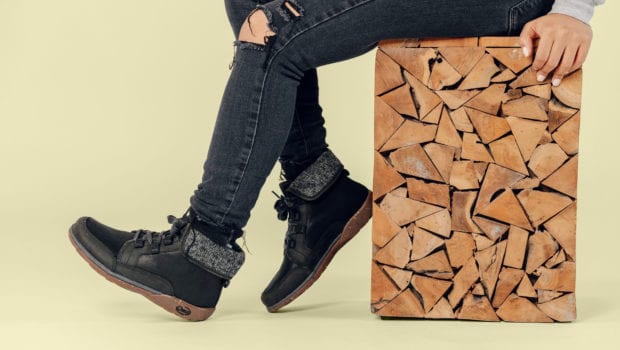 Published on October 6th, 2021 | by Beth Bengtson
16
Chaco Boots "Barbary" Review: Outdoor-Chic Comfort & Support
When I first heard about these Chaco boots, I wondered how they would compare comfort-wise with the well-known Chaco sandals.  (Many readers are probably familiar with Chaco sandals, with their rugged, arch-supporting soles and colorful criss-cross straps that adjust to fit everyone – and leave fun tan lines on your feet).  I won't go on about the sandals here; there are hundreds of online reviews to tell you how great they are. But that reputation was what made me excited to learn the Chaco product line had been expanded to include boots and shoes.
One thing I love about Chaco boots in the cute Barbary style is their AMAZING arch support.  If you're a fan of arch support along the lines of Birkenstock, Dansko, Vionic, you're going to like these.  (If you're not used to it, this kind of substantial arch support might feel a little aggressive at first and take some getting used to, but I think you'll grow to love it once you realize how good your feet and legs can feel when they've been well-supported all day).  As for me, I think I could hear my plantar fasciitis-plagued feet sighing with relief the minute I put these boots on.
Those with bunions (like me) or hammertoes will appreciate the roomy toe box and pleasing width in the forefoot, but the boots don't look clunky.  Win-win!
Initially these Chaco boots felt large in the heel area, slipping when I'd walk, and the leather and wool felt a little stiff.  I cinched the laces and wore them with thick socks for a couple days to make up for this, which worked well.  Then something pretty cool happened – the leather around the heel started to soften and conform to the shape of my foot and ankle.  Now they fit great, and just keep getting softer and more comfortable!   I also love the look of the wool fabric lining and accents, which add style and warmth.  The wool collar can be worn folded up or down.
The Chaco boots "Barbary" style also features waterproof leather uppers, an injection-molded nylon shank for added stability, and an EVA midsole for all-day comfort.  If you wear orthotics, Chaco's trademark, pigskin-lined LUVSEAT footbed is removable – but it's so comfortable you may not even need your orthotics.  Despite all this sturdiness, they're still fairly lightweight.
Some reviewers commented that these Chaco boots don't feel the same as their Chaco sandals.  Don't go in expecting that. They're completely different kinds of shoes – of course they're going to feel different.  What you can expect is a similar level of comfort, support, and outdoor-chic styling as the legendary sandals.
The Chaco Barbary comes in several beautiful color combos. But even in basic black, the varied textures & patterns in the laces, leather and wool keep it boot from looking boring. Currently, Chaco will include a pair of Smartwool socks with every boot purchase!
Online reviewers are all over the place with sizing – some say order up, some down.  I ordered my usual size and like how they fit, though they are a smidge on the big side.  I appreciate extra roominess in a winter shoe to accommodate thicker socks.  If you go sock-free or wear thin socks year-round, you might consider going down 1/2 size.
Chaco Barbary boots are available in sizes 6-11 (even a 10.5) from Chacos.com, Zappos, and Amazon.
Readers, have you tried Chaco boots, or any of Chaco's other non-sandal offerings?  If so, please share your own review in the comments section – we'd love to know your thoughts!
This review of the Barbary ankle boot is sponsored by Chaco. The opinions are completely my own based on experience.