Comfortable Heels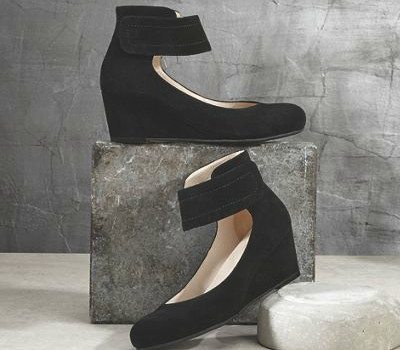 Closed Toe Wedges – 7 Adorable Styles (Reader Request)
Closed toe wedges – hard to find, or more selection than ever? Here is a recent reader request – "Thanks for all your great offerings. I am looking to find cute, stylish comfortable wedges. I tried the Fly London Yala's and found the 38 EU too small and 39 EU too big so now I am back on the hunt again. I would love to see closed toe wedges (and in particular, pumps) in an upcoming article." So we begin the pursuit for shoes that our reader is pursuing, and here are 7 closed toe wedges you'll want to try out.
1.Sacha London Vista: We've reviewed several models of Sacha London shoes in the past. They are a favorite of mine. A lovely wedge by Sacha London with ample cushioning in the footbed, moderate two inch wedge heel and a round toe box. I have a pair of Sacha Londons and love how my toes can move around–hard to find in a dress shoe. The Vista wedge is available for $75-165 from Amazon with free shipping and returns.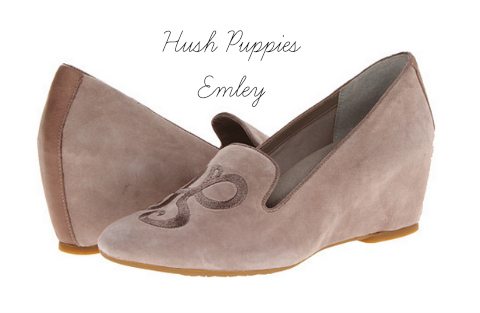 2. Hush Puppies Emley: A smoking slipper wedge that comes in wides and has moderate arch support.  Mixed reviews for all-day comfort. Most say the Emley fits well and is true to size, but a few say it's a little pinchy in the toe box. If you love gray shoes, check out the Emley in gray flannel. Available for $98.95 at Shoebuy, free shipping and returns; $99 at Zappos, free shipping both ways. Special deals at Amazon with free shipping and returns.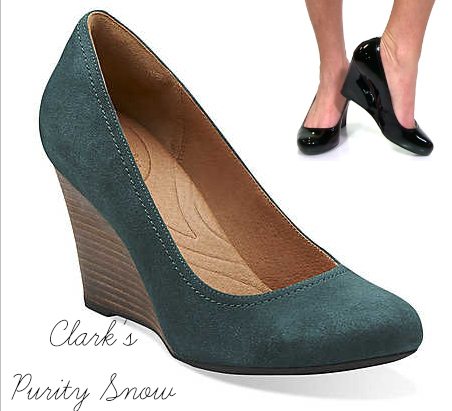 3. Clark's Purity Snow: A beautiful 3″ wedge for normal feet that are accustomed to wearing high heels. An OrthoLite® footbed provides generous cushioning and true to size. No longer available as of November 2015, but try the Clark's Purity Crystal for a similar look and fit.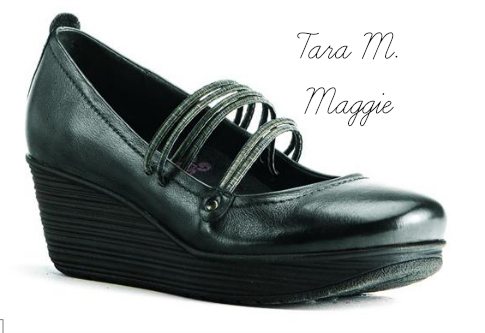 4. Tara M. Maggie: A moderate 2.25″ wedge (with one inch platform) by Tara M., a new brand at The Walking Company. The Maggie features a removable footbed with molded arch support and shock-absorbing rubber sole. $109.99 at The Walking Company with free shipping and free returns to store.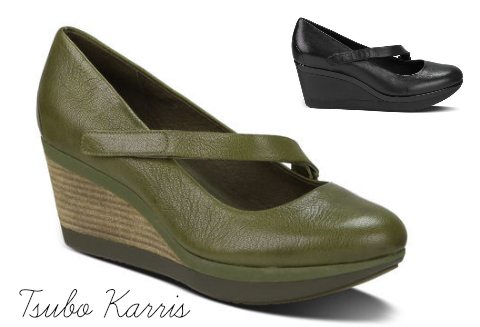 5. Tsubo Karris: Remember the Tsubo Asmik wedge featured here? This is their updated assymetrical-strap wedge for fall 2013, the Karris. What do you think? The reviews are coming in mostly thumbs up for stability (2.5″ heel with one inch platform), cushioning, good fit and soft leather feel. The inclined forefoot provides a similar feel to a rocker sole, taking pressure off the forefoot. I would think the Karris would be comfortable for someone with hallux limitus as the sole is fairly rigid. $160 at Zappos, free shipping and returns. Special deals at Amazon.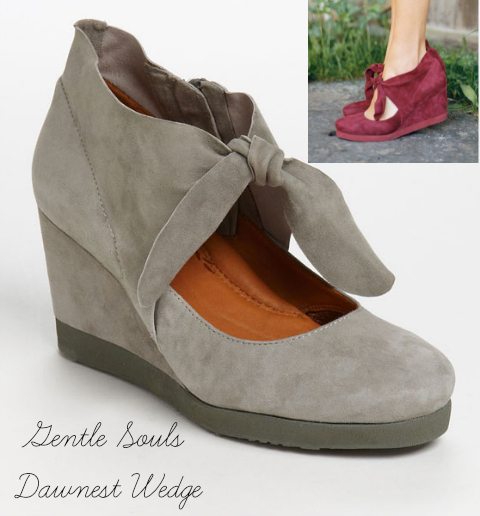 Closed Toe Wedges – 2 more
6. Gentle Souls Dawnest: Wouldn't this be cute with jewel-toned tights for the holidays? It's just so comfortable too. Little flaxseed pillows support the arches, deerskin lining feels so soft against the skin, and the adjustable tie closure allows for a customized fit for slightly narrow to wide feet. The Dawnest runs slightly large; you might want to order down half a size. $209.95 at Amazon, free shipping and returns; $209.95 at Nordstrom, free shipping and returns.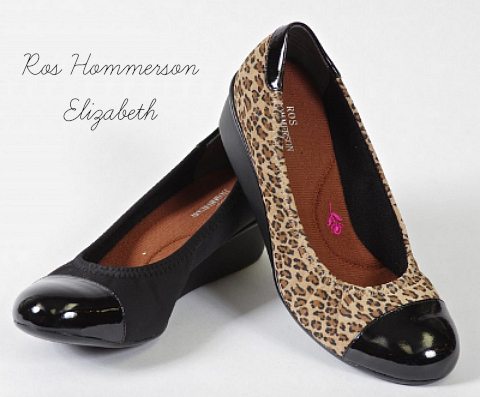 7. Ros Hommerson does it again with the Elizabeth stretch fabric wedge with 4 mm foam padding from heel to toe and a shock-absorbing 1 1/4″ wedge. The stretch upper accommodates bunions and hammertoes. Available in sizes 4-13 in four widths! $85-109 at Amazon, free shipping and returns. $108.95 at Shoebuy with special offers, $99.99 at FootSmart, free shipping.
Have you found any other closed toe wedges we should know about? Submit your ideas in the comments below!