Comfortable Women's Flats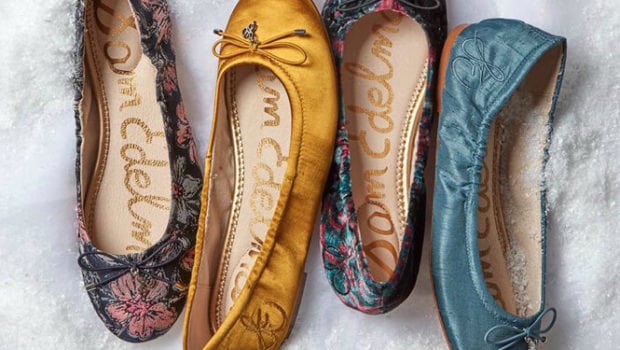 7 Comfortable Ballet Flats Keep You Light On Your Feet
Ballet flats are perennially popular for a number of reasons.  They're easy to wear, versatile, lightweight, and comfortable – IF you don't have fussy feet.  But if you have plantar fasciitis, bunions, hammertoes, a wide toe/narrow heel combination, or require arch support, you may have felt left out from the world of ballet flat-wearers.  Well, you can now join the club, because we've found a selection of comfortable ballet flats with features to accommodate a number of foot issues.  Read on to find which pair of comfortable ballet flats is right for you.
Let's start with a Barking Dog Shoes reader favorite, the Born Julianne.  This sleek, classic flat has moderate arch support, comes in oodles of colors, and is available in sizes 5-12, medium and wide widths.  The soft leather and cushioned footbed earned this flat a spot in our recent post featuring comfortable shoes for bunions. Find the Born Julianne (with some colors on sale) at Zappos, Amazon, and Nordstrom.
It didn't take much reading of online reviews to know the Vionic Matira was an obvious choice for our roundup of comfortable ballet flats! One reviewer after another says the Vionic Matira is one of the most comfortable flats they've worn.  No wonder – the shoes are biomechanically designed to hug your arches and support natural alignment from the ground up. Even those with fallen arches are wowed by the great arch support.   Others like the elastic collar which keeps the heel from slipping and secures the shoe to your foot (even on narrower feet), but isn't too tight.  The soft leather uppers and cushioned insoles also earn frequent mention, and the footbed is removable should you need to use your own orthotic. Find the Vionic Matira at Zappos.
Another great option with good arch support is the Earth Alina flat.  This better-than-basic style also features Earth's exclusive comfort footbed. We love the feminine bow detailing, slight heel, and selection of rich, beautiful colors.   Find the Earth Alina at Zappos and Nordstrom.
The Arcopedico L15D has an upper made of Lytech material, which stretches and forms to the foot – perfect for women with bunions and/or hammertoes.  The higher vamp on this shoe is also a welcome feature for bunion sufferers, as it will fully cover and not cut across the sensitive bunion zone.
This lightweight, flexible shoe also utilizes Arcopedico's patented twin arch system for superior arch support.  However, if you need to use an orthotic, the insole is removable.  The Arcopedico L15D is also vegan-friendly – no animal products are used in the manufacturing process.  Find the Arcopedico L15D at Zappos.
The Sam Edelman Felicia gets good reviews from wearers with bunions, and also from those with narrower feet.  And if you have a unique shoe size, the Sam Edelman Felicia might be a great option – it's available in sizes 4-13, and is also available in a wide width. Reviewers like the soft leather and light cushioning underfoot, but if you need arch support, you may want check out some of our other recommendations.   Find them (including versions for little kids & toddlers!) at Zappos, Amazon, and Nordstrom.
Hush Puppies Chaste Ballet is somewhat unique among ballet flats for its roomy toe box. Wearers with a wide heel-narrow toe combination or bunion sufferers may find these to be a good option.  This is intended to be a minimal, "nearly-barefoot" classic ballet flat. It features HPO2Flex™ uppers that conform to the foot, and the footbed has some cushioning, but there's minimal arch support.  However, numerous reviewers say they've successfully added their own arch inserts.  These also have an elastic cuff for secure fit. Find the Hush Puppies Chaste Ballet flat (with some colors on sale) at Zappos, HushPuppies.com, Amazon, and Nordstrom.
The Josef Seibel Pippa series features a number of different styles of comfortable ballet flats, several with interesting detailing, and all of which get good reviews for cushioning, slipper-like comfort, and classic-but-not-boring styling.  Check out the whole Josef Seibel Pippa line at Zappos and Nordstrom.
We recently reviewed Rothy's flats as they're so popular right now! Find out what we think about these innovative shoes made from recycled plastic bottles.
Readers are often our best resource – what are your favorite comfortable ballet flats? What particular need(s) do they meet for you? We'd love to hear from you!
SaveSave
SaveSave
SaveSave
SaveSaveSaveSave
SaveSave
SaveSave
SaveSave
SaveSaveSaveSaveSaveSaveSaveSaveSaveSaveSaveSave
SaveSave
SaveSave
SaveSave
SaveSave
SaveSave
SaveSave
SaveSaveSaveSave
SaveSave
SaveSave
SaveSave
SaveSave
SaveSave
SaveSave
SaveSave
SaveSave
SaveSave
SaveSave
SaveSave
SaveSave
SaveSave
SaveSave
SaveSave
SaveSave
SaveSave
SaveSave
SaveSave
SaveSave
SaveSave
SaveSave
SaveSave
SaveSave
SaveSave
SaveSave
SaveSave
SaveSave
SaveSaveSaveSave
SaveSaveSaveSave