Orthotic-Friendly Footwear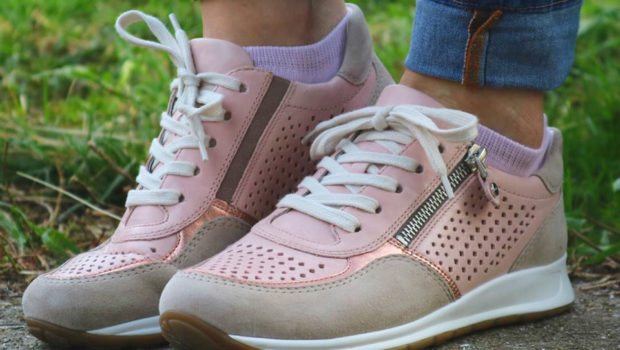 Comfortable and Carefree in Fashion Sneakers by Ara Shoes
They may not be the white Adidas all the fashion A-listers are wearing this summer, but these fashion sneakers by Ara shoes are every bit as chic and probably more comfortable and durable. Made in Germany, family-owned Ara Shoes specialize in hand-crafted footwear with a focus on function and fit, from ballet flats to heels to my favorite–their trendy sneakers that go with a wide variety of outfits.
I'm wearing the Ara Olivia sneaker in navy leather (with navy stitching and laces), but it also comes in lovely rose-gold pictured at the top. The high-quality leather uppers feature perforations which not only look cool, but feel cool too as they allow air to circulate in and out. The zipper is fully functional, but I prefer to lace up the shoe.
I understand why Ara associates as a "fit" brand; the Olivia sneaker fits like a glove–as European-made shoes often do. The toe box is roomy yet streamlined–no clown shoes here! The shoe fits closely but not tightly and the heel is snug. If you have narrow heels, I think you'll like the fit of the Ara Olivia.
Knowing that my readers always appreciate the scoop on arch support, I'll loop you in. There isn't much. I'm sort of sad about this. Everything about the Ara Olivia is exquisite: beautiful leather, trendy style, perfect fit and shock-absorbing outsoles. Yet the arch support is minimal at best. If my arches weren't so dang high, this probably wouldn't be a deal-breaker. Thankfully the Ara Olivia has a removable insole (as many Ara shoes do), so I switched out the manufacturer insole for my new favorite Sole orthotics with met pad.
This simple switch-out revolutionized my walking experience. So if you need to wear an orthotic, the Ara Olivia and many other Ara shoes work well to accommodate an insert. The Ara Olivia is available in sizes 6-11 from Zappos (navy and rose gold) and Nordstrom (navy and silver suede). Since the hand-crafted process boosts the price tag, check out 6pm.com and Amazon for deals on Ara shoes.
Another wonderful style by Ara is the Bella ballet flat featured here. It's super easy on the bunions, and they eyes! Have you worn Ara shoes? What is your favorite style?