Best Shoes for Bunions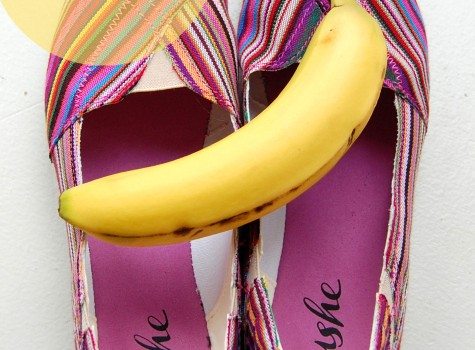 Cushe Hellyer Cushioned Flat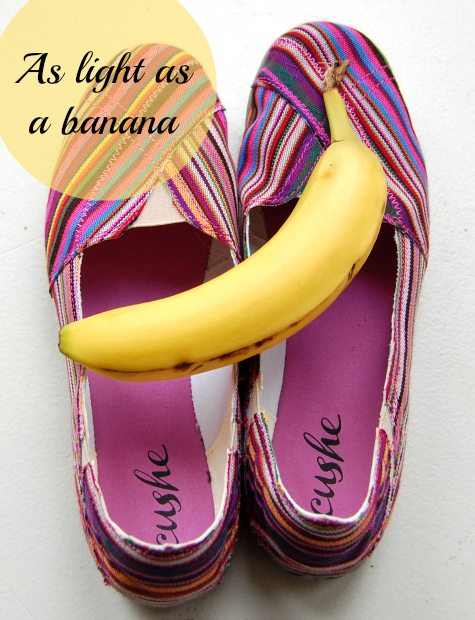 What weighs four ounces? A half package of cream cheese, a small yogurt cup,  probably a big hamster, a deck of cards, a 12-pack of K-Cups, an average size banana and the Cushe Hellyer slip-on. So which of these will you throw in your already over-packed, spring break suitcase that's five ounces short of the dreaded baggage fee? 
Bing. That's right. You want to pack the Cushe Hellyer although I know the deck of cards was tempting. "Aren't they just Toms knock-offs?" you ask. Until I put them on, I wondered the same. But what you can't see in the photo above is the the injected blown EVA outsole, which is techy speak for lightweight yet shock-absorbing outsole.
I liken the feel of walking in the Cushe Hellyer to walking in my Crocs. The outsole has a similar soft, pillowy yet somewhat supportive feel to Croslite material. While the arch support is minimal, the insole/outsole combination adapts to the shape of my foot providing more support than a typical flat.
If you like the casual yet slim-profile style of Toms but need more cushioning, the Cushe Hellyer is a good bet. Plus, the soft canvas upper is forgiving of bunions and hammertoes and the shoe stays put on my narrow heel.  The Hellyer comes in whole sizes only and runs a little big, so order down if you're a half size. 
The Cushe Hellyer is available in whole sizes 5-11 from: