Comfortable Boots for women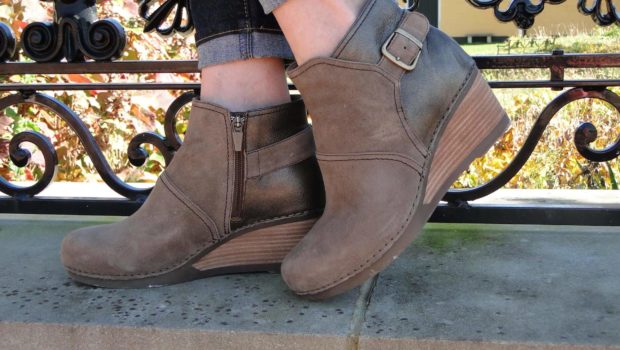 Published on January 20th, 2019 | by Beth Bengtson
5
Dansko Ankle Boots Review: 5 Reasons to Love the Shirley Bootie
I love having these new Dansko ankle boots to wear as I say "Welcome, fall!" I adore autumn's dreamy slanted sunlight, rich colors, and crisp sweater-weather days. You might be a sandals person, but for me, the first boot-wearing day is always exciting. This isn't the first time I've relied on Dansko shoes to help me bridge seasons in style and comfort. In fact, my experience with this brand goes back a long time. So pour yourself a warm beverage and settle in for My Story of Many Danskos:
Ten years ago, I was working at a museum in a job that had a "no jeans" dress code and on-my-feet-all-day responsibilities. It took no time at all to realize my flimsy little flats were not going to cut it. And even some of my sturdier shoes left my feet and legs aching at the end of the day. Thankfully I'd heard about Dansko clogs and their promise of support and comfort. Though they were a bit pricey for my low shoe budget, I splurged on a pair.
Let me tell you friends, it was money very well spent. I no longer ended my shift in pain, and the clogs lasted for years and still looked good.   Over time I stalked sales and ended up with two more pairs (in case you've never shopped for them, they come in a bajillion styles and colors.)  I loved my Dansko clogs and wore them to work and on weekends, with everything from jeans and sweaters to casual dresses,  always in total comfort.
Later, I had an opportunity to try a Dansko shoe with more of a heel, and was excited based on my fantastic experience with the clogs. The shoes looked great, but from a comfort perspective I was a little disappointed. Something about the angle between the heel and forefoot just wasn't comfortable. The sole was rigid – similar to the clogs – but in a higher heel it just didn't work for me. They felt clompy (is that a word? Well, it is now!) They were beautiful and would have been great for an office job where I could sit most of the time, but for standing and walking, they just didn't work for me.
So I was cautiously optimistic when I saw these Dansko ankle boots. The Dansko Shirley booties with their wedge heels seemed like they might be more comfortable than the other Dansko heels I'd tried, and the thermoplastic polyurethane outsole looked more flexible (I hoped this would minimize the clompiness factor). To my delight, both those suppositions turned out to be exactly true!
What are the things I love about these booties?
They look great! Dansko's legendary high quality is evident in these shoes.  They're not too casual, not too dressy. The smooth leather around the heel has a subtle metallic sheen that contrasts beautifully with suede on the rest of the shoe for a lovely (but subtle) two-tone effect.
Toe room – the rounded, slightly tapering toe looks stylish, but is more comfortable than pointier-toed boots. It has a good amount of width across the ball of the foot, a potential problem area for me. (My foot is wider in the forefoot and narrower in the heel, and I have a moderate bunion on one foot.) The fit on my bunion-y foots is not as roomy as on my "normal" foot, but still feels good.
Functioning buckles! I'm a skinny-ankled girl, and many ankle boots look huge and floppy on me. I was happy to realize I could adjust the buckle on these to cinch them in a little. (And women with fuller ankles will probably appreciate being able to find a little more room by making the opposite adjustment.)
The thermoplastic polyurethane (TPU) outsole doesn't clomp on hard floors, and it flexes in the forefoot, so walking is more comfortable than in a hard-soled heel.   (The sole doesn't have much tread, so I wonder how they'll do when the weather conditions get slippery. Maybe the TPU will have enough "grip" to make them work? We'll see.)
Support and cushioning – both excellent! I was especially pleased to feel a good amount of cushion under the ball of my foot. It seems like even shoes with good arch support are sometimes lacking in this area. Women like me with plantar fasciitis will be pleased. (While I think the EVA footbed is terrific, please note that it is removable if you should choose to replace it with an orthotic.)
I also appreciate the soft leather linings in this lovely Dansko ankle boot. Since it's a season-bridging style, it's good to have breathability on warmer days or when you're in and out of heated buildings.
Some online reviewers say they're disappointed because this bootie doesn't feel the same as their Dansko clogs. Keep in mind that other than being the same brand, with the same high level of quality, it's a completely different shoe!   This shoe is a different shape than a clog, and does have a 2 1/4 inch wedge heel. Dansko is known for comfort, but not all their shoes are going to feel the same.
Dansko makes a number of great ankle boot styles in addition to the Shirley. If you're a dyed in the wool clog fan, you might like the Dansko Maria ankle boot, which has similar uppers but a more clog-like sole.  Want something a little dressier? Check out the Dansko Raina, a graceful, smooth leather bootie that fits lower on the ankle. The Dansko Leyla bootie has a similar silhouette as the Shirley, but is a bit more modern with sleek leather uppers, minimalist details, and a hidden (rather than stacked), wedge. All get rave reviews for style and comfort!
The Dansko ankle boots "Shirley" style is available in four versatile colors – taupe, wine, gray, and black.  Find them on sale now in euro sizes 36-42 (5.5-11.5) for $129.99 at Zappos, Amazon and The Walking Company.  I normally wear size 8 ½ US/39 EU. The Dansko Shirley 39 fits me perfectly with light to medium weight socks.
This classic comfort brand continues to expand their style offerings. Have any readers tried the "Shirley" or another style of Dansko ankle boots? If so, we'd love to know what you think!
SaveSave
SaveSave
SaveSave
SaveSave
SaveSave
SaveSave
SaveSave
SaveSave
SaveSave