Shoes for Plantar Fasciitis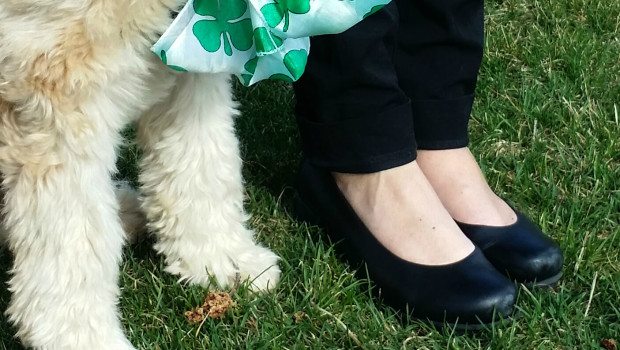 Dansko Lulu Ankle Strap Wedge
Pride cometh before a fall. I was feeling a bit smug about my feet recently. Why yes, I have bunions, a semi-fallen arch, arthritic toes and a slight case of hallux limitus, but no, I don't have plantar fasciitis. Heel pain? Nope. How could it happen me, wearer of all shoes sensible?
But after a winter of doing what podiatrists would advise against to avoid plantar fasciitis (walking around in socks on hard floors instead of supportive slippers), I now hobble and wince while making my morning cup of coffee. I should know better. My Haflinger clogs have brought some relief, and adding a pair of Superfeet 3/4″ orthotics under the insoles of my Asics alleviates pain when I go for walks with Harley the Wheaten Terrier. I've even rolled my feet across frozen water bottles, but the pain persists. I'm determined to kick this without doctor intervention and I don't want a cortisone shot…yet.
While googling "best shoes for plantar fasciitis," I clicked on my own blog. I read what I wrote and took my own advice. I needed a dress casual shoe for church, meetings, outings–something a bit more dressed-up than my work-at-home clogs. The Dansko Lulu looked promising and so did the reviews from PF sufferers. My only concern was the thick ankle strap–would it look garish?
A Zappos box appeared at my door step freakishly fast. I quickly strapped on the Lulus and knew after a few steps my heels had met their match. The Dansko Lulu is a fantastic shoe from toe to heel.
In pictures, the vamp appears to cross right over the bunions area, but I find that it doesn't irritate. The toe box is wide enough to accommodate the bunions. Since I have hallux limitus (arthritis in big toe that limits movement), my big toe knuckle feels a little compressed but I already feel the leather stretching after three wearings.
The footbed is heavenly, providing cushion to the heel and toes and the perfect amount of arch support for my medium-high arches (one is lower than the other due to midfoot surgery). Honestly, these are the most comfortable closed-toe Danskos I've ever worn. If you've all but given up on Dansko clogs because the footbed is too hard or you're afraid of rolling an ankle, I encourage you to try the Lulu (before the company discontinues the style as they do all too quickly).
My favorite part of the Dansko Lulu is the wedge heel. It's made of lightweight crepe-textured rubber. The heel is the perfect height at 1 3/4″ inches. It provides the lift my achy heels need–flats are a huge NO-NO for plantar fasciitis feet. The shock-absorbing outsole and cushioned insole work together to cushion my heels and take the pressure off the strained fascia. Walking is a pleasure in my new Lulus.
The ankle strap isn't as obtrusive as I thought it would be. In fact, as you can see in the photo above, I wear them with slim black pants. All you can see is the cute wedge shoe part–not the strap. But the ankle strap keeps the shoe from slipping on my narrow heel. The only time it bothers me is when I'm driving. It tightens up as I press on the gas pedal or brake. So I just undo the strap when I drive and velcro back up when I arrive at my destination.
If you wear orthotics, you'll be pleased to know that the footbed is removable.
I ordered the euro size 41 for my almost size 10 feet. Dansko has the 41 listed to fit a 10.5-11 which I definitely am not. I think the shoe runs a tad small. I'd recommend the Dansko Lulu for medium to slightly wide feet (or wide forefoot, narrow heel combo).
The Lulu comes in black leather and black, plum and charcoal nubuck (Amazon carries the cobalt and red nubuck from last season).
Find the Lulu at a Dansko retailer near you, or order online at: