Comfortable Boots for women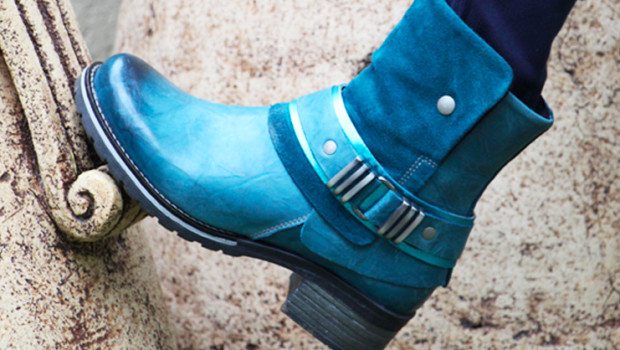 Published on October 14th, 2015 | by Kirsten Borrink
9
Dromedaris Shoes Kikka – Happy in This Gorgeous Boot (Review)
I've been a huge fan of Dromedaris shoes since I discovered the company four years ago. About that time, Dansko discontinued their Golden Gate collection–well-loved by many women due to the supportive footbed, rocker sole and cute styles. Soon, I noticed a brand called Dromedaris making doppelgängers of the Dansko Golden Gate collection (see the Golden Eagle or the Magpie style). Intrigued, I followed the Swiss company (with sourcing offices in Portugal) as they introduced new styles in gorgeous shades of vegetable-tanned leather; comfort footbeds with arch support and thermoplastic rocker outsoles.
The Dromedaris Kikka is truly a wonderful little boot. Attention to detail is evident from the twisted leather upper to give a creased look to a soft suede front panel to the decorative side buckle against a metallic strap. The inside is even more remarkable! A cozy but light fleece lining provides extra warmth, and the comfort insole with moderate arch support is removable to accommodate a dress orthotic.
So how do they feel? Well, good enough to walk the campus of my alma mater for my 25th homecoming…all day long. The Dromedaris Kikka provided good arch support with ample room for my toes (and bunions). The thermoplastic rubber outsole provides great shock-absorption and traction. A side zipper makes for easy on and off.
My only concern is that the boot seemed a little loose in the heel. The toe are feels great, but my heel lifts up a little while walking, but not uncomfortably so. I ordered the 41 for my often 10, sometimes 9.5 feet (a 40 was too tight in the toes and instep), but most sizing guides state the 40 fits a 9.5-10. The Dromedaris Kikka would best fit a medium width to slightly wide foot. It's available in all nine shades from Dromedaris.us for $189.95 with free ground shipping; Shoes.com for $209.95 with free shipping and returns, $198 at Amazon. (I'm wearing the violet color which is more like a burgundy with more purple than brown undertones).
If you need a more secure fit around the ankle and lower leg, try the ever-popular Dromedaris Kara boot with a lace-up front.