Comfortable Women's Flats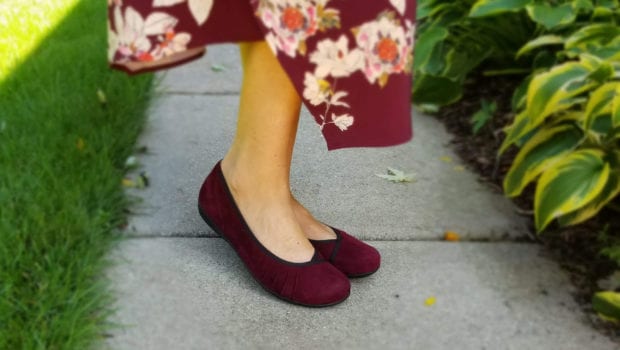 Earth Alder 2 Derby Skimmers Review : Fabulous Flats with Arch Support
This review of the Earth Alder 2 Derby skimmer is sponsored by Earth Shoes. The opinions are completely our own based on experience.
It's 2019 and I'm back in the classroom…at age 51. Much has changed since I last taught high schoolers fourteen years ago: social media (MySpace anyone?), fashion (Ugg boots with mini skirts!), young adult lit (Harry Potter all day/every day), and….my feet. Ack. While I do wear my Birks on casual Fridays, other days call for a stylish closed-toe shoe. Ladies, do you know how hard it is to find a ballet flat with arch support? I'm sure you do or you wouldn't be visiting this blog.
The Earth Alder 2 Derby Skimmer offers superior arch support for a flat. Typically my arches hurt after a day of wearing flats, but not so in these  thanks to Earth's Powerpath® footbed design. This newer design provides a shock-absorbing heel, stabilizing arch support and high-density cushioning at the ball-of-foot. A one-inch heel provides just enough lift to keep heels from hurting (this flat may work for you if you have plantar fasciitis). The footbed is removable, though I'm not sure if you'd have enough room to for your own orthotic.
The fit is snug and true to size. I don't experience any slipping at the heel and my toes don't feel too crammed as Earth shoes typically have a wider toe box. Having RA for over 20 years has done a number on my toes (bunions, hammertoes), so I always expect some discomfort with ballet flats. I do appreciate that the vamp crosses the foot below the bunion area, so that means less irritation. My major complaint has more to do with my hammertoes than the shoe itself–the toe box is a bit low and rubs the top of my second toe after a few hours of wear.  This shouldn't be a problem for you if your toes are normal!
Isn't the color lovely? Earth calls it prune, but I prefer merlot. Either way, it's perfect for fall. As I mentioned before, the size is true. I went with the 10 medium as I usually do and I have no complaints about size. The Earth Alder 2 Derby Skimmer is available in sizes 6-12, medium and wide widths for $110 from Earth Shoes, Zappos, Nordstrom, Shoes.com, and Shoemall.
See more comfortable flats with arch support and leave us a comment with your favorite!