Comfortable Boots for women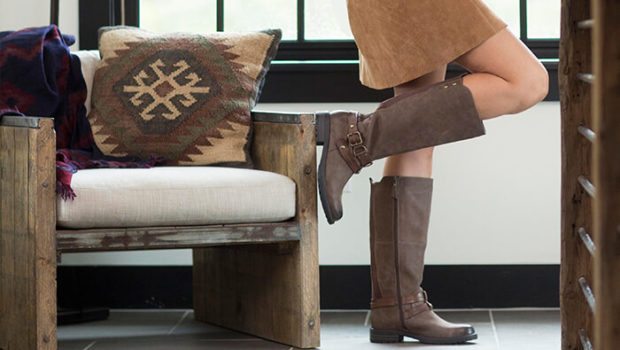 Earth Sierra Boots at a Discount from Sierra Trading Post
If you're the type of shopper that heads straight for the back of the store for the sale rack, you'll love Sierra Trading Post. But instead of picking through a bunch of ill-fitting, no-name rejects, you'll find organized online rows of name brand clothing, footwear, outdoor gear and even home goods at a substantial discount. Take for example the Earth Sierra tall boot. Why these didn't sell out last season, I'll never know, but Sierra Trading Post picked up these closeout beauties and they can be yours for 40% off retail (and if you're extra lucky, you may have a Sierra Trading Post brick and mortar store near you).

Thank you to Sierra Trading Post for sending me the Earth Sierra boot to review. I've worn the heck out of my gray Naturalizer tall boots from seasons gone by and appreciated the opportunity to try a new pair of boots, this time in black. I chose the Earth Sierra because I trust the brand to be comfortable, supportive and true to size, plus the reviews around the web looked promising.
I love the fit of my new Earth Sierra boots. The wide and high toe box accommodates bunions and hammertoes (I'm the lucky owner of both…yea me). The midfoot and heel have a more fitted feel yet roomy enough to take a heavier sock. They run true to size, so no need to order up or down, just go with your normal size (which I hope is still available for you as these are closeouts).
The arch support is moderate but if you need more, the insole is removable (there's a scant amount of adhesive to attach it to footbed, but you can pop it out). Go ahead and try your custom orthotic or favorite over-the-counter insole for more support. I like to wear my favorite Tread Labs orthotics in my Earth Sierras for all-day comfort.
If you suffer from plantar fasciitis, I think you'll appreciate the 1 1/4″ heel–not flat as a pancake, yet just enough lift to keep your heels happy.
While I wouldn't recommend the Earth Sierra for calves over 16″ in circumference, there are two narrow columns of stretch fabric down the back to provide some give when tucking in jeans.
The Earth Sierra is a casual boot with decorative straps and just a few studs to toughen it up a touch without looking too heavy or clunky. I like wearing mine with jeans, leggings and skirts.
The Earth Sierra comes in both black and stone leather (taupe). Find a pair for 40% off retail at Sierra Trading Post.
Even if this particular style doesn't float your boat, check out the wide array of winter-weather boots, comfortable clogs, and exercise footwear.
How about you? Have you ordered from Sierra Trading Post? Let us know your favorite items in a comment below!