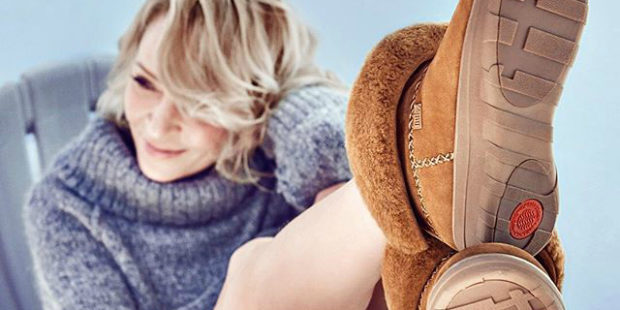 FitFlop ™ – Popular British Comfort Brand Wins Over US
FitFlop is a footwear brand that offers reliably comfortable and supportive shoes, all of which carry the American Podiatric Medical Association Seal of Acceptance. The multiple sole options give you various levels of support and fit. Their look adds a modern feel to boots, flats, and their popular sandals and flip flops.
FitFlops' four types of supportive soles
FitFlop markets their footwear in four categories of cushiony support. They are Microwobbleboard, Supercomff, Antomicush and IQushion. Each has a distinct fit and level of support.
We first wrote about their Microwobbleboard™ insoles back in 2012. Back then FitFlops were marketed as a fitness tool using phrases like "shoes with the gym built in" along with claims to tone up your legs and glutes while you wore them. The shoes are now marketed more for their support and comfort, but even back then the Microwobbleboard insoles helped FitFlop earn the APMA (American Podiatric Medical Association) Seal of Acceptance.
According to the FitFlop website, these trademarked insoles were in the very first sandals when FitFlops started in 2007. The triple density midsole was designed in consultation with British biomechanists. We had to look that up- biomechanists are trained in how the body moves and in biology. They use this training to look at how people move, how they can improve the way they move to avoid injury or maximize effort. Sometimes high-profile sports teams use biomechanists to fine tune athletes' performance or shoe designers may use them to fine tune athletic shoes and equipment.
So what is the Microwobbleboard technology created by these motion experts? According to a newspaper explanation, Microwobbleboard soles are split into three sections: a back, middle, and front. The back pays attention to how your heel strikes, to support it, the midfoot middle is intentionally softer and less stable, and the front is a bit more supportive "toe cap" section. The idea is the multiple layers make a slightly unstable base, which requires more of your muscles to engage as you step, to help yourself stay stable. It's like a tiny version of the wobbleboards used in some gyms to work on your legs and your core.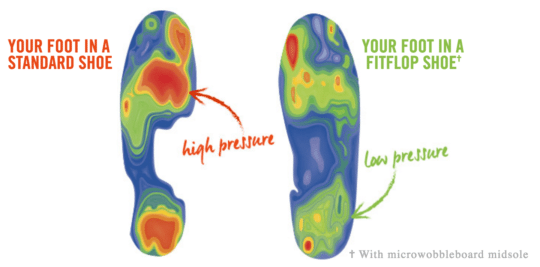 The company says their shoes are all about ergonomics and science to keep you comfortable. The website includes research from British universities that this technology absorbs shock and "diffuses underfoot pressure" by "instantly increasing the contact area of the foot to the midsole."
In our FitFlop review we talked about the benefits of walking on Microwobbleboard midsoles: "Shock-absorption, relief of joint stress, increased lower leg muscle activation, and reduced pressure on toes. In fact, many customer reviews mention relief from plantar fasciitis pain." (Do you have PF and have specific questions about shoes? Read our guide to plantar fasciitis)
Microwobbleboard shoes are the only types of FitFlops that come with a choice of widths. The Original is the widest fit of their shoe line. The Standard fit is "Slightly narrower, still generous fit. PERFECT FOR average feet that like a looser fit." Although they started as a sandal, this midsole now comes in year-round footwear including boots, clogs, flats and sneakers and even slippers.
The second type of comfort style at FitFlop are sold as Supercomff. This line is the narrowest of the FitFlop styles but is still marketed for 'average' not narrow feet.
Curious about how FitFlops fit? Below you'll see the Supercomff in yellow with its bit narrower toe box vs Standard Microwobbleboard fit in red: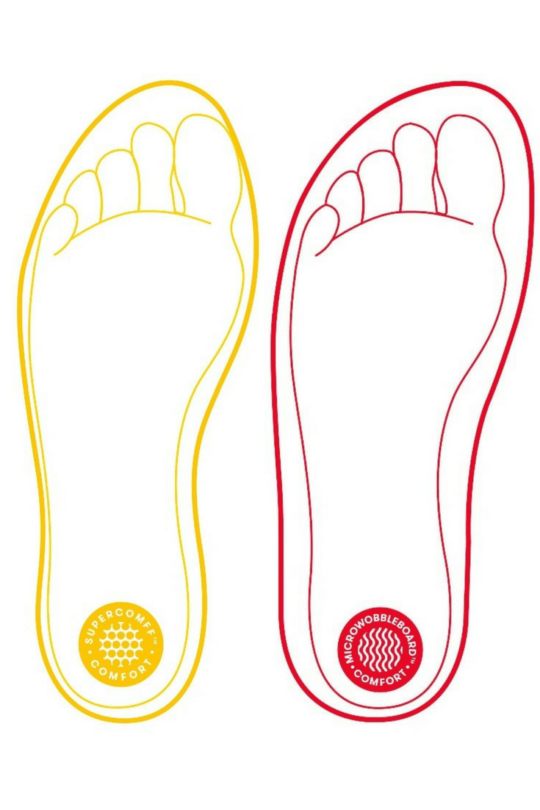 Supercomff comes with dual density construction in the midsole (Microwobbleboard styles are sold as triple density.) The company wrote "Our patent-pending, dual-density SupercomFF midsole allows us to discreetly engineer amazing comfort and cushion into traditionally slim shoe shapes." Like all FitFlops, this style is also engineered to spread out the pressure/impact on the bottom of your feet.
Looking for ballet flats that feel like sneakers on your feet? We featured the FitFlop Florrie Superballerina in our Wear this not that #2: popular shoe alternatives guide to help you keep up with trends while still wearing shoes appropriate for us gals with problem feet.
The Florrie is a comfortable supportive summer flat that comes with a pretty ruffle flower detail. The FitFlop Florrie Superballerina comes in sizes 5-11 and is available at Fitflop.com, and Amazon. If you like the ruffled flower but prefer sandals, check out the FitFlop Florrie toe thong sandal which comes with the same cute detail.
The next type of FitFlop shoes feature Anatomicush technology (don't you just love these names?!?) This segment of the shoe brand has single density construction midsoles described as flexible and superlight. All the shoes in this line feature a "motion empowering grid of flex lines" underneath. Anatomicush are marketed for average to wide feet.
Women with bunions, hammertoes, high insteps, and even plantar fasciitis may find relief with the FitFlop ballet flats and high tops in Uberknit material. We reviewed them as one of our best shoes for bunions as well.
The fourth and newest type of support sold by FitFlops is called IQushion. This is line is marketed as "super ergonomic flip flops." At first glance as you wear them they look like typical flip flops but these are made to cup and curve around your feet. The brand's in-house biomechanist helped with arch design and "micro-bubble foam impact pillows" which the company says add up to all day comfort.
FitFlop Sizing
Not sure about sizing? Their website features a Find your Fit guide using centimeters but it can still be helpful if you choose the convenience of ordering online. Another tip – check online reviews of the style you are interested in to see how other readers report on the actual fit of a particular style.
Background on FitFlop Shoes
Did you know the FitFlop founder is also behind some other big names you may know in skin and body care? According to the Daily Mail, founder Marcia Kilgore was already hugely successful as the owner of Bliss Spa based in New York City. She gained a following including Oprah Winfrey and big investors. Kilgore is also the founder of Soap & Glory, a line of affordable beauty products with catchy names. If you can believe it, FitFlop was Kilgore's third venture. Launched in 2007 originally as a shoe that would give you a workout while you walked, FitFlop now focuses on being ergonomic shoes with support. Their design collaboration with actress Uma Thurman is just one of many celebrity shoe match ups that have also included Anna Sui, and Chanel.
The company continues to focus on comfort and support according to a British newspaper article, "Jessica Evans, a spokesperson for the brand, explained the process behind developing FitFlops. 'We have been continually testing FitFlop footwear for its biomechanical effects on the human body with different universities and academics since our launch in London in 2007 and have grown from a 'one sandal wonder' into a global brand with aspirations to deliver the world's most comfortable biomechanically-engineered shoes,' she says."
In addition to earning the AMPA seal, good reviews on many styles from actual women, podiatrists say they've seen a difference. "Dr Ron McCulloch, of the London Podiatry Centre, " The shoes, with their soft material, help people with a lot of heel pain – there is a condition called Morton's Neuroma and FitFlops really help people with that. You feel far fewer of the symptoms." (Be sure to check out our guide to Morton's Neuroma and shoes if that's your foot issue!)
Barkingdogshoes.com will continue to bring you reviews of the styles and technology behind the FitFlop comfort brand.
We Want to Hear from You
Do you have a pair of FitFlops you love that has helped your problem feet? How about a style of FitFlops we haven't reviewed that you suggest we check out for our readers? Please reach out and let us know! We have an active Facebook community.
Related Resources:
Daily Mail article on FitFlop founder Marcia Kilgore
The Telegraph article "Can shoes really help you lose weight?"
Chron.com Background info on biomechanists
The Independent article on Fit Flop founder