Comfortable Dress Shoes for Women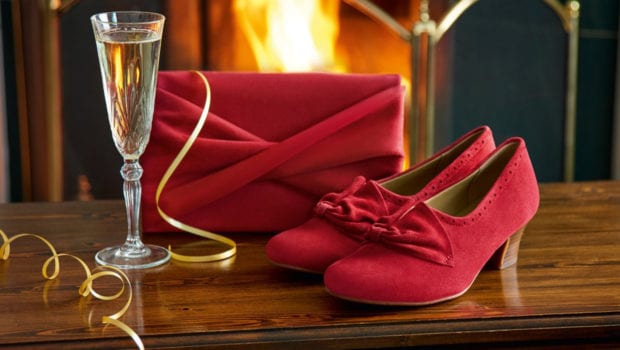 Hotter Donna Heels: Vintage-Inspired Block Heels Provide All-Day Comfort
I recently went back to teaching part-time and quickly realized that I didn't own a pair of "Curriculum Night" shoes. I have plenty of teacher shoes: flats, sandals, fashion sneakers and my trusty Birkenstocks. But I needed a pair of professional heels for my presentation in front of parents. Thankfully Hotter reached out to me and I remembered the Donna heel. I've long admired its vintage good looks, low block heel and bow detail. Two weeks later, I became the happy owner of a lovely pair of black Hotter Donna heels–just in time for Curriculum Night. In fact, I might just wear them to teach in–they're that comfortable.
How do Hotter Donna heels fit?
I had to order down a half size in the Hotter Donna to get a good fit. Typically I wear a 10 medium, but the 9.5 stays put and doesn't slip off my heels. I find that Hotter's standard width is just a tad wider than US medium width. So if you have slightly wide to wide feet, I think you'll enjoy the fit of the Hotter Donna. Extra wide feet? No problem! The Donna comes in an EE width in certain colors.
How do Hotter Donna heels feel?
I usually steer clear of heels for a few reasons. First, I don't like my toes crammed into a narrow toe box. Who does? The Hotter Donna features a rounded toe and a wide and high toe box.  My hammertoes and bunions are ever-so-thankful. Along with the accommodating toe box, I have the low heel to thank too. It measures just under two inches. I've found that anything higher than two inches causes a lower backache.
See that v-cut at the vamp? Not only does it look really cool, it adds to the overall comfort. I have a high instep and detest footwear that irritates the top of my foot. The v-cut provides a little give across the top of the foot while walking–similar to how a slit in a skirt helps you walk better! The shoe still stays put on my foot without that uncomfortable constricting feeling.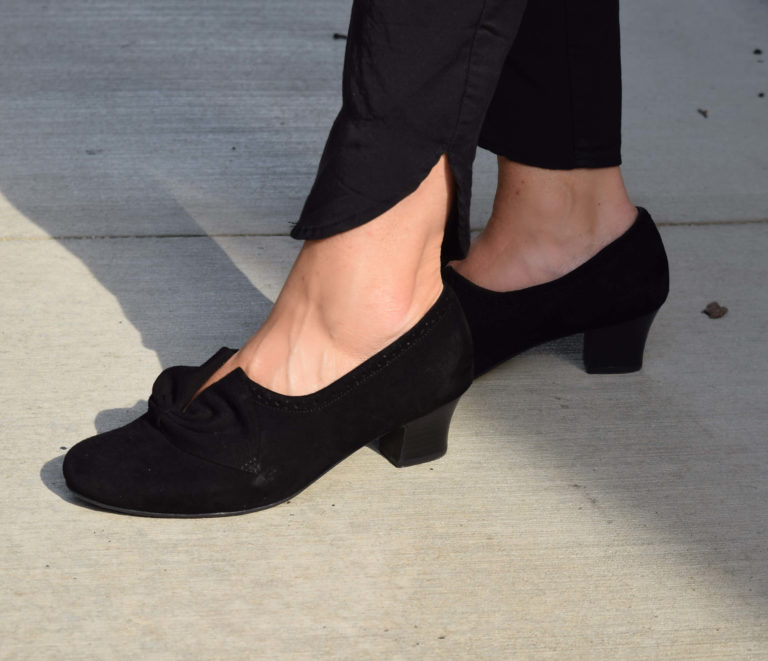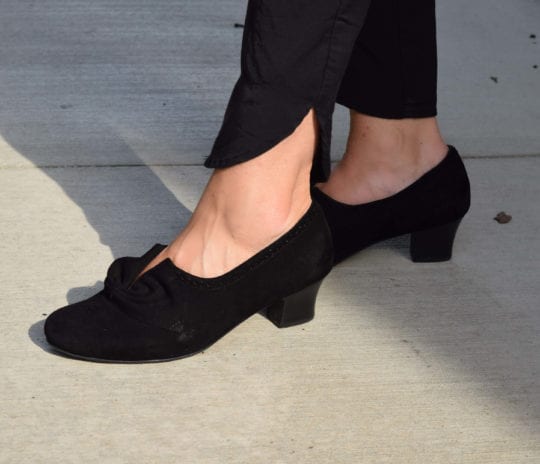 I do notice good underfoot cushioning from heel to toe, but I'd like to see even more padding at the ball of foot and heel in future iterations of the Donna.
The heel height (1.75″) offers just the right amount of lift without feeling unstable. I like the sturdy block heel and gentle slope from toe to heel. A textured rubber outsole provides a slip-proof foundation on slick floors.
Hotter Donna heels are available in sizes 5-11, standard (generous medium to wide) and extra wide widths for $139 from Hotter.com. Hotter is usually running some kind of sale, so no doubt you'll find them for cheaper than the retail!
See our reviews and recommendations for other comfortable Hotter styles.
Still looking for comfortable heels? See our updated post.