Comfortable Sandals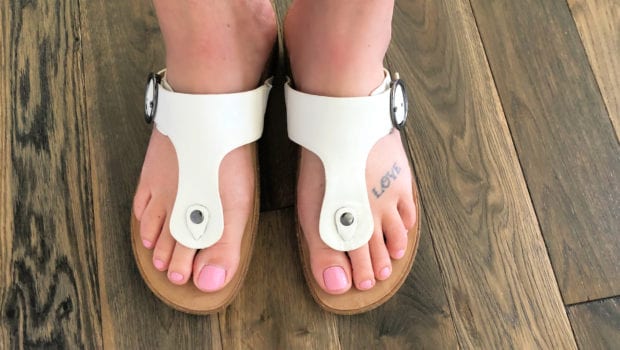 Published on May 15th, 2020 | by Kirsten Borrink
3
Hotter Resort Sandals : The Essential Summer Slip-On
This is Jill's review of the Hotter Resort sandal (sponsored by Hotter.com). The opinions are completely her own based on experience.
Jill is currently a busy stay-at-home mom to four children, but is slowly re-entering the educational workforce. She finds footwear such as the Resort sandals from Hotter to be the perfect option to wear on spring days as we ease into warmer weather. They provide comfort yet are current with fashion. In fact, she received numerous compliments when wearing them to a recent women's retreat.
Overall, Jill finds the Hotter Resort sandal to be very comfortable due to its dense cushioning and contoured footbed with moderate arch support–even on days where she's on her feet for extended amounts of time. The toe post doesn't irritate her feet as it can in other thong-type sandals.
Jill typically wears a size 10 medium width shoe and finds the Resort sandal to run true to size. She has a fairly high arch that the sandals support well (not quite as enhanced as Birkenstock or Vionic). She noticed that her big toe does tend to push over the edge of the sandal as she pronates a bit when walking (something to keep in mind if this is your issue also).
The Hotter Resort sandal features an adjustable strap over the instep of the foot. If your foot runs narrow, you may have to add another hole to the strap (any local shoe shop should be able to add this). You can find the Hotter Resort sandal in sizes 5-11, medium and wide widths for $85 from Hotter.com (now offering 30% off site-wide plus free tracked shipping).
See more reviews of comfortable Hotter shoes and sandals here.