Best Shoes for Bunions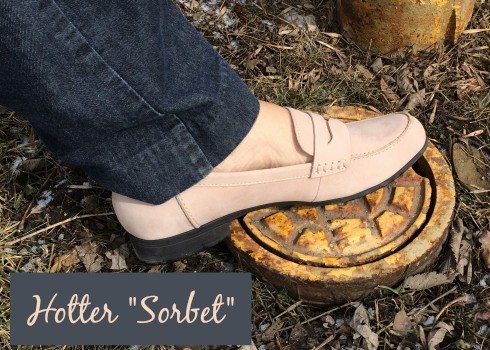 Hotter Sorbet Loafer Review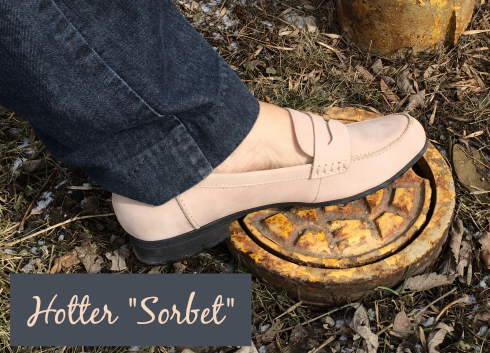 Hotter Sorbet loafers courtesy of Hotter.com
I was hoping to have at least one blade of green grass in this photo.  But no, our first day of spring brought an early snow shower that melted to uncover wrinkled leaves from October. Nice. The springiest thing in this photo is my foot…and my new Hotter Sorbet loafers.  
I wear my Hotter Sorbet loafers much more than I thought I would. The light taupe color is the perfect neutral for spring, especially after wearing so much black and gray through our endless winter.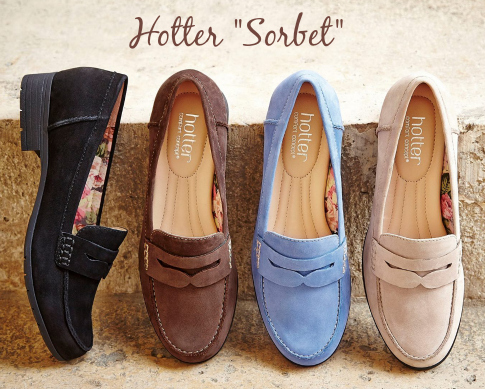 Hotter footwear incorporates features such as contoured footbeds, extra roomy toe boxes, soft padding at heels and tongues, lightweight, shock absorbing soles and smooth internal seams. My Sorbet loafers have all that and more…
I really like the 1 3/4″ block heel as it provides a little lift and shock absorption, plus my pants don't drag on the ground. 
I can wear the Hotter Sorbet barefoot too–the footbed has antimicrobial properties, the lining is a cute floral cotton and there are no bothersome seams. 
As far as arch support, here's the deal. While there's extra cushioning at the heel and metatarsals, I only feel minimal raised arch support and the footbed isn't removable. If you don't need aggressive arch support, you'd probably find these very comfortable. See Nadine's review of the Hotter Sorbet in the pretty french blue at Jugglemum.com (I love how she styled them). 
A word on fit: Hotter is a UK company. I find their size 10s to be more like a 10.5, or maybe a 10.25; just so you know, it's a generous size 10. I also think they run a bit wide across the instep and heel, but that could be because I have a wider forefoot and narrower heel. I wonder if a 9.5 would have fit more snug? If you're a 10-10.5 with a slightly wide foot, the Sorbet should fit you like a glove.
The Hotter Sorbet is $129.95 at Hotter.com with a $10 shipping fee as they're coming from across the big pond. However, if your shoes don't fit, Hotter will allow free exchanges. They're always offering a deal, either a percentage off your order or sometimes free shipping!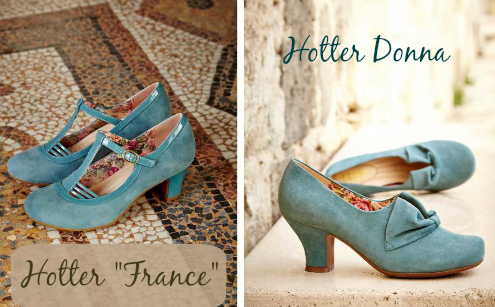 What do you think of these aqua-teal heels for spring? I fancy them. Hello France and Donna! Good news….they come in extra wides.