Comfortable Women's Flats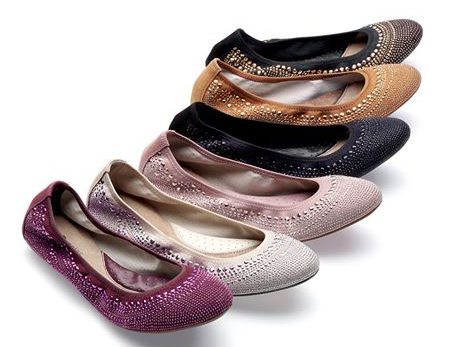 Published on August 26th, 2014 | by Kirsten Borrink
14
A Colorful Flat to Love – Hush Puppies Chaste Ballet (Review)
Hush Puppies Chaste Ballet shoes – I call these my Drops of Jupiter shoes. The dazzly raindrop-size studs remind me of the song title by Train. The problem is, I play the song in my head long after I take them off. Weird.
I'm not normally a huge fan of ballet flats because they are just that–FLAT. But even the Barking Dog tires of over-structured, built-up, clunky comfort shoes. We review comfortable shoes for women here – not ugly utilitarian clod-hoppers. As you can see from the above photo, the Hush Puppies Chaste Ballet hugs the foot with its elasticized topline. The suede upper is super soft and skims right over bunions and hammertoes. You will not lack for cushioning, but arch support is limited to a perforated arch "bump"–more than most flats, not as much as Earthies.
If you're looking for a flexible, cushioned ballet flat that will cover (no toe cleavage), you'll have trouble choosing just ONE since it comes in over 24 colors, textures 0r materials. More good news–the Hush Puppies Chaste Ballet comes in whole and half sizes 6-12 and four widths, narrow (2A) to wide wide (E). Available at Zappos, Amazon, HushPuppies.com, and 6pm.com.
Do you like these shoes? Any fans out there of the Hush Puppies Chaste Ballet shoes, or those that are wearing them today? Let me know in the comments below.