Multiple Width Shoes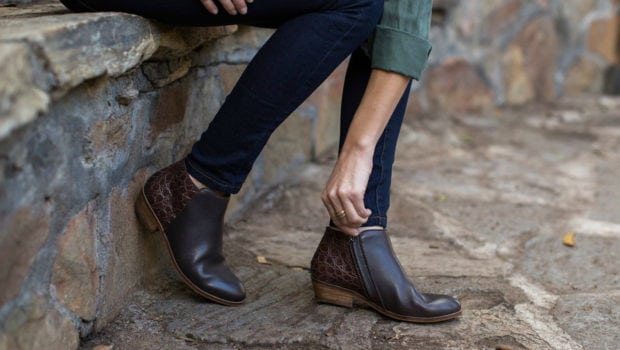 Published on July 24th, 2019 | by Kirsten Borrink
5
Is it Possible to Find Stylish Extra Wide Women's Shoes? We Say Yes!
"All the better to support you with," whispers the wolf to Little Red Riding Hood as she displays her wide, wide feet. "Strong castles need strong support structures," said the grandmother to the wide-footed author of this article. Are you done with the positive spin on your more-than-medium width feet? We understand. No doubt you've experienced frustration trying to find stylish extra wide women's shoes and your search somehow led you to this article. We hope we can help (we had to weed through a lot of ugly ducklings to find extra wide women's shoes with some semblance of style).
Before we present to you our finds, we recommend consulting Wikihow's thorough guide to finding your correct shoe size and width. All it takes is a little bit of measuring and some simple math. Once you know your exact size and width, it'll make online shoe shopping so much simpler. We also suggest reading Amanda K's 5 Tips for Shoe Shopping with Wide Feet and if you're on Facebook, we have a lively discussion thread with all sorts of ideas and suggestions for extra wide women's shoes.
Ros Hommerson is one of our favorite brands for getting it right when it comes to extra wide women's shoes (and extra narrow for that matter). The styles are contemporary, non-clunky and professional. We hope you'll find a size and width to suit your feet. The featured styles above are available fall 2019 (Treasure and Danish). Find Ros Hommerson footwear in sizes 4-13, super slim to extra wide from Shoes.com, RosHommerson.com, Amazon and Shoemall.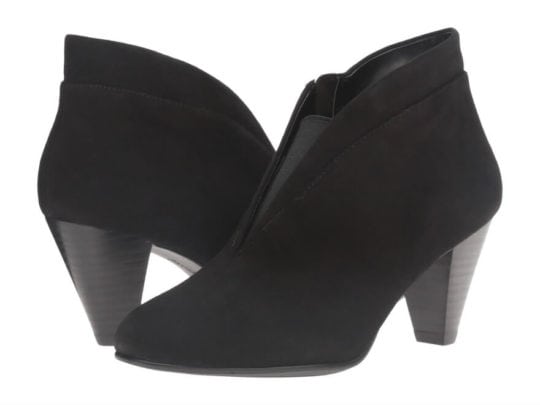 David Tate NatalieWe don't typically endorse three-inch heels, but if you need a polished look for work in an extra wide width, the David Tate Natalie could work for you. Christine, a Zappos customer, raves:
I have wider but relatively small feet, 7.5 EE. I came to Zappos and eventually bought these after years of trial and error on other sites and stores. They're great, they fit perfectly with room for my feet to breathe and toes to flex about. I've worn them several hours out in town for 3 days now and I'm confident to say these have passed the test!
Find the David Tate Natalie in sizes 4-13, narrow to extra wide widths at Zappos, Nordstrom, and Shoes.com.
For dressier occasions, we recommend the lovely Walking Cradles Caliente featuring a round, wide toe box to accommodate bunions with a fabric upper and moderate 2 1/2″ heel. The elasticized instep straps provide a secure fit, especially for narrower heels. An anonymous Zappos customer left this encouraging review:
Bunion sufferers will love this shoe. 71/2 WW. Very roomy toe box and does not cut into scar on top of big toe joint from surgeries. I haven't been able to wear heels comfortably but these are not painful to wear. 
Find the Walking Cradles Caliente in sizes 4-13, extra narrow to extra wide widths from Zappos, Shoes.com, and The Walking Company.
Ros Hommerson specializes extended sizes and widths. The Ronnie cap-toe flat is lightweight, flexible and offers moderate arch support. An elasticized topline provides a secure fit. Find the Ronnie in sizes 4-13, extra narrow to extra wide from Shoes.com. Find a Ros Hommerson retailer near you.
A stylish extra wide ankle boot is hard to find, but we love the Softwalk Rocklin! While the Rocklin comes in five widths, it's the wide feet that seem the happiest with the way it fits (whether due to bunions or just genetics). The footbed is cushioned nicely with moderate arch support and while it's not removable, some customers state there's room for a thin orthotic. Find the Softwalk Rocklin in sizes 5-12, narrow to extra wide at Zappos, Nordstrom, Amazon, Shoes.com, and SoftWalkShoes.com where you can find a store locator.
We admit, Propet isn't a brand we turn to for style, but this flannel number caught our eye. The Travelfit bootie is new to Propet's fall collection and it's available in extra wide widths! The upper has been treated with Scotchguard to repel water and resist stains. If the arch support isn't enough for your feet, remove the insole and add your own. Find the Propet Travelfit Bootie in sizes 6-12, narrow to extra wide (4E)  at Zappos, and Amazon.
Apex BreezePerfect for walking the dog or walking yourself, the Apex Breeze offers extra depth in the toe box for sensitive toes whether due to arthritis, neuropathy, bunions or hammertoes. The insole is removable to accommodate an orthotic. The Breeze is available in sizes 5-12, medium to extra wide at Shoes.com, Amazon, and ApexFoot.com where you can find a store locator.
Closing thoughts:  Birkenstocks happen to be quite trendy now, and you can't beat them support. Just be sure to try styles that come in "regular" width–this is a wide width. Also, check out our article "Wide Width Shoes for Women in Small Sizes" for even more ideas.
We welcome reader feedback, so feel free to leave a comment below.