Sporty Shoes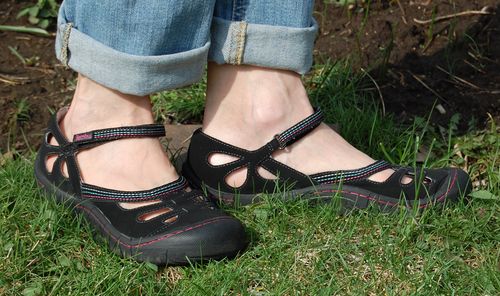 We Love Jambu Shoes! 4 Picks From The Latest Styles
Jambu shoes are still one of my favorites for their combination of practical comfort and cute feminine details! The Planet style I fell in love with years ago (pictured above) has been discontinued, but fortunately Jambu keeps coming out with great new offerings.  Just like the original, the new styles boast out-of-the-box comfort, soft linings, memory foam footbeds, and Microban antimicrobial treatment to keep your feet happy all day!  Here are some of my picks:
Fans of the Jambu Planet will probably love the similar Jambu Bridget, which has cute cut-outs, an adorable t-strap, and is available in four versatile colors.
I'm crazy about the new Jambu Mason – a fun, ballet flat-inspired shoe for the sporty-but-feminine girl.  (Don't you just adore that flower accent?)  These would be great with leggings and a tunic sweater this fall!
Although I find myself in flats most days, there are times when heels seem right for an outfit or occasion.  (And I know a lot of women who prefer shoes with height and just don't feel like themselves unless they're wearing a heel.)  Enter the Jambu Bombay, which has the same cute-casual styling and great comfort features we love about other Jambu shoes, but also has a 2 1/2 inch heel.
Jambu Shoes – the Montana
My final pick, the Jambu Montana, is a more closed-in shoe perfect for everyday wear by those who find themselves on their feet a lot, but still want to look put together – hello, teachers? Hair stylists? On-the-go Moms? (Note that this shoe is sturdy-looking, but still feminine!  Can I say again how much I love this about Jambu shoes?)
These Jambu shoes are getting great online reviews for their looks and comfort – even from wearers with bunions and hammertoes.  Have any readers tried them?  If so, tell us what you think!
Beth's original review of the Jambu Planet:
When my Planet shoes by Jambu arrived, I took them straight out of the box and wore them for the rest of the day…and for five of the following seven days. Does this tell you something about how much I like these adorable and comfortable shoes? I love how they feel like a sneaker, but give me a more
polished look. Comfort-wise, the roomy toe box is a big plus, as is the slight elevation of the heel. They are cushioned with a memory foam liner, which in a perfect world I'd have be a bit thicker (especially under the ball of the foot), but they should be fine for normal feet in everyday conditions. They run true to size, so online shoppers should have no problem getting a good fit.
The styling is terrific — not too rugged, not too dressy. I was a bit concerned about whether the  contrast stitching would clash with clothing (remember, I'm a recovering "matcher,") but I've found the combination of colors works with just about any outfit. My favorite style element? The subtle flower details (see the side cutouts and c
ute sole.) Just about all Jambu shoes have these kinds of fun-yet-understated flowery accents. Finally, someone understands how to cater to a suburban 40-something's inner flower child…tastefully! Thank you:)
Jambu used to be known as J-41, and has come out with an entire new line this spring. The Planet is one of the more casual shoes in the line, but there are numerous other options for those of you who like what you see, but need something dressier or with a higher heel. Check them out and let us know what you think!
By Barking Dog Shoes contributor, Beth B.
SaveSave
SaveSave
SaveSave
SaveSave
SaveSave
SaveSave