Comfortable Heels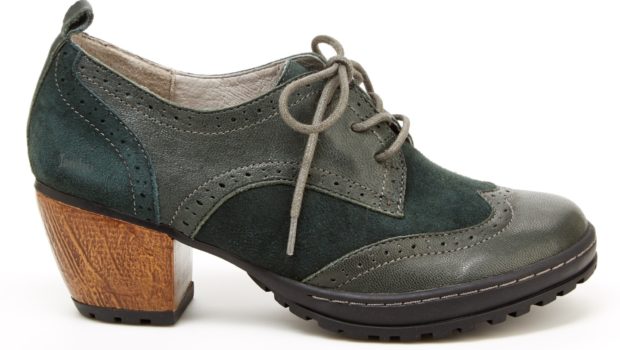 Jubilant in the Jaunty Jambu San Fran Heeled Oxford
Review by Janet M. 
Shoes used to be "my thing." They made me feel confident, and I received lots of compliments. But, when arthritis in my toes and bone spurs made each pair too painful to keep, I turned to brightly-colored running shoes and Danskos. Not exactly the shoe closet of my dreams.
I've been looking for a cute shoe that has a bit of a heel, makes me stand up straight, and I can wear with jeans and even dressier slacks. The Jambu San Fran met the Zappos "walk around the house" test, so I took the plunge and bought them.
My debut of wearing the wine-colored suede lace-up caught the attention of many moms at a morning meeting (upper left photo). Filled with expressions of "I love those," "how do they feel?" "do they hurt your back?" had me wondering if they could be more than a sit-around-and-chat kind of shoe.
The next day, I walked my son to school (which is about a mile walk roundtrip). The hefty heel is so sturdy and supportive, I really didn't notice I had gained almost two inches in height. The toe-box is roomy enough to leave my bone spurs alone. My knees didn't hurt; neither did my back. I did feel a bit of a rub on my pinkie toes, but not enough to sideline the shoes. Although I'll continue to go for walks in my running shoes, it's nice to know I can walk a few blocks pain-free in the Jambu San Fran heeled oxford.
The Jambu San Fran features a 2 1/4″ block heel with a 1/2″ platform, memory foam-cushioned footbed, rounded toe with a partially recycled rubber outsole for good traction. 
Janet reports that the Jambu San Fran runs true to size and width for her, other online reviews remark that it runs a tad short. If you plan to wear with socks, and you're between sizes, I'd recommend ordering up. Available in whole and half sizes 6-10, 11. Check out all the beautiful fall shades along with neutrals. Janet is wearing the Jambu San Fran in wine suede.
Read 23 more reviews at Zappos where the Jambu San Fran sells for $139 with free shipping and returns. Also available for $139 from Jambu.com, $96-139 from Amazon, $139.99 from Sahalie, $139.95 from The Walking Company, $138.95 at Shoebuy. I just noticed this shoe on Zulily today for $82.99 with added shipping. Prefer to try a pair on first before buying? Find out if there's a Jambu retailer near you!
Another all-star favorite from Jambu is the Journey Encore sandal which was discontinued and brought back, hence the name. I reviewed this sandal back in 2009 but it's now available in new colors and wide widths.