Athletic Shoes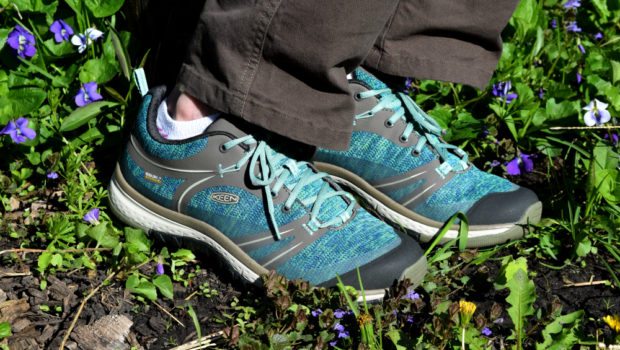 Keen Terradora : The Newest Keen Women's Hiking Boots
This review of the Keen Terradora Waterproof hiking shoe  is sponsored by KeenFootwear.com.  The opinions are completely my own based on experience. 
I've relied on Keen women's hiking boots for their support and comfort on many, many outdoor adventures – some rugged and extreme, some local and leisurely.  So of course the newest style of Keen hiking shoes, the Terradora, caught my attention.
These Keen hiking shoes are lightweight and have a sleeker, more stylish look than some other Keens, but still have good cushioning and moderate support.  You'll be pleased with the Keen Terradora if you need a sporty shoe with great traction (and the option of a waterproof version), but don't want anything heavy or clunky.  It's kind of like a cross between a sneaker and a hiking shoe – sturdy enough to hike in, but attractive enough to wear around town without looking like you just returned from a backpacking trip.  And I love the color choices – how nice that hiking shoe manufacturers are finally realizing not all outdoorsy people wear only earth tones. (But don't worry if neutrals are your style – they're available too!)
Initially, I was concerned that the slimmer profile of this shoe (compared to other Keen hiking shoes) would compromise the roominess of the toe box, since I have a wide-ish forefoot and moderate bunions.  Thankfully they still fit well, even with thicker socks.  A bonus: the insoles are removable, so they're ideal if you wear custom orthotics.  While the trendy-looking mesh knit uppers don't look like they'd be waterproof, they perform beautifully. I walk through wet or dewy grass on almost a daily basis, so for me a waterproof shoe is a must.  If you live in a dry climate, the regular version may suit you better.
The Keen Terradora is available in both a shoe and an ankle boot, and both are available in sizes 5-11.  A note on sizing: I normally go up a full size in Keen women's hiking shoes, but with these I recommend ordering your usual shoe size, or at most, 1/2 size up.  Sellers with free shipping and returns make it easy to try both and see which fits you best! Furthermore, install the Honey browser extension to find and apply checkout discounts at Keenfootwear.com.
The Keen Terradora is a great light hiker.  (If I haven't convinced you, check out the many 5-star online Keen reviews!)  For rugged, rocky, or steep terrain, or hiking with a heavy pack, I'd opt for something more like the Keen Targhee II.  I'm glad to have both – and am a very happy hiker.