Comfortable Shoes for Men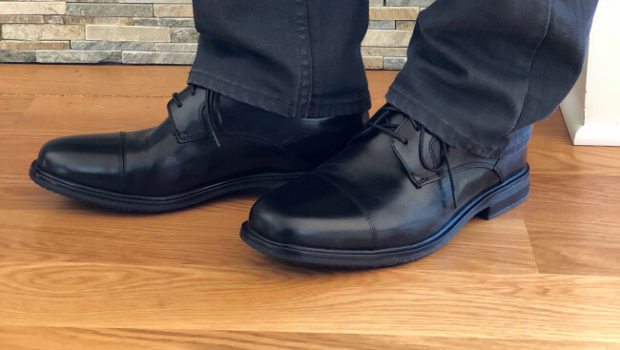 Men's Rockport Dress Shoes: Great for Wide & Extended Sizes
Rockport and its sister brand, Dunham, have long been go-to casual shoe brands for men with hard-to-fit feet, as most of their shoes come in an extended range of sizes and widths.  Thankfully Rockport has realized that many men need more than just casual footwear, and in recent years has introduced more styles of men's Rockport dress shoes.  We asked our friend Paul, a busy sales executive, to road test a pair of men's Rockport dress shoes and give us a review.  He selected the Rockport Essential Details II Toe Cap shoe. In addition to having the width he needs (he has extra wide feet), this shoe is waterproof, making it perfect for a commuter like Paul who often has to slog through wet and slushy city streets on route to his office.
The Rockport Essential Details II Toe Cap has a more tailored fit than many other Rockport styles, meaning it works with anything from a suit to a dressed-up pair of jeans.  Rockport's trademark Hydro-Shield construction features premium waterproof leather, a seam-sealed, waterproof insole, and a gusseted tongue to keep feet dry.  A slip-resistant outsole provides good traction.  Paul wore them to work on a snowy Chicago day and said they were the perfect combination of waterproof durability and office-worthy good looks.
Inside, this shoe is loaded with Rockport comfort features, including a sponge EVA footbed that conforms to the shape of your foot for a personalized fit, and sport technology in the heel for shock absorption.  A polyurethane outsole provides lightweight, durable support. The footbed offers moderate arch support and is removable, should you choose to use a custom orthotic.  One online reviewer says this shoe is a "dress shoe on top, sneaker below."  Paul concurs; when we asked him about comfort, he said "The most comfortable shoes are the ones you forget you're wearing.  That's how these feel."
While Paul appreciates Rockport's comfort features, it was size selection that clinched the deal.  He normally wears a size 8 1/2 EEEE, which is difficult to find in any men's shoe (and especially in dress shoes).  Paul says the width is generous; if anything, there's a little extra wiggle room in the forefoot – a welcome shift from the norm for those with wide feet!
The Rockport Essential Details II is available in men's sizes 5-16, in three widths (D, EE, and EEEE). Some online reviewers say the shoe runs large and recommend ordering a size down.  Available for $89-99 with special deals at Rockport.com.
Have you worn, or do you know someone who wears men's Rockport dress shoes?  Let us know what you think. We love hearing from readers!   Have you noticed we're starting to feature more men's shoes?  Check out our recent review of Born shoes for men.
SaveSave
SaveSaveSaveSave
SaveSaveSaveSave
SaveSave