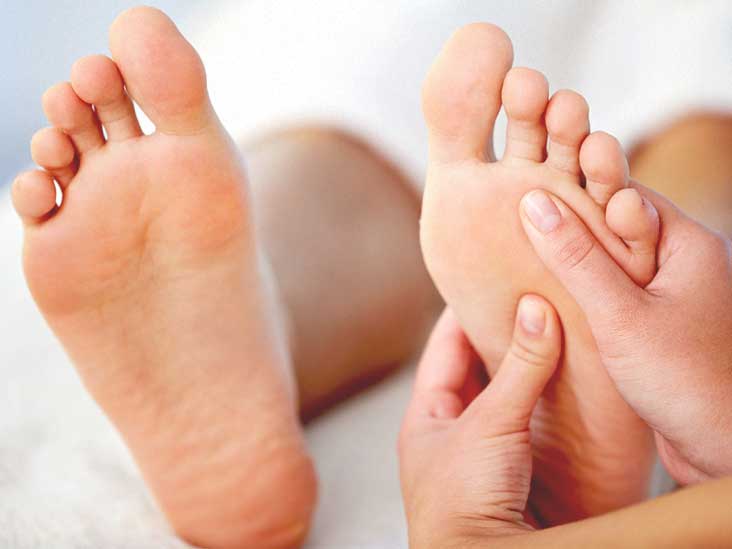 Morton's Neuroma
There's a famous phrase, 'If the shoe fits wear it.' Sometimes the shoe that 'fits' is not right for women with problem feet. Did you know your shoes can actually contribute to foot problems like Morton's Neuroma? When I experienced Morton's Neuroma when my RA was flaring up, it felt like I was stepping on a stone with every step–the pain and discomfort lodged under my 3rd and 4th toes. I've found that experts agree that the right kinds of shoes can make a difference. For some women switching to comfortable shoes was enough to prevent their neuroma from reoccurring.
What is Morton's Neuroma
So what is Morton's Neuroma exactly? It is an irritated swollen nerve inside the ball of your foot. Morton's Neuroma most commonly occurs as a feeling of pain radiating from the area between your third and fourth toes (the spot on your toes with the narrowest opening), but sometimes, rarely, it also affects the spots between your second and third, or fourth and fifth toes. Morton's Neuroma occurs 4:1 in women compared to men (Ladies we are at the losing end of that ratio for sure!)
If you have Morton's Neuroma, here's what may be going on. Your feet have two nerves that branch out from the back of your foot. These nerves send and receive signals from the muscles between your foot bones. Experts say one of these nerves, called the medial plantar nerve, gets squeezed between the bottom of your foot and a ligament called the transverse inter-metatarsal ligament that runs horizontally across your foot near where your toe bones and foot bones connect.
The irritated nerve swells. Eventually as this nerve tries to heal itself it gets covered in thick fibrous scar tissue (hence the pebble feeling when you walk) in what's known as a neuroma. Neuromas can occur anywhere in the body. We can thank American surgeon Dr. Thomas George Morton for coming up with the term Morton's Neuroma in the 1800's to identify this "special" foot problem. Tiny blood vessels in the area may also become thickened and blocked. The condition may also be referred to as an intermetatarsal neuroma.
Cause of Morton's Neuroma
Experts aren't sure exactly why Morton's Neuroma happens. But reports say it is becoming much more common in middle age women (40's & 50's), possibly from more of us wearing high heels. One British news article we read said cases of Morton's Neuroma increased 115% over ten years across the pond. As for causes, the condition could be caused by foot trauma or tight, narrow shoes in the toe box that pinch the foot bones together. Literally we read a medical study that cited "inappropriate footwear" as a potential cause. As we mentioned, many experts also suspect high heels contribute to the condition which is why it is much more common in women. High heels tilt your foot and can increase the pressure between your metatarsals. It can also be related to the feet your mamma gave you. According to the Cleveland Clinic people born with flat feet, high arches or an abnormal position of the toes are more likely to develop Morton's Neuroma. This may be due to instability around the toe joints. If you've got other foot problems such as bunions or hammertoes you may also be at an increased risk. Morton's Neuroma can also be a 'gift' from some kinds of arthritis, like my RA.
Athletes in high impact sports involving jogging or running that may cause repetitive irritation on the ball of their feet also develop the condition more than the average person. Tennis star Lindsay Davenport has shared publicly about her struggle with the condition while trying to maintain her game.
Speaking of exercise, some experts say overly tight calf muscles can be the cause of foot problems like these as well.
Symptoms
Let's talk about the symptoms you may experience with Morton's Neuroma. If you have it, you already know it is painful! Experts say Morton's Neuroma does not cause an external bump or swelling on the bottom of your foot even though it can feel like something's stuck there. Symptoms of Morton's Neuroma typically begin gradually before progressing to a more painful condition that may last for days or weeks.
Symptoms may include:
Tingling or numbness in your toes (due to the irritated nerve) which may radiate on the ball of your foot or even up to your calves
Burning sensation or sharp pain at the base of the affected toe area
Feeling like you have a pebble or a bunched up sock under your foot while walking
Feeling like you have something inside the ball of your foot
Pain between toes while walking, most often between the third and fourth toe
The problem feels better walking barefoot or in sandals
The urge to take off your shoe and rub your foot
Need more information? I included a slideshow with 10 signs you may have Morton's Neuroma on a post about comfortable, stylish shoes for women with Morton's Neuroma.
Treatment
Here's the good news about treatment for your Morton's Neuroma. There are many non-surgical treatments experts say may help alleviate the pain and bring you relief from Morton's Neuroma.
In the early stages, an old fashioned foot massage may help. People with a Morton's Neuroma just starting to develop may find temporary relief from simply removing the shoe and rubbing the affected area. This may help because rubbing your foot allows your toes to spread out and gives that nerve a bit of space.
Ice: Icing the painful area may help relieve the discomfort
Changing your shoes to more comfortable shoes (we can help with that!) Shoes that have a roomier toe box and don't scrunch your toes together may reduce the pressure around the ball of your foot and help relieve a neuroma over time. Also shoes that compensate for or help with other foot issues (bunions) may relieve neuroma issues.
Pads, inserts or toe wraps: toe cushion pads (sometimes known as metatarsal pads) or inserts (metatarsal supports) may help. These help support the arch and may reduce pressure on the nerve. One idea for you, check out Tacco pads. You can order them on Amazon.
Orthotics: custom orthotics which support the foot and toes may help relieve the pressure of a neuroma. Orthotics work by lifting and separating those toe bones, taking the pressure off the nerve. If you're going the orthotics route, check out our advice for 5 stylish shoes and sandals that allow for orthotics. We also have reviews of boots that work with orthotics and even sandals that accommodate orthotics for showing off your pedicure as the temperatures warm up. Did you know some shoes come with built-in orthotics? Learn more in our reviews. Your Morton's may thank you for ordering Pedag insoles or neoprene Spenco insoles as well to put in your shoes.
Your doctor may recommend nonsteroidal anti-inflammatory medications such as ibuprofen.
Your doctor may recommend reducing activities that put pressure on your foot.
Injections: your doctor may decide that cortisone or other medicines such as a local anesthetic could reduce the swelling of the nerve.
Your doctor may run tests to rule out stress fractures and other issues. There's a so-called Morton's test where a physician may squeeze your toe bones together to see if your symptoms show up with what's called a Mulder's click.
Surgery: Looked at if the other options don't work. According to footcaremd.com, the consumer website of the American Orthopedic Foot and Ankle Society, "Several studies have shown that a combination of roomier and more comfortable shoes, nonsteroidal anti-inflammatory medications, custom foot orthoses and cortisone injections provide relief in over 80% of people with Morton's neuroma." If this doesn't help, experts say in some cases, surgery may be needed to help relieve the problem. The most common surgery involves a surgeon going in through the top of your toe and removing the nerve area that's causing the neuroma all the way back to your non-weight bearing part of the foot. Ugh. Fortunately many cases of Morton's can be helped by changing your footwear or doing the other treatments before you reach a point of needing surgery.
Finding Shoes When You Have Morton's Neuroma
When you have Morton's, finding the right comfortable shoes is not only smart, it may actually be part of your treatment and cure. Experts recommend shoes with wider toe boxes, lower heels and soft soles to help that irritated nerve heel.
Avoid shoes with a narrow or tapered toe box that scrunch your toes together. To figure out if a shoe has a wider toe box, your toes should be able to spread out comfortably without being cramped. Here's a tip: When shoe shopping, remove the insole (if possible) and step on the insole in stocking feet. Your foot should line up with the the shape of the insole with no overhang.
So are there shoe brands that allow room for your toes to spread and that will support your feet without looking overly orthopedic? A few of my faves include Altra Zero Drop shoes, Kalso Earth shoes, SoftWalk, low-heel Naot footwear, and FitFlop.
When you have Morton's Neuroma, those high heels in the closet you once loved may put painful pressure on the forefoot and pinch your toes. You should also avoid any shoes that are too tight. You may want to consider shoes with laces, velcro straps or buckles to allow for additional adjustability. On our blogs, we've also collected advice from real women and are happy to share. Like when I answered a request from a 55 year old who didn't want 'old lady shoes' but needed help finding footwear with her Morton's.
Need help finding other shoes that meet the criteria of comfortable shoes for Morton's Neuroma? We can help! First up, an oldie but goodie, the Naot Kayla just turned 16 years old. Many women, including my relatives, swear by this classic Naot shoe for keeping their neuroma feet stylish in warmer months. You can also see a bunch of options of comfortable shoes with roomy toe boxes on our blog.
Lower heels can reduce the pressure on the ball of your foot where that nerve is trying to recover. For some shoe choices you might love, check out the clogs from SoftWalk, the athletic shoe choices of Altra Zero Drop, and the sandals and slip ons from Kalso Earth.
You might also consider creating softer insoles in shoes that otherwise work for you, by adding insoles of your own. I've heard good things about Pedag insoles or neoprene Spenco insoles (and for that matter, Spenco shoes and slippers) as well.
As a reminder, if a featured style on our blog doesn't wow you, take a look at the entire brand collection and see if there's a pair you'd prefer. You may also find it helpful to scroll through our reader comments for their suggestions. We also enjoy a lively discussion on our Facebook page. We hope you've found a bit of hope for finding shoes and boots that work for your feet while you're dealing with Morton's Neuroma.
Related Resources:
FootCareMd.com – consumer website of the American Orthopedic Foot and Ankle Society
Cleveland Clinic – Morton's Neuroma condition page
FootHealthFacts.org – consumer website of the American College of Foot and Ankle Surgeons
Mortonsneuroma.com – a information website run by a medical practice that focuses on the condition
Note: the above content is not intended to be medical advice or substitute for seeking the advice of a qualified medical professional. We're talking shoes here.