Comfortable Boots for women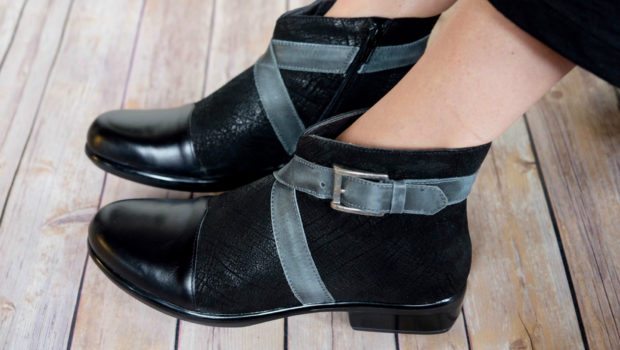 Naot Boreas Ankle Boot: A Delightful Combo of Style and Comfort
This review of the Boreas ankle boot is sponsored by Naot. The opinions are completely my own based on experience. Reviewed by Anne G. 
Although temps have been above average in the Chicago area the last few months, it is definitely still my favorite season. What's not to love about fall? After all, it means it is once again BOOT season! I am always happy when October arrives, and I can put my sandals away and pull out my boots. But this year, when I looked at my closet, I realized I was in the market for a pair of ankle boots.
Enter the Naot Boreas ankle boot. I simply could not be happier with my selection. They are the perfect combination of style and comfort. These boots were a great fit right out of the box. I actually wore them for hours the first day due to a hectic schedule of work, errands, dinner and an evening meeting. At the end of the night, my 50+ year old feet felt great with no sore spots as is typically the case for me with new shoe purchases. Because I actually have one toe that curves more than it should–an old injury that gets irritated on occasion by my exercise of choice, running, I was curious to see if the Boreas' toe box would feel comfortable. I was so pleased that I had plenty of wiggle room and did not even notice my problem toe after six hours in the shoe.
The cute styling, with the grey cross-over leather straps and side zipper, made them easy to dress down with jeans or dress up with a tunic or skirt with leggings. They have quickly become my go-to-shoe choice this fall. I think they run true to size and width for me, and I really like the fact I can wear thicker socks without any pinching. I have worn them everywhere–including a long, dusty gravel parking lot. Much to my relief, my favorite boots cleaned up easily and still look brand new.
One fun feature I just noticed–the slightly angled back to the heels. I spend a lot of time in and out of my car, and the slight angle to the heel makes driving more comfortable. My taller boots with straight heels often wind up with wear and tear on the back and can get uncomfortable when driving. The Naots passed the test this week after an 11-hour trip driving from North Carolina to Illinois.
I will admit, the Naot is at a higher price point than I usually choose. But these boots are worth every dollar. They will be staples in my wardrobe until I have to put them away come spring.
Thanks, Anne! The Naot Boreas ankle boot features a removable cork and latex footbed. The Boreas is from the Aura Collection featuring a polyurethane sole with a metal shank which is extremely lightweight, durable and abrasive to prevent slipping. This collection uses a hand-sewn stroble construction making it strong and extremely flexible. Anne ordered a size 40 for her size 9.5 slightly wide feet.
The Naot Boreas is available in both black madras leather or walnut leather in euro sizes 35-42 (5-11) for $215.95 from Zappos and Shoebuy (special offer available).