Comfortable Sandals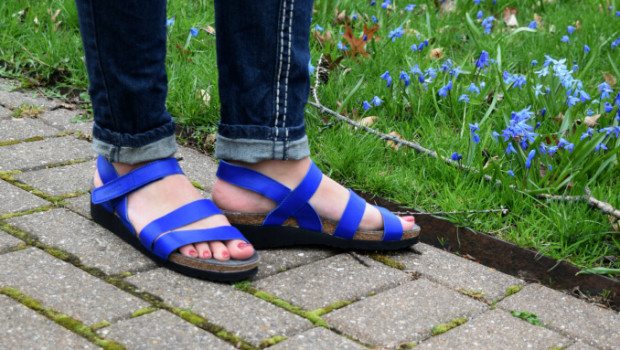 Published on April 5th, 2016 | by Kirsten Borrink
9
Naot Kayla Turns 16
Sixteen years and no sign of retiring. The Kayla is Naot's top-selling sandal and I thank them for sending a pair my way for review. When I opened the box, I thought, "Blue sandals." But after strapping them on and taking a look in the mirror, I realized that trying on the Kayla is the only way to appreciate her natural good looks. Like minimalist makeup that enhances the face instead of hiding it behind bold layers of powder and cream, the Naot Kayla shows off a great pedicure while obscuring a bunion. Its lack of sparkly studs and ornamentation and presence of clean lines make it a versatile sandal for everyday wear with jeans, skirts, pants and shorts. Don't worry, the Naot Kayla comes in over 15 colors (some come with white soles) if the cobalt blue isn't your thing.
If you have narrow to slightly narrow feet and have a hard time finding a sandal that fits, let me suggest the Kayla. I am a true medium width with a wider forefoot and I found them a bit too tight (even in a euro size 41). So I reached out to my slightly narrow-footed but open-minded friend who wears a 9.5 and they fit her beautifully as you can see in the right-sided photos above. This experiment leads me to conclude that the Naot Kayla runs slightly small in length and narrow in width.
The leather straps are placed to provide a secure fit for forefoot, midfoot and ankle area. The ankle strap is adjustable with a hook and loop fastener (this means extra-grippy velcro). The cork and natural latex footbed absorbs shock and cushions the foot while the anatomical contouring and deep heel cup provide arch support and stability while encouraging good posture. If you have plantar fasciitis, you'll appreciate this sandals ability to lift the heel off the pavement ever-so-slightly with its 1 1/2″ EVA wedge sole.
One last interesting observation: I have a second toe that's longer than my big toe (there is a name for this weirdo condition–Morton's toe). The Naot Kayla is shaped to fit normal toe alignment, sloping gracefully from big toe to little toe. My second toe does not follow the graceful lines of the shoe and likes to peek over the edge. This may have to do with the sandal being a tad small, but as you can see again in photos above, my friend does not have this problem because her toes follow the normal pattern of tallest to smallest.
I think the Naot Kayla would make a grand travel sandal as it's easy to slip on and off, provides great support and shock absorption, plus it goes with many outfits. If you'd like to find store near you to try on the Naot Kayla, call 1-800-NAOT-USA. Otherwise, take advantage of free shipping (and returns) from these retailers:
If you like the Kayla, take a look at other sandals from Naot's Elegant collection of shoes for narrow to medium widths!