Comfortable Dress Shoes for Women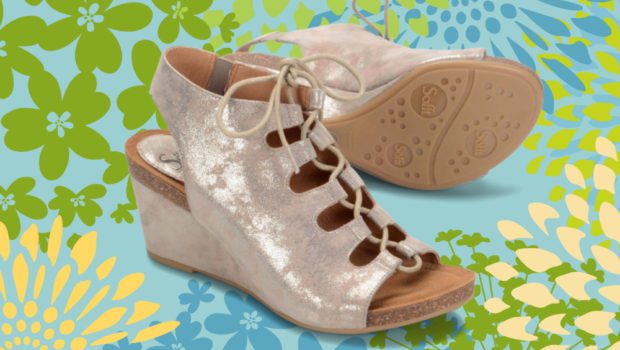 Reader Request: Comfortable Boho-Chic Wedding Shoes
Thank you so much for your wonderful blog. I look at it all the time, although have not had the money and time to invest in all of these comfy looking shoes. I am getting married in September 2017, however, and am looking to invest in a comfortable pair of shoes that will match with my dress, and that I will be able to wear afterwards.
I have genetic bunions that have always given me a lot of trouble, and high arches. Most heels do not provide the arch support that I need and I have used three inserts on each foot! My bunions are so big–the flats I have chosen for work are bernie mevs just because the woven fabric can just stretch around them (although there is not enough support to actually walk much in them).
I dip dyed my ivory dress a burnt orange color! It looks a lot like the photo below, so I am looking for something neutral (maybe with a gold shimmer) and delicate to balance out the drama of the dress. I was looking at some gladiator and wedge sandals. I figured these are likely to be more comfortable, and have a delicate strappy quality to them:
I was wondering if you knew of any shoes that come in nude, beige or slight shimmery gold with open toes and good arch support? I really respect your reviews, and would really appreciate any advice you could give me. Thank you so much!
Congratulations on your upcoming wedding, dear reader! We'd be happy to help. It was fun looking for potential wedding shoes for you–the dress has a boho-chic look to it that will look smashing with a strappy sandal. Keeping in mind your bunions, we looked for shoes either from well-loved comfort brands or shoes with forefront adjustability. See what we found:
Sofft Maize: A ghillie-lace style allows for adjustable comfort around the bunions and a memory foam footbed and molded cork midsole provide support and cushioning. The Sofft Maize features a 2 3/4″ wedge heel with a 1/2″ platform. Available in whole and half sizes 6-10, 11 from SofftShoes.com, and The Walking Company.
Naot Vogue: A beautiful 2″ heel sandal with cutouts and decorative studs. Reviewers love the arch and ankle support. Our only concern is that it may be too snug around the bunions area, but the soft leather may conform. Available in euro sizes 36-42 (5-11) from Zappos, Amazon, and The Walking Company.
Kanna KV5278: We picked this stylish espadrille not only for its boho-chic good looks, but for the elastic goring on the forefoot strap as it will hide the bunions and stretch for comfort. Try adding a pair of Apara gel arch supports for sandals. Available in euro sizes 35-42 (4-11) from The Walking Company and FootwearEtc.com.
Isola Elisia: Another lace-up option that adjusts for bunions. The Isola Elisia is delicate yet sturdy with its 1 1/2″ wedge heel and latex comfort footbed. Available in whole and half sizes 6-10, 11 at Zappos and Nordstrom.
Vionic Calypso: Even though its closed-toe, we want to feature the Calypso by Vionic for its enhanced arch support. The question is whether the vamp will cover bunions completely or cut into them? Available in whole and half sizes 5-10, 11 at Zappos, Amazon, and Nordstrom.
Onex Puffy: This popular wedge features butter-soft leather uppers that won't irritate or press on bunions. The generously padded footbed and lightweight outsole add to the total comfort. Available in whole sizes 5-11 at Zappos and Amazon.