Special Features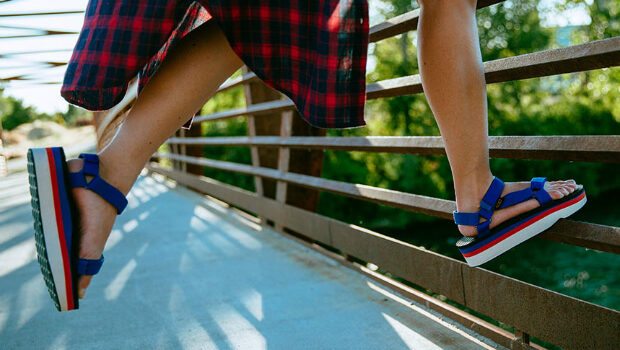 Red, White and Blue Shoes for a Comfy, Happy 4th of July!
No matter what your favorite color is the other 364 days of the year, on July 4th in the USA only three colors matter.  If you're looking for red, white and blue shoes to complete your festive look, search no further.  We have perfect picks in several styles to suit whatever activities your holiday brings.  And of course we've kept comfort as a top priority so your feet don't give out before the fireworks start!
Flatforms are the newest generation of the classic sport sandal, and right now they're everywhere!   If you want this up-to-the-minute style and full-on American flag colors, check out the Teva Universal Flatform.  Fashion aside, reviewers with finicky feet love the cushioning and extra comfort of the thicker sole.
If you like lightweight shoes but prefer having your feet covered, try Toms Seasonal Classics. Remember, Toms donates a pair of shoes to a child in need for every pair sold, so you can feel especially good about your purchase.  We like this subtly patriotic star pattern, which is festive but also versatile enough to wear any time of year.  Toms shoes have light cushioning and enough arch support to keep average feet happy all day.  Available from Zappos.
Do your holiday plans include activities that call for sneakers? Leave your neon orange running shoes in the closet in favor of some fun red kicks like the Romika Nadine.  They're cushioned and supportive, and have a leather & fabric lining for comfort with or without socks.  Find them (as well as their more subdued-colored siblings) at Zappos.
Like the idea of red, white and blue shoes but want something more understated?  White sandals beautifully complete any July 4th outfit, but look right in place the rest of the summer as well.  This summer we're loving the white patent Alegria Vita.  The Alegria Vita's uppers and footbed are made of soft, water-resistant leather, so you won't have to worry about spilled lemonade or an errant water balloon.  Alegria shoes and sandals are a favorite of many comfort shoe wearers.  Even if you have problem feet, they'll keep you feeling fine through all your festivities.  Find them at Zappos, with free shipping and returns.
Hurache-sneaker? Macrame docksider? We're not sure what to call the Keen Uneek, but online reviewers – even those with foot issues – rave about its lightweight comfort, supportive sole, airy uppers, and unique appearance.   "They are Heaven!" says one reviewer.  Bonus: If there's a guy in your life (or if your feet tend to fit better in men's footwear) you may be glad to know the Keen Uneek is also available in a men's version.  Available from KeenFootwear.com with free shipping and returns. Check out Amazon for a wider variety of colors.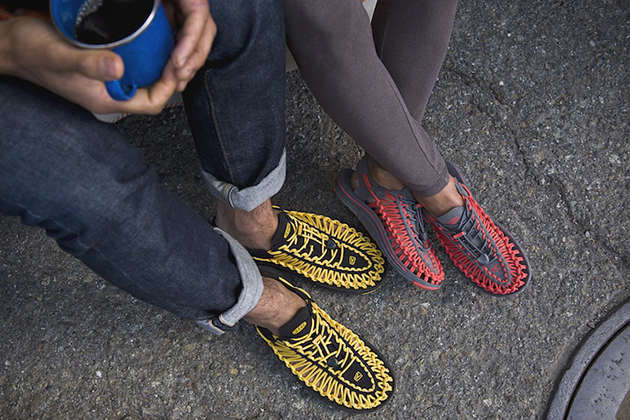 All shoes in this post are also available in other colors – neutrals, brights and fun combos (just in case you're not into red, white and blue shoes).  Whatever you choose to wear, Barking Dog Shoes wishes you a happy and festive 4th of July celebration!
SaveSave
SaveSave
SaveSave
SaveSave
SaveSave
SaveSave
SaveSave
SaveSave
SaveSave
SaveSave
SaveSave
SaveSave
SaveSave
SaveSave
SaveSave
SaveSave
SaveSave
SaveSave
SaveSave
SaveSave
SaveSave
SaveSave
SaveSave
SaveSave
SaveSave
SaveSave
SaveSave
SaveSave
SaveSave
SaveSave
SaveSave
SaveSave
SaveSave
SaveSave
SaveSave
SaveSave
SaveSave
SaveSave
SaveSave
SaveSave
SaveSave
SaveSave
SaveSave