Comfortable Boots for women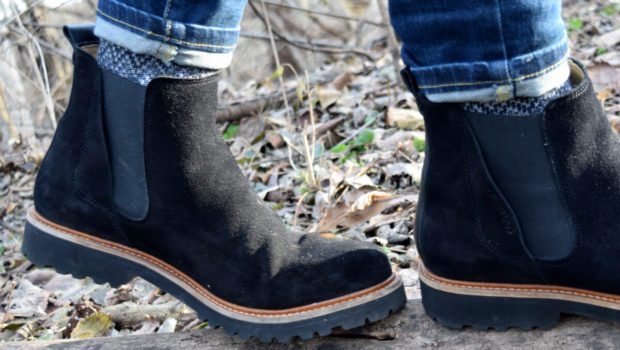 Samuel Hubbard Footwear | See the Sensational 24 Seven Boot
Have you heard of Samuel Hubbard footwear? Up until last fall, you'd have to shop the men's department to find them. Fortunately, Hubbards are for women now too. Footwear Etc. sent me a pair of Samuel Hubbard 24 Seven chelsea boots for review. Within days of receiving my Hubbards, I placed them front and center in my closet, which is the seat of honor for my shoes. These are truly beautiful boots.
Upon opening the box and taking out my new Samuel Hubbards for inspection, my first reaction was, "Too cool for school." My second observation noted the lack of zipper, ties, or buckles. I knew this going in; that's what a Chelsea boot is–elastic goring only. But I wondered if I could get my high instep into these lovelies without a shoe horn or body contortion routine. It wasn't easy folks, and I almost gave up. But I so wanted to wear these hip Hubbards, that I finally twisted my feet into them. And I'm glad I didn't give up. They go on without a fight now and the comfort level is stunning.
Designed in Mill Valley, California and handcrafted in Portugal, the Samuel Hubbard 24 Seven is a boutique-y boot but with comfort brand technologies:
Foot-shaped fit. The rounded toe box provides a roomy fit for the toes and the heel fits snugly.
No seams on upper to rub against sensitive spots.
Removable triple-density Poron® footbed can accommodate an orthotic.
Lightweight Kevlar shank provides moderate arch support.
Custom Vibram soles absorb shock and make for an enjoyable walking experience. The traction is good too!
I imagine these would make the perfect urban commuting boot. Spray the suede uppers with Scotchguard and you're set. Those Vibram outsoles are super grippy yet lightweight and springy, protecting soles from the hard sidewalks.
I waited a few weeks before reviewing the 24 Seven boot because I wanted to wear it around on different surfaces to really put it to the test. From city sidewalks to concrete floors and even a walk in the woods, my feet felt happy. No pressure points, cramping or heel pain–not even a peep from my bunions and hammertoes. Yes, they're still a little difficult to get on, but once I do, I don't want to take them off.  If you have high insteps too, Samuel Hubbard does carry a lace-up boot and an oxford that may be easier to get on. As of now, Samuel Hubbard for women only come in medium widths, but hopefully soon we'll see them in wides too. I ordered the 24 Sevens in a 10 for my and they fit like a glove (I'm a small 10).
I'll be first to say that $225 is a wad of cash to spend on a pair of ankle boots. I think you'd have to wear them "24 Seven" as the style name suggests to get your money's worth. But friends, you will want to wear them daily and into the evening.
Have you heard of Samuel Hubbard footwear? Do you own a pair? I'd love to know what you think of the fit, feel, and overall comfort.