Shoes for Problem Feet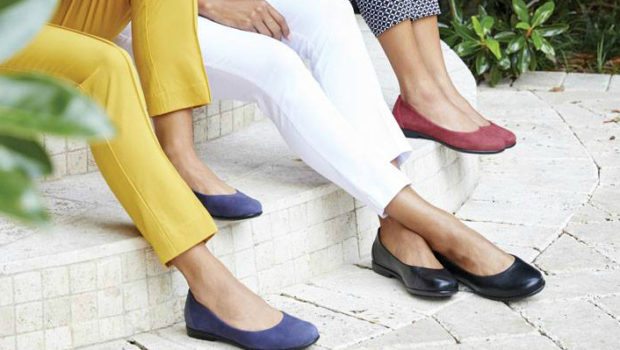 SAS Shoes : Legendary Comfort, Stepping Up The Style
Have you heard of SAS shoes?  SAS stands for San Antonio Shoemakers, founded in 1976 by two individuals with a common passion for making quality footwear.   Since the company's beginnings, its priorities have always been comfort and quality.  Today SAS continues to handcraft shoes using only the finest quality leather and a painstaking production process  (it may take up to 100 steps to create one pair of shoes.)  SAS shoes believes it produces "the most comfortable shoes in the world," and many customers agree.  Once known mainly for lace-up walking shoes (that, we admit, looked like stereotypical "comfort shoes"), the company has grown along with the tastes of its customers, and is now producing a wider variety of styles.  Another reason many folks love SAS shoes is the wide range of sizes and widths. Many SAS shoes are available in sizes 4-12, and in up to FIVE widths – a godsend for many folks with hard-to-fit feet. Here are a sampling of styles to familiarize you with this classic comfort brand (if you prefer to try on shoes first, visit the SAS store locator here):
SAS Milano pump has a foot-friendly rounded toe, perfect heel height, and a removable, generously padded footbed with great arch support.  Patented cushions give comfort to all three pressure points: inside ball, outside ball, and heel, and the polyurethane outsole adds more comfort by absorbing shock with each step.  The SAS Milano comes in sizes 5-12, and is available in 4 widths from Zappos.
If you like a pointier toe, the SAS Moxie is a great option.  The "V" shaped instep is visually appealing, but the Moxie is still loaded with comfort features similar to the Milano pump.  Though the toe is pointy, the pump is specially designed to allow plenty of wiggle room. Reviewers rave about the high quality and luxurious leather of this classic pump.  Find the SAS Moxie at Zappos.
The popular SAS Sunny slip-on gets loads of 5-star online reviews. No wonder – it features buttery soft leather, moderate arch support, a removable footbed, versatile styling, and gets kudos from wearers with back pain, high arches, narrow heels, bunions and host of other issues. The SAS Sunny comes in a huge selection of great colors from brights to basics, and is available in sizes 4-12 and 5 widths from Zappos.
The SAS Scenic is a ballet flat with a relaxed fit, roomy toe box, and snug heel.  The footbed is removable, washable, and designed to cradle the foot with comfort.  Says one reviewer "Cute flat and I love the very thick and padded removable insole."  Others comment on the beautiful workmanship. The SAS Scenic is flexible, so it allows your forefoot to bend and move comfortably, and it comes in sizes 4-12, and in 5 widths, available from Zappos.
The SAS Hope tassel loafer gets high marks for style and comfort, even from reviewers with bunions and those with narrower heels who often have trouble keeping slip-on shoes on their feet (probably a credit to the shoe's elasticized topline.)   Several note that the shoe is more stylish in person than it  looks online – though we happen to think it's pretty nice looking even in pictures.  Find the SAS Hope at Zappos.
We're seeing sporty sneakers make their way into a wider variety of outfits than ever, however many athleisure shoes are surprisingly lacking in comfort and support.  Enter the SAS Tour Mesh, a sporty kick with loads of signature SAS comfort features – it's even a Medicare and Diabetic approved shoe.  Read what some reviewers have to say about the SAS Tour Mesh: "These are the only shoes I can wear with my problem feet. The toe box is wide enough for my bunion, deep enough for my hammer toe. I especially like the way the laces slide right through the eye grommets, making them easy to tie."  "I love these shoes! I have plantar fasciitis, heel spurs and the balls of my feet hurt. I've worn custom orthotics for years. On a recent trip to New York I averaged 12 miles a day walking – these were the only shoes that would get me through the day!"  If your style is more understated than colorful, the SAS Tour Mesh also comes in more subdued and neutral colors.  It's available in sizes 4-12, and comes in 5 widths.  Available from Zappos, or in a wider variety of color options from the SAS website.
Seasons are changing here in the midwest, but we know many of you live where it's year-round sandal season, so we're including a couple of sandal options in our roundup, starting with the SAS Delight. We'll let a reviewer tell you what she likes about them: "I have sensitive feet, slightly wide, a bit of a bunion, so cute dressy shoes are hard to come by for me. I tried on sandals from [a number of other brands] and these were the winners! This is my first pair from SAS and I'm so glad I finally found a sandal that I can spend an entire wedding in and not have to take them off half way through because my feet are screaming!  They are a good mix of comfort and style." The SAS Delight is available in sizes 5-12 and in 4 widths at Zappos.
If you want a sandal with similar comfort features but a little more coverage in the forefoot, the SAS Heather is a good option, also available from Zappos.
If heels aren't your thing, consider the SAS Sanibel, which gets kudos from teachers, hairdressers and others who spend a LOT of time on their feet. Even those with plantar fasciitis and bunions rave about the all-day comfort.  The SAS Sanibel features a broad, contoured footbed with soft Super Suede™ linings that mold to the natural arches and curves of your foot for maximum comfort and shock absorption.  Let's hear from more reviewers: "It is by far the most comfortable, soft and supportive sandal I've ever purchased. And it's super cute!" "Wow, this is the Holy Grail of comfort sandals. Like walking on a lamb's ear. The footbed is so SOFT but also very supportive."  The SAS Sanibel is available in sizes 4-12 at Zappos.
If what we're saying appeals to you but you don't see a style you like, check out the entire SAS women's line here or visit the SAS website. SAS also makes men's shoes, all with the same high level of quality and comfort; click here to see them. While SAS shoes are not cheap, online reviewers repeat again and again things like "Worth the money," and "Worth every penny."  Here at the Barking Dog we're far from spendthrifts, but we do believe good value doesn't always just mean a low price. If a pair of shoes costs more but they're so versatile and comfortable you wear them more than any others, they're a good deal. You don't have to read too many reviews to know this is how many folks feel about SAS shoes.  We've recommended them numerous times in past reviews; learn more here.
Have you worn SAS shoes?  What do you think? Do you have a favorite style?
SaveSave
SaveSave
SaveSave
SaveSave
SaveSave
SaveSave
SaveSaveSaveSave
SaveSaveSaveSave
SaveSave
SaveSave
SaveSave
SaveSave
SaveSave
SaveSaveSaveSave
SaveSave
SaveSave
SaveSaveSaveSave
SaveSaveSaveSave
SaveSave
SaveSaveSaveSave
SaveSaveSaveSave
SaveSave
SaveSave
SaveSave
SaveSave
SaveSave
SaveSave
SaveSave
SaveSave
SaveSave