Special Features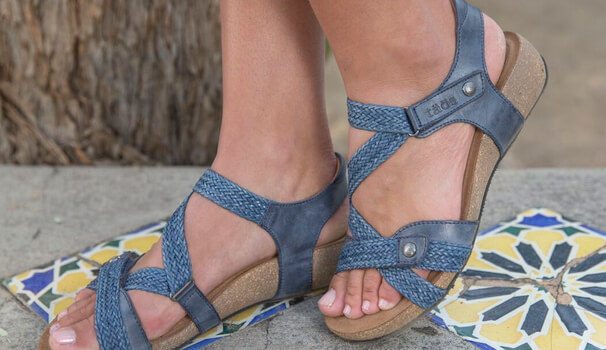 See Our Readers' Favorite Comfortable Shoes
We're passing the mic to you, dear Barking Dog readers! Lately, you've had some wonderful shoe recommendations from sandals for bunions to running shoes for hallux limitus. We thank you for taking time out of your day to write such thoughtful, well-crafted reviews of your favorite comfortable shoes.
5. Barbara swears by  her Hoka One One running shoes for hallux limitus:
Have stocked my closet with Hoka One One–I've suffered from hallux limitus for years. Normally have no choice but New Balance 2E x-trainers to run. The Hokas got me back to running many miles per week. Prefer their road runners. Some of the trail runners don't fit quite right. Can be a trifle narrow in toe box. Suggest using Sierra Trading Post to get outlet prices. I live near a store, so order a bunch at once, try them all on and wear around the house with my RX24 inserts— then return those that don't work. At age 57, I've learned to rock the colors. And I can run!!! Glory be!
6. Shelly's detailed review of the Mephisto Helen sandal:
I absolutely LOVE, LOVE, LOVE my Mephisto Helen sandals. I passed a women in Victoria B.C. one summer who was wearing them and thought they were so cute that I just had to ask where she got them. That was six or seven years ago and I've ordered several pair since then–love all the colors and finishes. I love how they stay on your feet. Their adjustable strap is perfect for when the leather stretches a bit so they still feel secure. I suffer from plantar fasciitis as well and have bad knees but I can walk around all day in these and have little to no discomfort at the end of the day. Also, a side note if you're comparing them to Birkenstocks (which I used to wear)….I was told that the cork footbed with Birks mold to the shape of your foot which isn't good if your feet pronate or have other issues where as Mephisto's foot beds stay firm, keeping your feet in the best position. I can personally attest to this.
7. Stylish shoes for hallux limitus:
I recently had an injury to my foot as a dancer (gave myself turf toe). As I've been recovering my doctor recommended really stiff soles as I transition from the boot, and shoes with a slight rocker to them (essentially similar to your recommendations for Hallux Limitus and Hallux Rigidus). I have found your blog very helpful in looking for shoes for this point in my recovery as well as shoes to protect my feet more in the future.
I wanted to share with you a few shoes I recently found that your readers might also find helpful. I HATE the mary jane look that many healthy feet shoes have and am happy to have found some alternatives that don't break the bank.
First is the B.O.C. Anne sandal, second is the Kork Ease Myrna, and 3rd is the Rantt oxford from Steve Madden (see similar).
8. Melissa recommends a sandal that accommodates an orthotic (and it doesn't even have a removable footbed):
The Taos Trulie comes in a million colors, and now in prints, too. Totally adjustable – over the foot, around the ankle, etc! Not inexpensive, but very cute and you can wear them casual or dressed up. My orthotics are putty-colored (argh) and just disappear unless you really bend and look at my feet.